This article originally appeared on TwentyThirty.
Europe is at a crossroads: If EU opponents gain many votes in the European elections in May 2019, they could erode the European values and rule-of-law-based institutions from within. The platform Alliance4Europe wants to pool the strengths of the pro-European initiatives fighting against right-wing populists to prevent that a minority of anti-Europeans will determine the fate of 500 million citizens after the elections.
Steve Bannon has a new goal. Two years ago, the right-wing political strategist helped Donald Trump get elected to the White House, now he wants to conquer Europe. He has founded The Movement, a Brussels-based foundation that aims to forge an alliance of right-wing parties with a view to the European elections in May. For months, Bannon has been traveling Europe to pitch his idea to friendly politicians. Bannon met with representatives of Marine Le Pen's party, the British nationalist Nigel Farage, and Hungary's Prime Minister Viktor Orbán. The biggest enthusiasm for Bannon's plan was shown by Italy's Prime Minister Matteo Salvini. A politician of the populist, right-wing Lega Nord (Northern League) party, he called the upcoming elections the "last opportunity to save Europe."
Daniel Roeder, founder of the pro-European movement Pulse of Europe, believes that Bannon and his allies want exactly the opposite: "Bannon said it himself: His goal is the 'deconstruction of the administrative state.' He wants to destroy the EU, the guarantor of liberal democracy. If he succeeds, the nationalists in Europe would have won and the door would be open for autocratic rulers." Roeder sees Bannon as a dangerous enemy and the upcoming European elections as trend-setting: "Steve Bannon and his partners have big money; they will bring their people to the polls. We need to bring the same power to the streets." As for his colleague Sonja Stuchtey, Bannon's attack on the European Union even makes her think of the rise of Hitler: "It is comparable to the 1930s. I used to ask my grandparents: 'How could you be so blind? After all, he told you what he wants to do.'"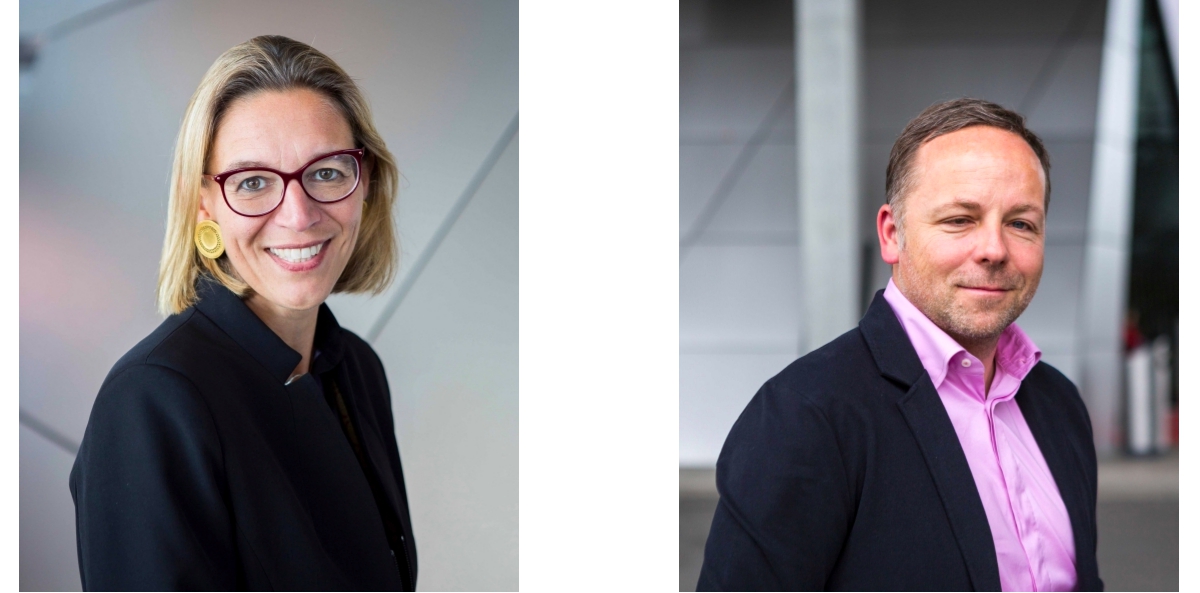 Sonja Stuchtey (Managing Director Alliance4Europe) & Daniel Roeder (Founder Pulse);
pictures: Marc Beckmann
To be able to better fight the right-wing populists, Stuchtey and Roeder together with activists from Poland, Italy, France, Greece, Spain, Hungary, Austria, Germany, and Great Britain, have founded a new organization: the Alliance4Europe. "We want to connect and support pro-European organizations and movements while actively shaping the media landscape in order to foster a stronger, united Europe," says Sonja Stuchtey, a Munich-based business consultant who serves as the organization's managing director. "We are an umbrella organization," explains Daniel Roeder. "You can compare it to Lufthansa and the Star Alliance: Lufthansa is totally independent but at the same time a member of Star Alliance, that is, part of a larger organization and it benefits from this. This is also how pro-European NGOs are supposed to come together and support each other as part of the Alliance4Europe – without giving up their independence."
The idea for Alliance4Europe emerged several months ago. Sonja Stuchtey, her husband Martin Stuchtey, and mutual friends who were active in Pulse of Europe and other pro-European organizations were thinking about how to pool the strengths of the many different initiatives. Around the same time, Daniel Roeder participated in the BWM Foundation European Table in Menaggio, Italy. In a breakout session, the participants came up with the idea for a European citizen committee that has financial, moral, and cross-partisan political support from businesses, universities, and civil society and that is able to allocate funds around a particular issue.
Info: Munich European Forum

Alliance4Europe was launched to an international audience at the Munich European Forum in October 2018. Entitled "Building a Strong Europe for Citizens," the Forum put into a larger perspective the results and ideas of the first cycle of a dialogue series conducted over the previous 18 months: Three BMW Foundation European Tables had dealt with key issues related to Europe's economy, security, and identity. Through the Munich European Forum, the BMW Foundation is taking a clear stance for the principles and goals of a united Europe.
"We said we need to do something together against the populists," says Maia Mazurkiewicz, who experienced in her native Poland how a right-wing government can endanger European values such as freedom of the press. "We were inspiring each other," Daniel Roeder remembers the conference in Menaggio, "and we thought that we need to take something home from this place with this high energy. Some pro-European activists have a competitive feeling. I think it's time to overcome that. It's time to fight together."
Back home, the initiators conceptualized the new umbrella organization. The group met several times in London and Berlin and finally decided to co-found the Alliance4Europe.
In late October, Sonja Stuchtey, Daniel Roeder and Maia Mazurkiewicz presented the organization for the first time to a larger audience of international leaders at the Munich European Forum. The first and most important aim of Alliance4Europe is to make sure that there will be a pro-European majority in the next European Parliament. To this end, it is important above all to mobilize those voters who care for Europe – as well as, of course, the skeptics who believe in the European idea but currently do not feel very passionate about the EU and have adopted a 'who cares?' attitude.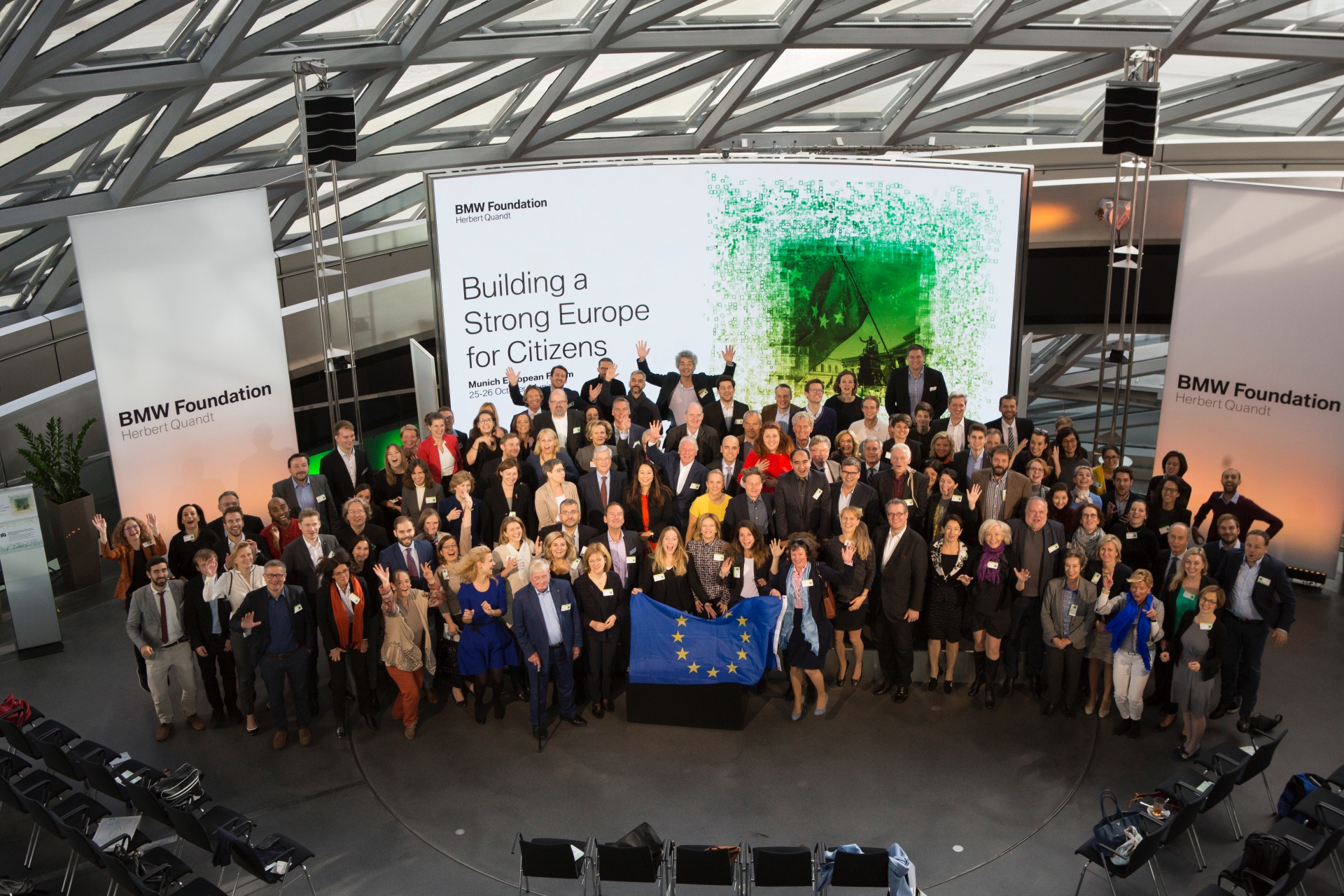 Munich European Forum, October 2018; picture: Marc Beckmann
"What happened in Poland in 2015 is that the Law and Justice party was basically elected by only 18 percent of the people entitled to vote, because of the very low turnout. So we want to bring more pro-Europeans to vote in the European elections," explains Maia Mazurkiewicz.
It is not about partisan politics, emphasizesSonja Stuchtey. "It is about strengthening Europe's immune system against undemocratic forces. If the nationalists and the extreme right grow strong and sit in the European Parliament like an ulcer, the immune system is weakened." Daniel Roeder is afraid that the populists will block EU processes and decisions if they get many representatives into the European Parliament. "This quickly turns into a vicious circle, for they will say: Look, Europe can't get anything done. This is how they do it in the länderparliaments: First they block everything and then they complain that nothing is happening."
To reach their goal, the Alliance4Europe has launched a Europe-wide campaign through a variety of different channels, among them the German platform betterplace.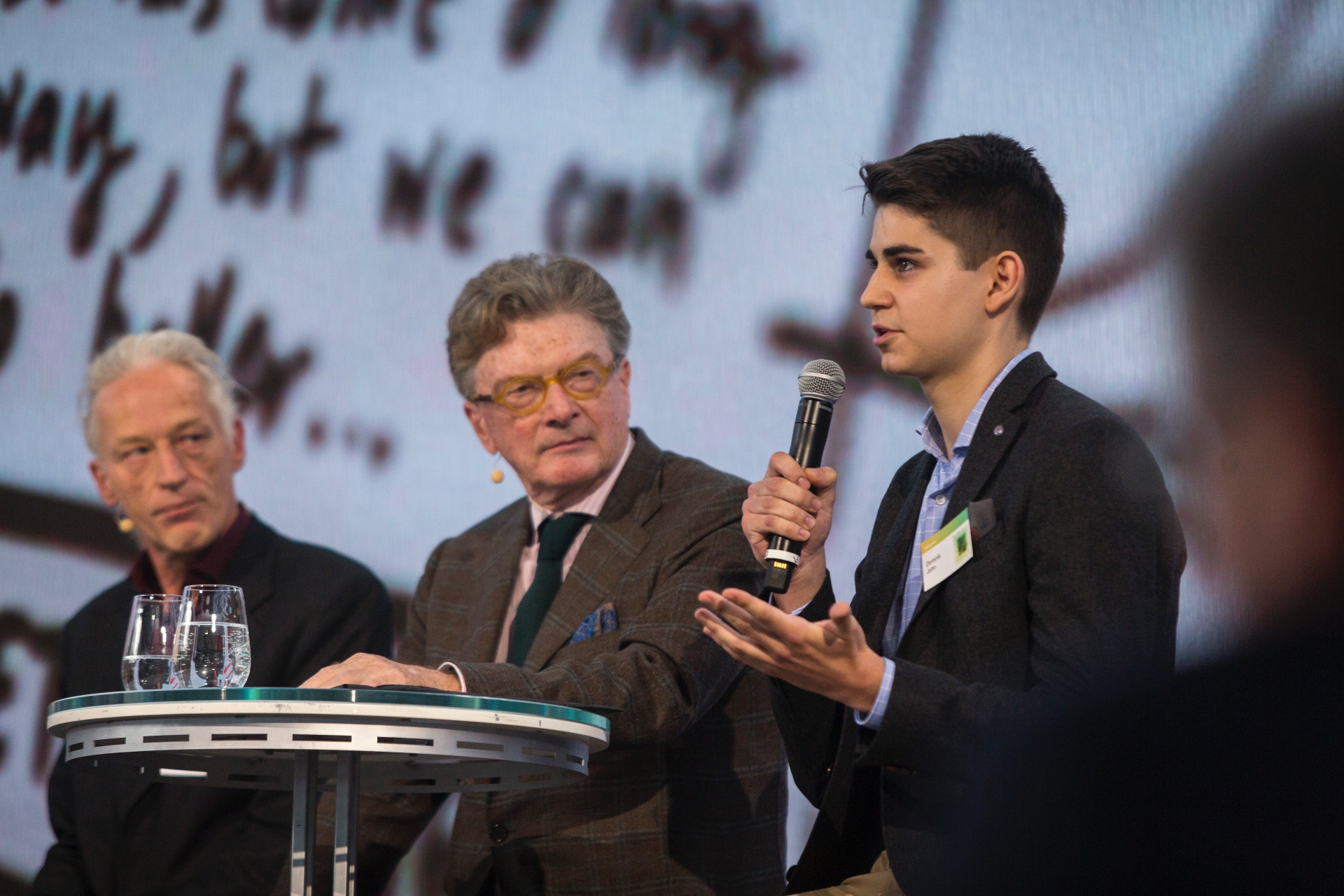 Munich European Forum, October 2018; picture: Marc Beckmann
"We want to raise enough money to hire a professional agency. And then we want to develop a narrative that we can share," explains Sonja Stuchtey. Since the Munich European Forum in October, well-known European personalities – including the Polish director Agnieszka Holland, the Cambridge historian Christopher Clark, and the former German news anchor Ulrich Wickert – have agreed to support the organization.
Everybody involved in Alliance4Europe is aware that the fight against the populists is a race against time: The European elections will take place on May 23, so there is not much time left to roll out the campaign. For Daniel Roeder, it is therefore essential to act quickly: "We hope that we can raise money quickly. And we need to convince people to go vote with a very short and powerful message to. But one thing is for sure: We want to have impact."
You can support Alliance4Europe's Call for Action here.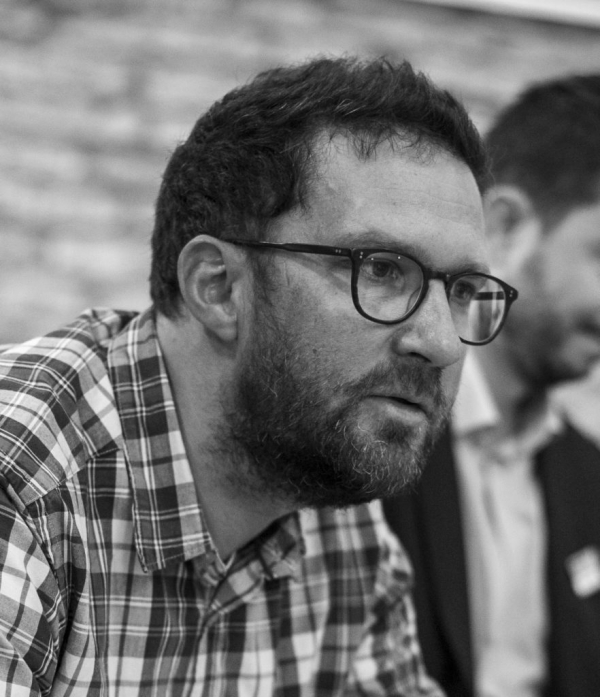 Fabrice Braun
Fabrice Braun is a French-German freelance journalist based in Munich. He works for Süddeutsche Zeitung, GEO Epoche, and other magazines.
This article is presented in collaboration with TwentyThirty. 
TwentyThirty is an online magazine presented by the BMW Foundation Herbert Quandt. It sheds light on the social, political, and environmental challenges we face and features inspiring Responsible Leaders who are working to solve them. Follow their work on Facebook.