We asked our community for their insights and opinions on the future of development. We were particularly impressed with a conversation we had with Caroline Dewast, Shelter and Settlements Adviser for the Norwegian Refugee Council. Her career path from architect to her current role is fascinating, and she has some fantastic insights for anybody looking to pursue a career in humanitarian work. 
You work for one of the world's largest humanitarian organisations. Can you tell us about your work?
I currently work as a Shelter and Settlements' Adviser for the Norwegian Refugee Council (NRC), one of the leading humanitarian organisationsspecialised in the protection and assistance of people affected by conflicts. NRC is an operational organisation working in about 30 countries employing over 7,000 people, mainly local experts, to provide assistance to vulnerable people affected by manmade crises.
NRC focuses on 6 distinctive areas of expertise.
Shelter and Settlements enables access to housing and community infrastructure in camps and outside camps. This includes everything from providing emergency shelters to building permanent housing, facilitating access to temporary rent, building infrastructure such as roads, school facilities, health care centres, and so on.
Information counselling and legal advice enables people affected by displacement to claim and exercise their rights under local and international legal frameworks. This includes supporting access to identification documentation, housing land and property rights, collaborative dispute resolution, and advocacy.
Water sanitation and hygiene promotion enables access to clean water, appropriate sanitation facilities and raising awareness on safe hygiene practices to protect the public health of displaced people and local communities.
Camp management supports the self-organisation, participation and dignity of people living inside and outside camp setting to better access goods and services.
Education ensures access to quality education for children and youth affected by conflict and displacement, so they can acquire the skills, capacities and confidence to live a life that has meaning and value.
Livelihoods and food security enables access to livelihoods, food security, and nutrition to prevent loss of life and contribute to the rehabilitation of people and local markets.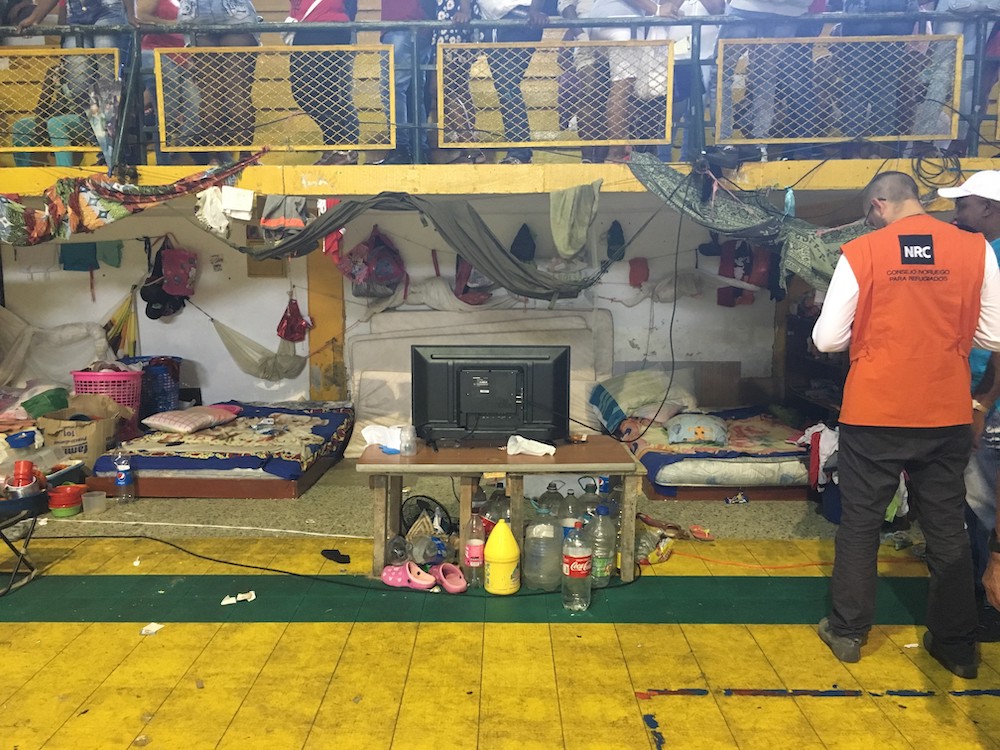 How did you get into humanitarian work?
I always had a strong interest in social issues and from early on was determined to develop my career in a meaningful way to contribute to social impact. I combined my Architecture degree with a Masters' in Development and Humanitarian Practice, I volunteered throughout my studies and early career with Architecture Sans Frontières-UK(ASF-UK) and seized every opportunity to learn about building communities, homes and cities through a social angle. I networked and spoke to as many professionals as possible who were working in that space to better understand what career path I wanted to take.
My first social impact professional experience was in Peru in 2007. I worked for a local NGO called DESCO which had a strong urban development department. I learned about community building, participatory processes, urban development in informal settlements and political advocacy. I was also involved in various post-earthquake housing reconstruction projects in Pisco, working with a large Latin-American organisation, Un Techo para mi Pais and a local university.
I then returned to the UK. While finishing my studies, I continued volunteering for ASF-UK and after graduating, I worked a few years in a small London Architecture company. There I acquired professional expertise in the construction business and essential professional competencies around running a small business. The experiences in the development sector, in Peru and with ASF-UK, and my private sector experience in various architecture companies provided me with essential transferable skills for my current career. In 2014, to fulfil my social impact aspirations, I decided to transition from the private sector to the aid sector.
It was not easy. I applied for over 30 jobs in various international NGOs and UN agencies. I was ready to take any paid job in any country to get into the sector. By that time, I was a qualified Architect, I had a Master's in Humanitarian and Development Practice, I spoke fluently French, English and Spanish, and I had 5 years experience as part of the management team of a volunteer based NGO. I finally got 3 interviews with different NGOs and got offered one unpaid-internship at the UN.
It was a tough choice, but I took the internship against many of my peers' advice, who were sceptical about whether I was ever going to manage to make a living from this work. I never gave up and after the 3-months internship, hard work, relentless networking, and more job applications, I got offered a paid position with the International Federation of the Red Cross and Red Crescent. This career brought me to live in the Philippines, in Gaza, and in Fiji; I also worked in Greece, Ukraine, Afghanistan, Iran, Nigeria, Cameroon, Myanmar and Bangladesh. These experiences led me to specialise in the humanitarian sector: working in high intensity crises, conflict zones, natural disasters and protracted crises.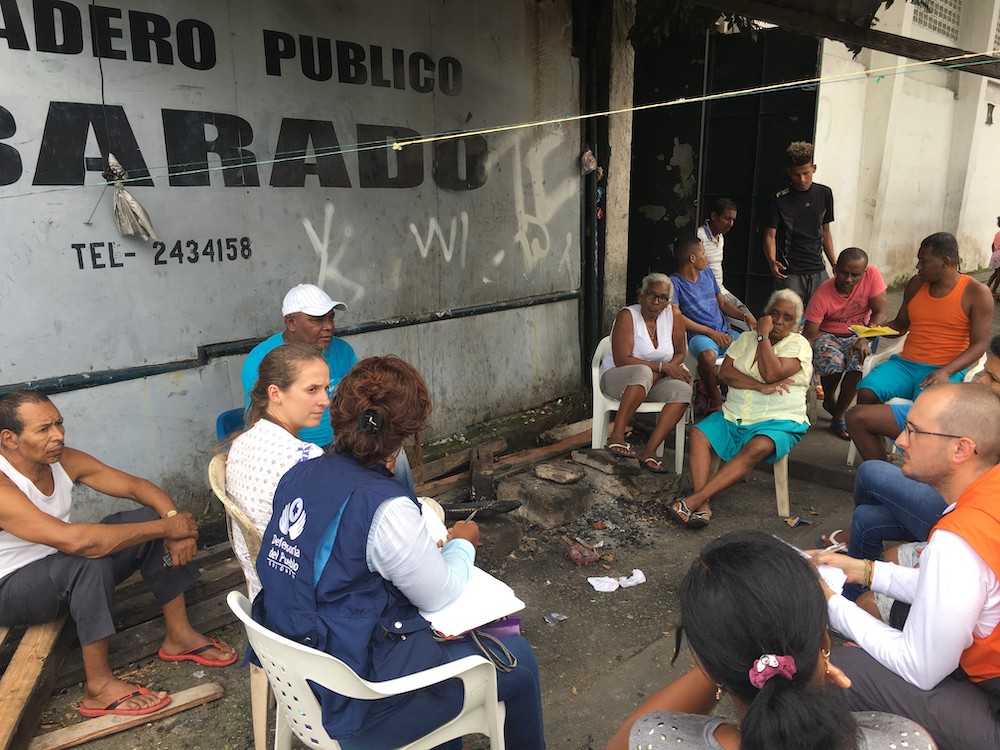 How does humanitarian work differ from development work?
The humanitarian sector responds to crisis, conflicts and disasters and focuses on saving lives and alleviate suffering, whereas the development sectorfocuses on promoting economic and social development in low-income nations. If you compare with a hospital, the humanitarianswork in the emergency department and the development expertswork in the outpatient department. Unfortunately, for various reasons, there is very little overlap between humanitarian and development work. This is a complex topic that academics and institutions have dedicated their careers to understand and change, so I will not expand too much on it, however, I will share a few examples.
The funding mechanism and institutions providing humanitarian and development grants or loans are different and have different objectives. Often, humanitarian action depends on yearly funding for a specific crisis and even a specific project, whereas development action will receive funding over several years, sometimes decades, in order to design and support the construction of institutions and promote social and economic development. Development actors generally do not have the tools to work in high risk locations, for example during conflicts, and will less likely intervene in places such as Syria or Yemen. These crises are left to the humanitarians. Humanitarians are often criticised for providing "Band-Aid" only: fixing the problem on the surface rather than in depth. However, I believe this is sometimes necessary before the rehabilitation process can take place. Going back to the hospital example, if you have an accident, you first go to the Emergency Room before being transferred to other departments, once the life-threatening issue is resolved and rehabilitation can take place.
 
Tell us about your role with NRC?
I have been working for NRC as a Regional Shelter and Settlements adviser for the past 2 years. I support NRC teams in 8 different countries: Myanmar, Bangladesh, Iran, Afghanistan, Ukraine, Greece, Colombia and Venezuela. I spend 50% of my time in these countries to understand the problems and local context, working alongside local teams. I support these teams to develop strategic responses, provide training and capacity building on the principles of working with vulnerable communities in crisis contexts. I also support country offices with fundraising and advocacy with donors, governments and other international organisations. Local teams can be absorbed by their daily context and so my external perspective is valued. I also bring new ideas, tools and projects from other countries, from head-office, and past experiences which provides a space for self evaluation and learning.
My work environment is politicised because crises are often politically related. Over the years, I have developed an ability to build cohesive relationships in high intensity and conflictual environments. This skill has been crucial to enable constructive work environments to enable more efficient, effective and impactful programmes.
During my last trip to Afghanistan, I focused on training my teams on issues related to housing, land and property rights and ensure access to security of tenure. To give you some context, many Afghans who fled to Iran or Pakistan in the 70s and 90s are returning to Afghanistan after having lived sometimes several generations abroad. When they return they often have lost connections with their place of origin. Some decide to go back to their town of origin to reconnect with their relatives, whilst others decide to settle in new parts of the country. The first thing people need when arriving is a roof over their heads (ie. shelter) and food. We (NRC) provide emergency shelter and food assistance either by providing cash so they can rent a place and buy food or by providing a tent and cash as a temporary solution. We also support families that have found a longer-term agreement with a landowner to build a home where they can settle. When providing cash for rent, a tent, or supporting housing construction, NRC as a humanitarian and rights-based organisation has the duty to ensure that these families will not be abused or evicted as a result of the assistance. This is called the principle of 'Do No Harm'. The training I provided included undertaking an analysis of the local rental agreements, temporary and longer-term arrangements with landowners and local government to ensure peoples' rights to access housing is ensured and they can stay without fear of being evicting within an agreed framework.
What do you see for the future of humanitarian work?
I believe the humanitarian sector has professionalised in the past decades and will continue to do so. The sector used to be filled with good-willed people who found themselves working for NGOs without having fully intended a career in this sector, who basically learnt on the job.
Today, it is quite different. To start working for an international NGO, the UN or Red Cross, there are specific essential competencies to enter the sector, and specific degrees and language requirements. I believe these requirements are broadening to include more diverse sets of expertise, but expertise nevertheless. Today, we see more and more universities offering masters' degrees focusing on development and humanitarian assistance, which people are combining with their careers in business, tech, medicine, law, architecture, finance etc. Economists are required to understand markets during and after conflicts. Architects, engineers and urban planners are required to develop solutions for emergency infrastructure and housing, specifically in urban contexts. Lawyers are required to resolve disputes. Software developers and engineers are required to develop applications which will increase the efficiency of aid delivery whilst creating innovative approaches to improve the quality of our assistance.
What trends and innovations do you see emerging or are you perhaps even working on yourself?
As a shelter and settlements expert, I see concerning trends regarding adequate housing. The lack of affordable housing globally and the rising cost of rent and real estate is resulting in the increased number of low-quality housing-unit on the market and the reduced access to basic services to those most in need. This explains the constant struggle for vulnerable people to access to adequate housing, and increases the challenge for us (NRC) facilitating that access.
In various humanitarian contexts NRC provides rental assistance through different methods: by providing cash to families in need, by paying property owners directly to ensure free-rent for selected tenants or by up-grading properties in exchange of a free-rent period. NRC is currently working with the tech-sector to digitalise some of these approaches.
Housing experts, economists, financial experts, urban planners, lawyers, policy advisers and other professionals are required to ensure there is knowledge, resources and public interest in solving this global crisis. The SDG #11 highlights this challenge and commits to making cities and human settlements inclusive, safe, resilient and sustainable. Governments, businesses, humanitarian and development actors need to step-up to fulfil this commitment. We need to make sure we develop smart cities of the future without leaving anyone behind, ensuring access to adequate housing for all.