Header Picture by Alexander Probst.
This article originally appeared on TwentyThirty.
The MINI brand is part of the BMW Group, a global company. ProjectTogether is a start-up founded by school students. A clear case of culture clash. But the two enterprises are united by more than you'd think. This is why they launched a collaboration. Philipp von der Wippel, Managing Director of ProjectTogether, and Wolfgang Büchel, Managing Director of MINI Germany, talk about visions, social responsibility, and the art of bringing business and society closer together.
ProjectTogether is a social enterprise, the BMW Group a profit-oriented business – albeit with many corporate social responsibility (CSR) projects. So what actually unites you?
Philipp von der Wippel: For us, the social and the economic spheres belong together. If society is not doing well, business will not be doing well in the long run either – and vice versa. Only companies that are attuned to societal transformations will be sensitive to people's needs and will be economically successful in the future.
Wolfgang Büchel: Within the BMW Group, MINI is the small car brand, alongside BMW. One advantage of this position is that we are better able to test innovations flexibly – similar to start-ups. This is what defines MINI within the BMW Group. This is where our DNA is a little bit like that of start-up founders like Philipp.
Wolfgang Büchel, you know all about brands. What does ProjectTogether stand for?
Wolfgang Büchel: For me, ProjectTogether stands for creativity, for the future, and for the ability of bringing together people from business and civil society.
Philipp von der Wippel, how would you describe your company?
Philipp von der Wippel: We are the first digital incubator for social progress, where next-generation talents develop innovations that are fit for the future. One of our core tasks is to bring together actors from a variety of different fields that need each other but intuitively do not find each other.
How does each of you define social innovation?
Philipp von der Wippel: Social innovations start in the minds of pioneering thinkers – at the moment when they look at a problem and realize: "You can do things differently. It does not have to be the way it is." It is at this moment that deep-set behaviors are disrupted, and something new emerges into the world.
Wolfgang Büchel: On the one hand, social innovation is about actual innovations that advance society, such as, for example, the sharing economy. On the other hand, it is about society as such and therefore about every single individual. Specific forms of behavior and specific ways of dealing with each other promote or impede certain developments. Therefore, we at MINI try to make not only our products but also our employees fit for the future. For me, this, too, is social innovation.
What do you want to achieve with the #startupnextdoor challenge?
Wolfgang Büchel: My philosophy is: If I take care of my employees, they will take care of their customers and clients, and this will lead to economic success. I would like for our employees to meet challenges in creative, open, and varied ways. The nice thing about the challenge is that personnel development basically happens automatically during the coaching process and is not something imposed from above. A total of 15 MINI employees support the projects. Simply by entering into a dialogue with the start-up founders, they get to know a totally different world. But the real point is to provide start-up founders and employees with a stage where both can learn and experience something new and where they can both grow as a person and advance their projects and businesses.
Philipp von der Wippel: The young generation wants to make a difference and do something meaningful. This is why the social entrepreneurship scene is growing so much at the moment. We have realized that real change works only if we bring together different worlds. This is what makes our collaboration so exciting. We cannot predict the future. But if 15 start-ups and 15 managers try to understand each other's perspectives, this may well grow into a little plant that can get bigger and into something a young start-up founder would not have achieved on his/her own.
Wolfgang Büchel: As part of the collaboration, MINI employees talk with start-up founders in a phase where we don't even have a little plant. That's the charming thing about it. It's nothing spectacular but rather basic. It is about making an active contribution, about getting involved, about social responsibility that is not about simply writing checks.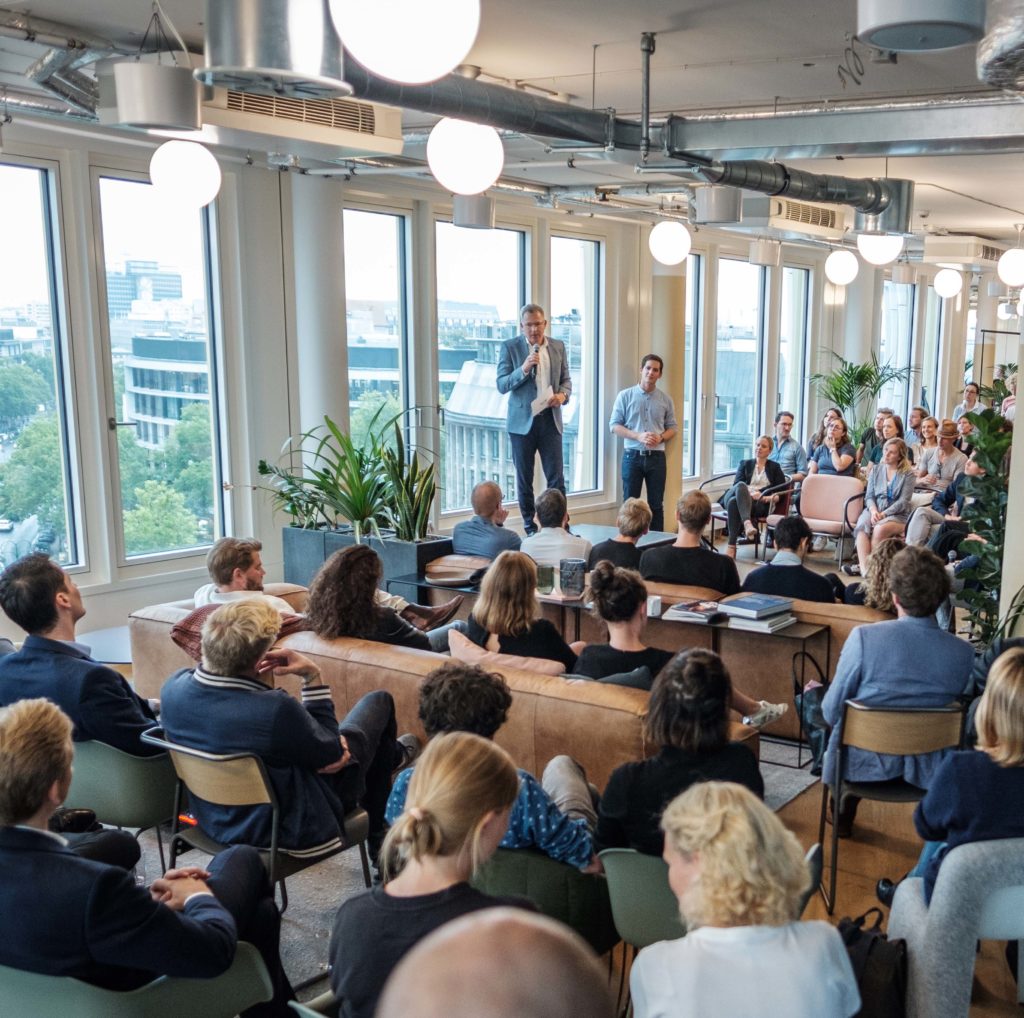 Picture: Wolfgang Büchel at the Demo Day of the #startupnextdoor Challenge by Alexander Probst.
How did the collaboration come about?
Wolfgang Büchel: The contact with ProjectTogether was brokered by the BMW Foundation Herbert Quandt via their Responsible Leaders Network, of which I have been a member for some time. One day, Ilsabe von Campenhausen called me and asked me whether I would meet with a few young entrepreneurs. I agreed although I did not know what it was all about. So we started talking to each other. In the end, the collaboration even fit with our strategy. The MINI strategy includes so-called Beyond Car Brand Topics, such as urban living or responsible mobility. So it was easy to find connections with the topics that also move many start-ups.
Philipp von der Wippel: I worked as an intern with the BMW Foundation four years ago. At the time, ProjectTogether was still in its infancy. Since then, the Foundation has crucially supported the build-up of ProjectTogether. The Foundation was a bridge for us, before we could build our own bridge. It made us open up and leave our bubble and helped us discover commonalities.
What will make the collaboration a success in your eyes?
Philipp von der Wippel: In my opinion, we have already had many partial successes, such as the #startupnextdoor challenge and the coaching training for the 15 MINI employees to prepare them for their collaboration with the social start-ups.
Wolfgang Büchel: Our collaboration has many facets. For me, it is successful if parts of it are successful. An important achievement, for example, was the first coaching for our employees. It reminded me of when I participated for the first time in a Responsible Leader program of the BMW Foundation. At the time, I did not know whether something would come out of it. Then I realized that I could make a contribution – namely knowledge, contacts, and ideas – and that I could also grow personally.
What challenges did your collaboration face?
Philipp von der Wippel: It started with small details. For example, we had to figure out what digital tools to use to communicate.
Wolfgang Büchel: The BMW Group pays a lot of attention to its IT security. Given valuable data, this is the right thing to do. But this means that some communication tools that start-ups use do not work in our system.
Philipp von der Wippel: But then we got in touch with the corporate IT department and searched for solutions. The challenge is to build bridges and look for interfaces, in terms of both technology and communication.
Wolfgang Büchel: As director of MINI Germany, it was a challenge for me to figure out how intensive our collaboration should be. What signal does the collaboration send to the outside world, but also internally? Besides technological challenges, another issue was how to interact with each other. The ProjectTogether staff sees the world through their own lens and had to learn how to collaborate with a globally active, listed corporation. In the end, both ProjectTogether and we learned to do things differently than we used to do them.
Do you want to use the collaboration to sell more cars to young people?
Wolfgang Büchel: On principle, everything we do should make a contribution to our original core business. The collaboration pursues this goal only indirectly, at most: For one thing, we will have more highly qualified employees, but there is also the communicative impact of the collaboration on our target groups. MINI is a cross-generational brand. Our target group is interested in the very topics that we address in our collaboration with ProjectTogether. A stimulation of sales could be one result of the collaboration, but it was not the original objective.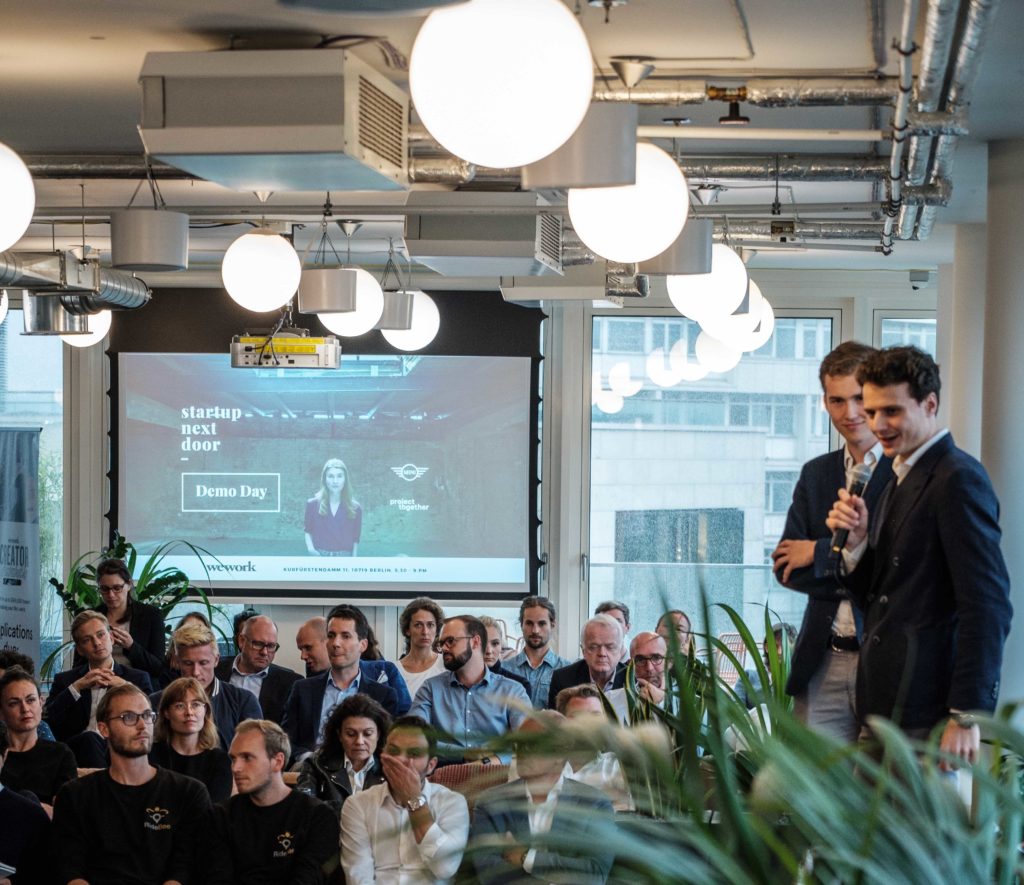 Picture: Philipp van der Wippel and Maximilia Schlereth by Alexander Probst.
How does ProjectTogether make sure not to get co-opted by BMW?
Philipp von der Wippel: This is a key question that we have asked ourselves from the beginning. It is important to be transparent about what we do and why we do it. The problem of co-optation always emerges if things are not clear. We therefore candidly talk about which interests each of us has. For us, it has from the start been a partnership between equals with clear mutual expectations. If this partnership would not be a win-win situation for society and business, we would not have entered into it.
ProjectTogether started in 2015 as a school student project. Now you call yourself the leading digital incubator for young founders in Germany. Sounds rather ambitious...
Philipp von der Wippel: My co-founders Michael Heider, Maximilian Schlereth, and I completed our Abitur in 2014. At the time we noticed that many of our classmates wanted to get involved. So we asked ourselves how we could help them do that. We didn't simply want to launch our own projects but have as big an impact and wide a reach as possible. I got to know the BMW Foundation as an intern just when things started to get serious with ProjectTogether. So the timing was very lucky. Now I am no longer an intern but a partner of the Foundation. The leap from a school student initiative to a digital incubator was only possible because many people contributed in enormously selfless ways.
Does the social engagement of Generation Y today mainly happen in the digital field?
Philipp von der Wippel: In my view, a separation between offline and online is becoming increasingly irrelevant, as these worlds are blurring. What we see is that fewer and fewer young people are using old structures. We make social engagement sexy and offer a new form of getting involved. We, the young generation, feel an enormous urgency to act now and take our future in our own hands.
What will urban life look like ten years from now?
Wolfgang Büchel: The question is a good one insofar as ten years into the future sounds like an eternity, but when you look back, it's a mere snap of your fingers. My theory is that things will change but not as much as some people think right now. The approaches we already see today, such as sharing or a growing environmentalism, will continue to grow. At the same time, we need to make sure to curb problematic social and political tendencies. Otherwise, the topics we are talking about here will quickly be put into perspective.
Philipp von der Wippel: Every city is different. If you look at Berlin, you realize that the life worlds are hugely drifting apart. In the Prenzlauer Berg neighborhood, we have partly violent conflicts, because people can no longer afford their apartments and feel driven out. What does "fair living" mean? How will people work? What happens if there are more and more freelancers? What a city will look like will be affected by many different aspects.
Do you have any plans for further projects beyond the current collaboration?
Philipp von der Wippel: We are right in the middle of the current collaboration and deliberately did not make a three-year plan at the beginning. We have a very strong basis of trust and are evaluating what works and what doesn't work. I'd say it's a work in progress. We are going slowly and taking things step by step.
Wolfgang Büchel: The advertising slogan for our MINI Cabrio is: Always Open. That's what MINI stands for, and that's how we see our collaboration. A lot is possible, step by step.
About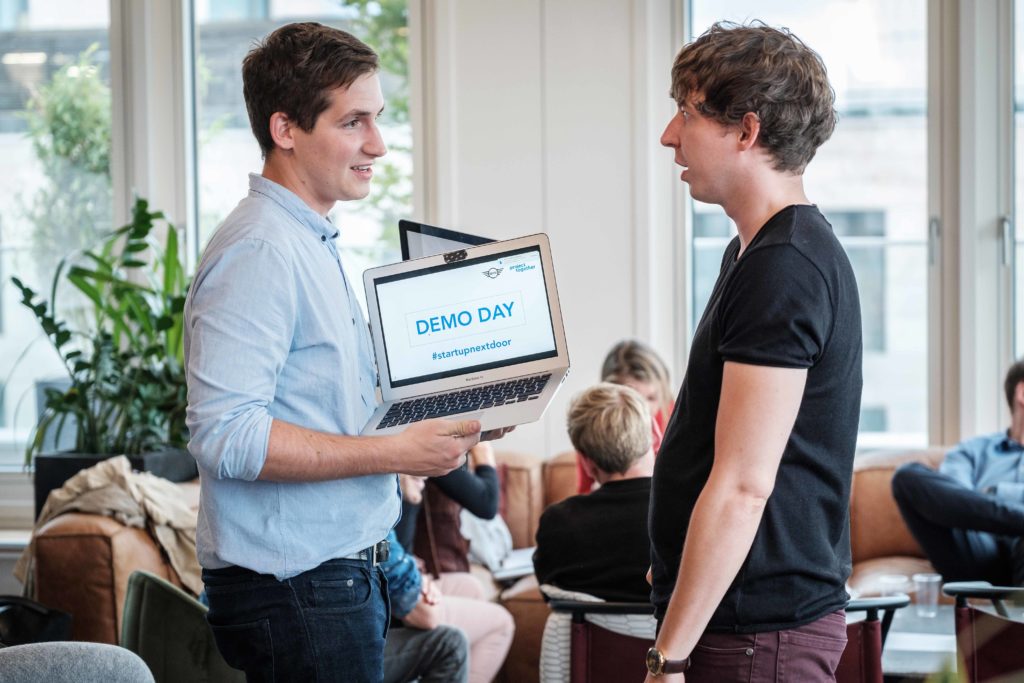 #startupnextdoor Challenge
ProjectTogether and MINI together have initiated the #startupnextdoor challenge. More than 100 German start-ups who want to shape the urban life of the future submitted applications. The challenge's three topics were: Connected Locals, Fair Living, and Creative Use of Space. From the applications, 15 start-ups have been selected for participation in a months-long coaching program with MINI and ProjectTogether.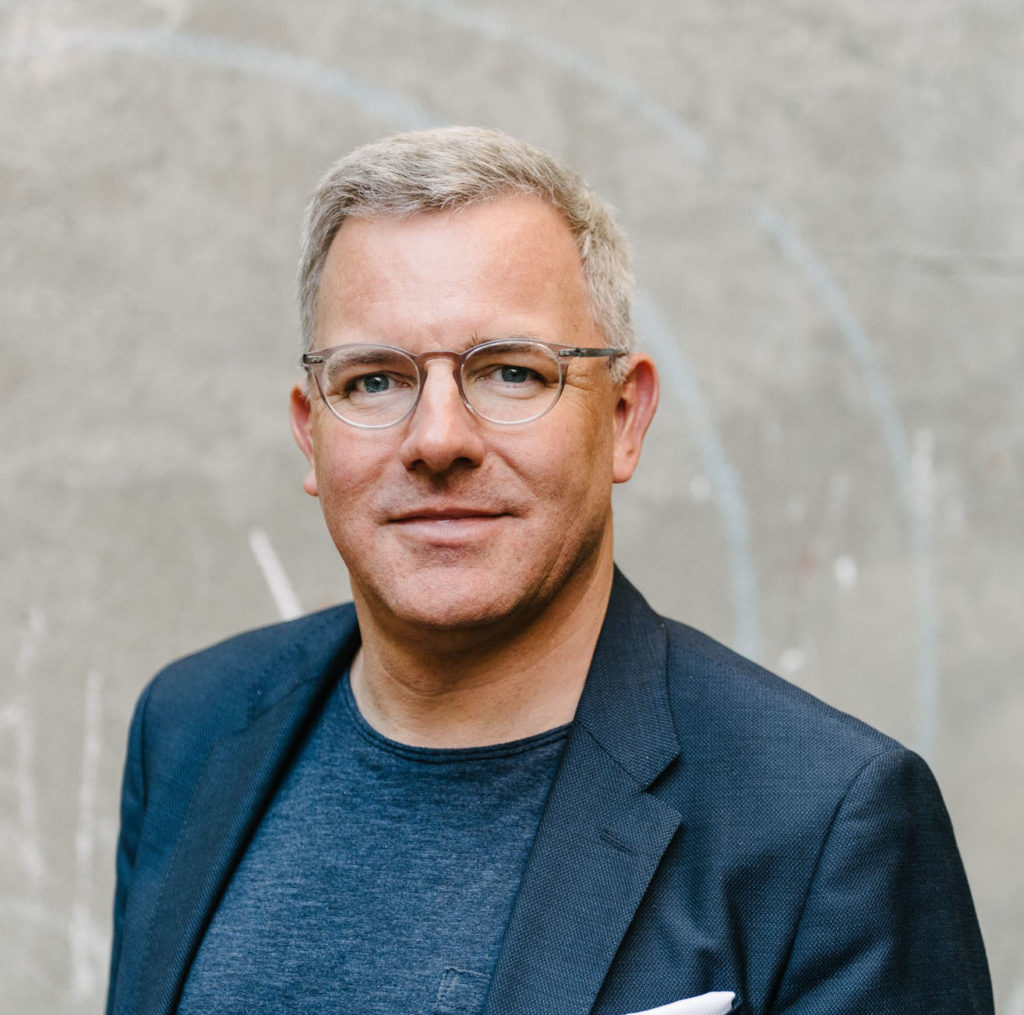 Wolfgang Büchel
Since April 2018, Wolfgang Büchel has been the Managing Director of MINI Germany, a brand of the BMW Group. The BMW Group has 131,181 employees. After studying in Passau and London, Büchel started his career with the BMW Group in 1995 as part of a management trainee program. He subsequently held several executive positions in Germany and abroad in the areas of marketing, sales, and general management. Starting in 2011, there developed a closer relationship with the BMW Foundation Herbert Quandt in Berlin, where he directed the BMW branch office. Since 2012, Büchel has been an active member of the BMW Foundation Responsible Leaders Network.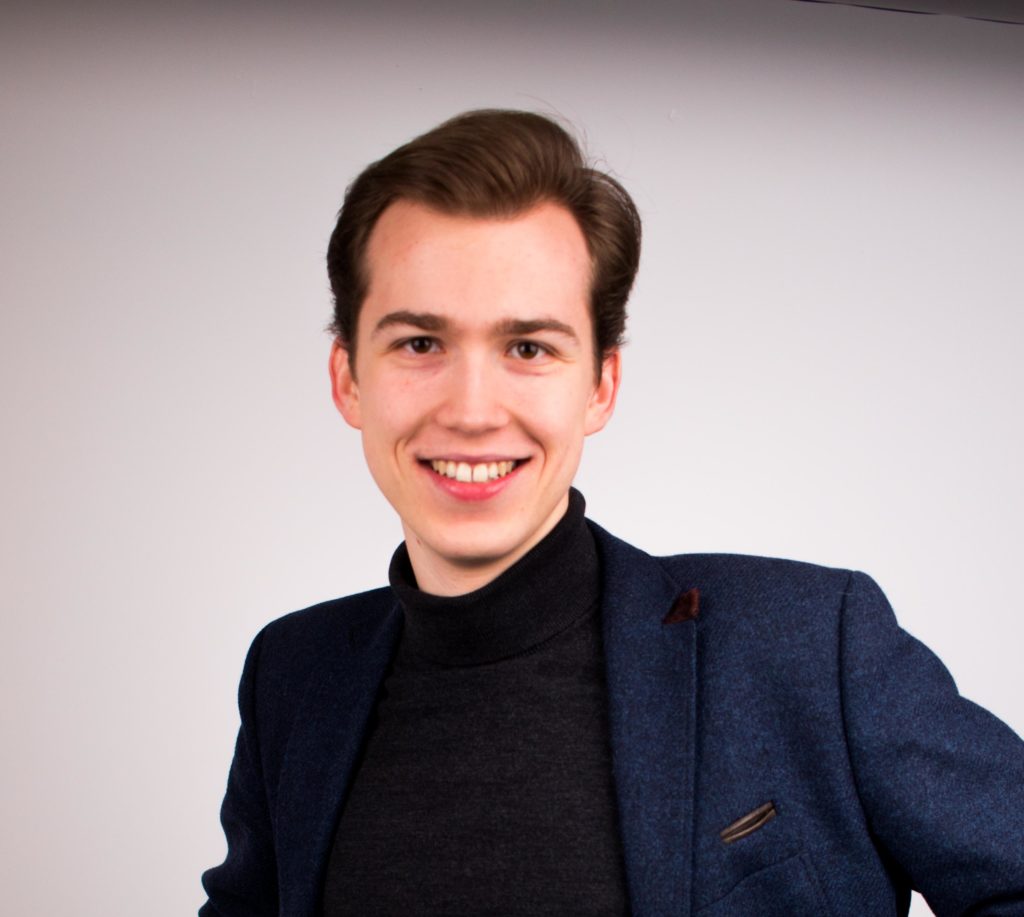 Philipp von der Wippel
Philipp von der Wippel is co-founder and managing director of the social enterprise ProjectTogether. He launched ProjectTogether at the age of 16. His focus is on bringing together entrepreneurship and social responsibility. After completing his Abitur in Munich, he worked for the BMW Foundation Herbert Quandt and for the G20 Taskforce of the Federal Ministry of Finance in Berlin. He studied philosophy, political science, and economics at Oxford University.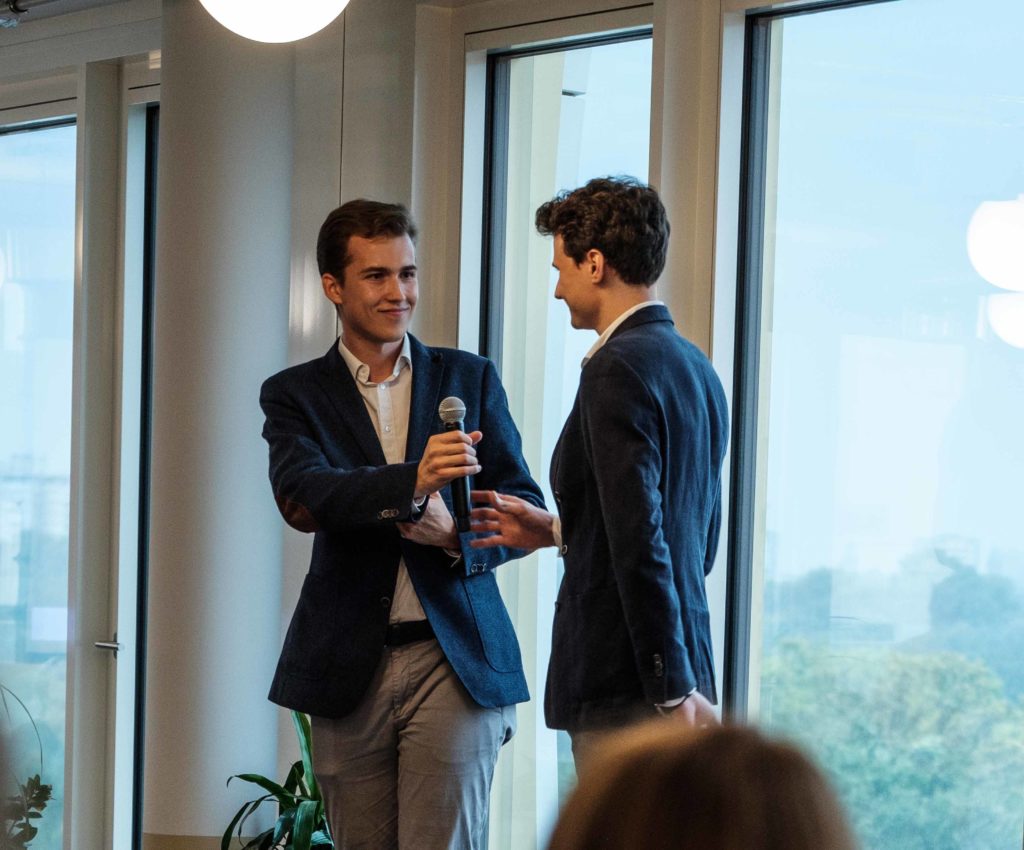 ProjectTogether
ProjectTogether develops solutions to social challenges, from educational justice to sustainable consumption to an inclusive society. The social enterprise helps young founders implement their initiatives. In 2018 alone, this has led to the creation of more than 300 new initiatives and start-ups. Today, more than 400 people work for the organization: 6 full-time staff members, 20 volunteers, and 400 coaches trained by ProjectTogether. Initially, the BMW Foundation and some of its Responsible Leaders provided organizational development consultancy or financial support. Today, ProjectTogether has a host of supporters, including in particular the Schöpflin Stiftung and the Robert Bosch Stiftung.
This article is presented in collaboration with TwentyThirty. 
TwentyThirty is an online magazine presented by the BMW Foundation Herbert Quandt. It sheds light on the social, political, and environmental challenges we face and features inspiring Responsible Leaders who are working to solve them. Follow their work on Facebook.