Some time ago we did an interview with Iulia Mitzner. She founded the app Queen of the Neighborhood (short: QUOTN), which connects users with sustainable companies founded or run by women and trans*. Once a month, the "Queen of the Month" is chosen and presented in a video interview. Since January this year we present the Queen of the Month also here on tbd* (Check out our Queen of January «Driller Queens» here!).

This month, the Queen of the Month crown goes to FairForce. FairForce is an open-end project operating in the field of diversity, inclusion, equity/ equality, but also intersectionality, postcolonial and transnational feminism, womxn's entrepreneurship. What exactly this means and what projects FairForce is currently working on, we discussed with founder Margherita in the following interview.
Can you describe to us what Fair Force exactly does?
Margherita: Fair Force is a project, a consulting business; we are on a mission to help companies and support companies to embrace strategies for diversity, inclusion and belonging. We try to support companies in making their company cultures more inclusive and to make sure, that they can manage the diversity that is already in their company properly and also make sure that this diverse work force is seen as a strength and is valued for the uniqueness of every single team member.
The other side of the project focuses on women. Women in a larger sense. So, of course we welcome all individuals identifying as women. Trans women and non-binary individuals are part of this term for us as well. And our mission is to be on their side, to support them and encourage them, to embrace their value and agency and feel more confident at their work places.
So the target group mostly of Berlin Start Ups consists and of course women. I work B2B as well as B2C. But I'm also very close to the community side of my work and love to work within my community, so I make sure that I have a space were community values are present and we can empower each other.
[recommended:12952]
What does the process of hiring you normally look like?
Margherita: The process of hiring me is actually very easy. You can find me on Instagram, or on my website, so you can just message me or send me an e-mail and explain to me what you need or what your situation and the issue you are facing at the moment exactly is. Maybe briefly how I could help, or what exactly you need from my side and then I will come up with a proposal or we can schedule a call. We can discuss further details together and then I will offer a set of services, that I think will match best with you needs and then we decide together when and how to best start.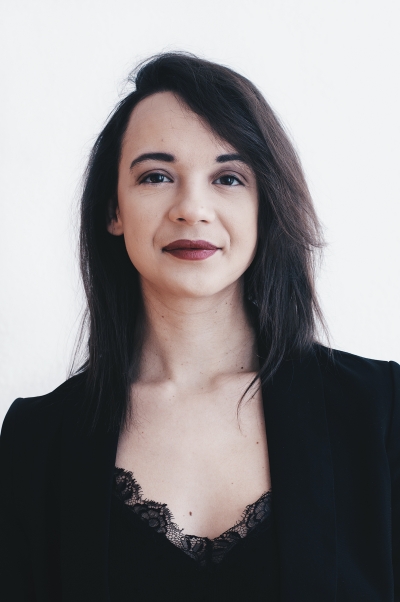 Founder of Fairforce Margherita
What are the usual steps that come next?
Margherita: The steps I normally take with my clients can be very different each time. It depends a lot on which company I'm working with, which stage they are in, in terms of awareness of diversity, inclusion and belonging. It depends a lot on whether they have already taken steps in this area and if those steps were more or less successful. It also depends a lot on the environment each different industry provides. And of course it also depends wether I'm working with someone individually, more like a coach, or and educational training, or whether I work with a team and more on the organisational level.
One step that I always take when I approach clients, or teams, or individuals, is an in depth conversation about the expectations, their goals and where the best meeting point between me coming in as an facilitator and educator and them stepping into a field that might be very new, or they know something about already. For me its very important to start with that deep conversation and clear the expectations. And then make sure that their goals can be met according to the kind of services, help and support that I'm able to provide and we can have a very transparent work relationship. Also with the less comfortable sides that come with the topics of equality, inclusion and belonging.
Lets circle back a bit. Why did you start this project?
Margherita: The idea to start Fair Force actually started a while ago. I have always struggled a bit with company cultures. Especially within start ups. I always noticed some very strict hierarchy or hierarchical attitudes going on and I personally suffered a little bit from glass ceiling, or this feeling that some people have more voices, or more power and other people have less.
Since I started working here in Berlin, I always noticed that organisations and companies are very little aware of how to make work places a more inclusive environment. But when I was in the middle of doing my master in gender studies and I was still working in my old job, when I realised that I wanted to apply the knowledge from my studies to create an environment that I want to be in, which is the start up scene. And I realised I can be a diversity advisor, I can be a diversity and inclusion manager for companies organisations and businesses that need to have a larger understanding and awareness on these topics. I then started working as diversity advisor. There I contributed a lot to the inclusion and belonging strategies and I advised the HR department about some intuitives and action that we could take in order to create a more inclusive workplace. I organised trainings and educational meet ups and meetings, but then things didn't really work out for me there. I didn't have the chance to work as a diversity advisor in a more formal way, so I just thought maybe this is simply something that I should do by myself. So I thought I'm in Berlin, everyone starts their own businesses, why should I be the only one not feeling confident to start with that? So I said, I 'll give it a try, I have a lot of values to give. And just got started.
Do you have advice for other people who want to start their own thing?
Margherita: Well, starting your own thing can be very overwhelming. But actually, it can also be very, very easy. I was already working as a freelancer. So I had my tax ID. I started by offering German classes and Italian classes. So I had decided to start as a freelancer for other reasons and when I decided to offer my services as a diversity consultant, I had my, lets say, legal set up already ready. So the first legal step as a freelancer is very easy. You just apply at the Finanzamt to get your tax ID. Of course it depends on your vision, if you want to build a start up, or a company, in the sense of having a team, a product or a more complex kind of organisation, then you might need to get some more information. Also you need to look into things like funding and setting up a more complex legal structure. In my case, I can just invoice my clients as a single person at this point. The biggest, or the most difficult part, was to just jump into the crowd and to start embracing yourself in the role you want to be acknowledged for. And then to build your brand, and your own awareness and agency, as a person who is starting their own business and has to create their own content and marketing and brand awareness. Let the others know what you are doing and what the value of your work is.
That is absolutely, super hard! It can be very overwhelming, because Berlin and the entire world in general is just full of people doing things and you might always ask, who am I to build this, who am I to makes this difference? How can I actually positions myself out there in a way that is unique? I always feel like I have a lot of values to offer, I have a lot of expertise and I have a very strong educational background and I'm sure that I can use all of this in my business to support many people. To provide a support with purpose, that really is my motivation and my way to keep going.
Starting in consulting specifically can be tough. Especially if you don't consider yourself a very experienced person. We are very used to considering consulting as a field for people that ten, fifteen, twenty years or experience and if you have any less, or if you're just starting with it, you might feel really out of place. Or really insecure your own credibility, so my recommendation is to try to get rid of this concept of consulting and try to embrace your own idea of what it is that you bring to the table. What is the expertise that you have? What is the experience or the motivation that drives you to approach clients? My recommendation is to build your own experience, build your own brand and credibility by practicing what you want to do and what you want to offer, without feeling that you're not enough, that you are too young, that your experience is too little. Just try walk your way with a certain amount of confidence, even though it's hard.
Last but not least, can you tell us about your experience of being part of "Queen of the Neighborhood"?
Margherita: I would say it's such an honour and it's a statement to be part of an explicitly feminist business idea and project such as "Queen of the Neighborhood". For me it's just the perfect place to be and the right framework, because it is absolutely aligned with my values. It's absolutely aligned with the purpose and the mission of Fair Force. I think that "Queen of the Neighborhood" is there to connect businesses with purposes, so it's very natural match between our projects. So for me it basically means to connect with other entities, that share similar values.

Become part of the Queen of the Neighborhood-Community: