Some time ago we did an interview with Iulia Mitzner. She founded the app Queen of the Neighborhood (short: QUOTN), which connects users with sustainable companies founded or run by women and trans*. Once a month, the "Queen of the Month" is chosen and presented in a video interview. And surprise surpise: starting now, the Queen of the Month will also make a monthly appearance on tbd*.

This month, we're pleased to give Driller Queens the title (and crown). The home renovation heroes from Berlin Kreuzberg are there for all your DIY dreams and disasters. They take the stress out of renovating your house or apartment, so that you always have control over your own space. Charly, the founder of Driller Queens, explains exactly what they are all about...
Charly, tell me exactly what is Driller Queens?
Driller Queens is a platform for craftspeople in Berlin. Our platform spotlights for women* trans and non binary folks. We all know how difficult it is to find an apartment in Berlin. When you finally find one, you move in and then there are no lamps, curtains, even no kitchen, and it's really hard to hire big contractors for such jobs. The finishing touches are exactly what we specialize in, we help to turn your house into a home.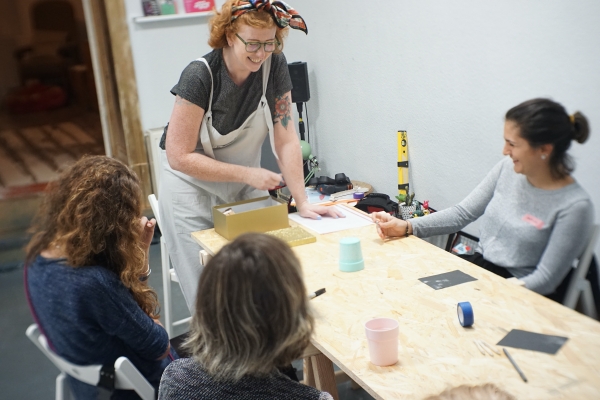 Driller Queen Charly during a workshop
But you also follow a mission I've seen? Can you tell us about it?
Diversity is the core of our brand. We strongly believe that we can help diversify the industry. It is becoming increasingly difficult for women or non-binary people to work in this industry, which has always been and still is very male-dominated. But we want to focus especially on these talented people who might otherwise not be able to work in a traditional construction site environment.
How did you come up with the idea to start Driller Queens in the first place?
We get asked this question a lot! I would love to tell people that I saw a gap in the market, had this great idea,  carefully crafted a business plan etc,  but it didn't really work like that.  It just started out as a side hustle, and sneakily grew into a real business. It's not that it just happened unnoticed, when my back was turned — I've worked my ass off for it — but it was a very organic process.
The household I grew up , calling a 'handyman' was like swearing, you just didn't do it.  My mother was and still is totally hands-on, a really impressive woman! She taught herself carpentry, electrics, and all kinds of skills. Growing up in such a positive environment just makes you feel that these skills are achievable and are not completely out of reach.
I always knew I could fix things, and now I am lucky to have a whole team that can do it too. You have no idea how happy this makes me!
What would you advise founders* who are just starting their own business or project?
My advice to people who would like to start their own business, or would like to make their side hustle a main hustle: get fired. That worked surprisingly well for me! There is no better kick in the ass and motivator than not being able to make rent. But on a serious note, focus something you're truly passionate about, something where your eyes light up when you talk about it. People will be able to tell.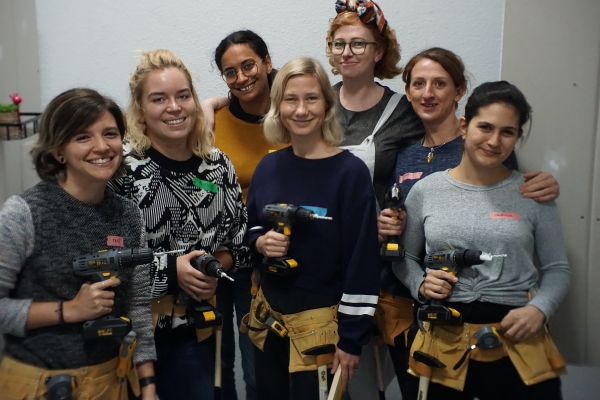 Happy participants of a Driller Queens workshop
My advice to people who want to build something in this specific industry: we give workshops. If you want an introduction and want to learn how to use a drill, come to one of our workshops in Kreuzberg and we will teach you the basics.
What does it mean to you to be part of "Queen of the Neighorhood"
What I love about this platform is that although it's a platform for women*, first of all it is a community. The platform has been really priceless for us until now! We've received numerous orders from it, we've met the person who runs our workshop space, and the person who does our screenprinting. It's just so nice to be part of this community that is really interested in you. It's not everyone throwing around empty phrases and shouting "Yeah, Girlpower!", but something that's genuinely helpful and practical. It's an emotive, supportive platform and no one has to pretend to be a cold-hearted, businesswoman*. We all know that's not true anyway.

The interview with Charly from Driller Queens is just the beginning – become part of the Queen of the Neighborhood-Community: