This article originally appeared on TwentyThirty.
He almost single-handedly prevented the formation of the current German government and thus Angela Merkel's fourth term in office. Kevin Kühnert, federal chairman of the Jusos (Young Socialists in the SPD) talks about the NoGroKo (No Grand Coalition) movement, the EU, and the only thing he has in common with U.S. President Donald Trump. 
"Mister NoGroKo," "Milk Face," "Future Chancellor": Mr. Kühnert, what is your hashtag in your own words?
Federal chairman of the Jusos.
…who is characterized by what?
Definitely a sense of humor, I am down-to-earth and – to stay with politics – left.
Do successful leaders need these characteristics?
For me, it is important that people are authentic in what they do. Being different is fine.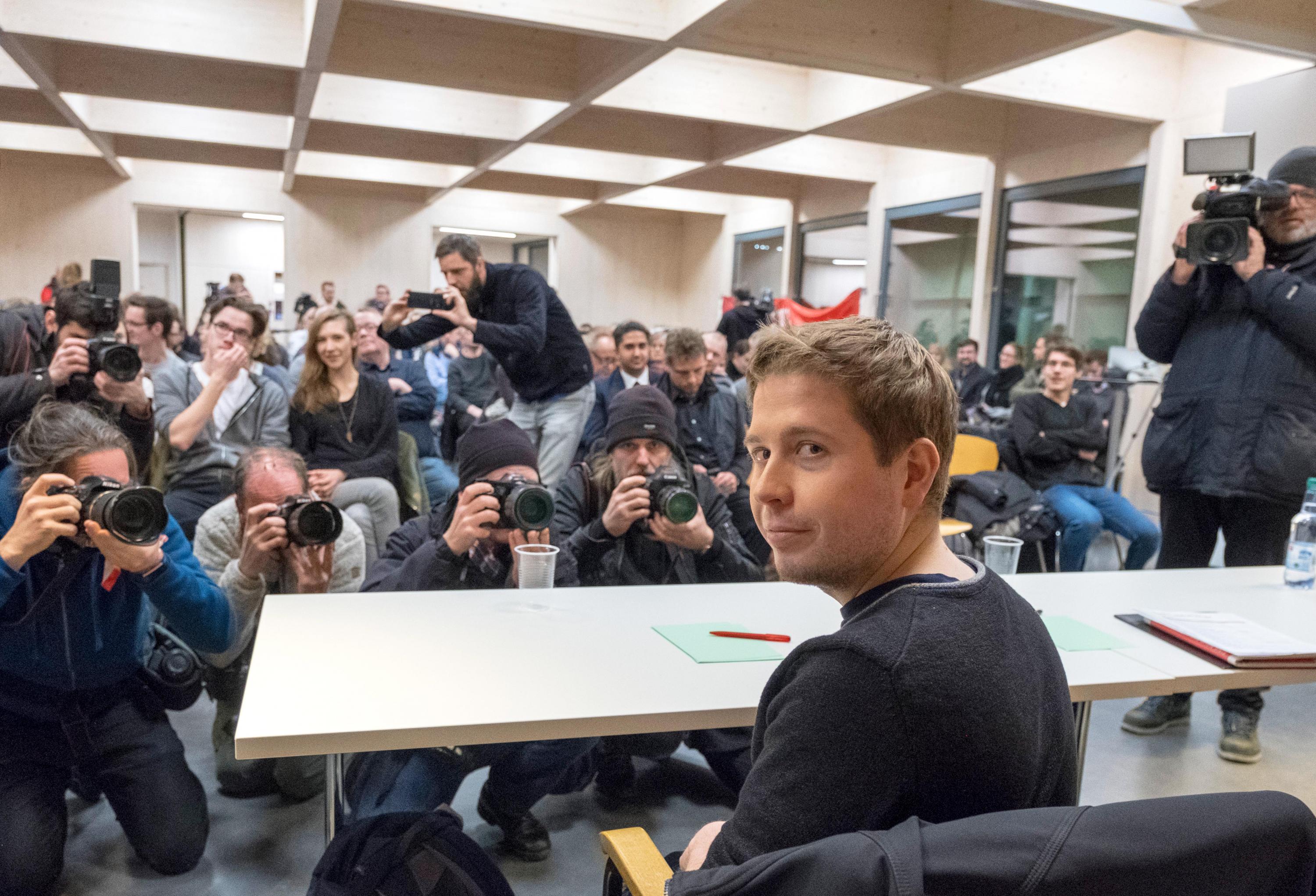 Kevin Kühnert

Kevin Kühnert, a native Berliner, joined the SPD in 2005. He currently works for Melanie Kühnemann, a member of the Berlin House of Representatives, and is active in local politics. Since November 2017, he has been federal chairman of the Jusos. Kühnert became known as the face of the NoGroKo movement. Besides politics, his main interest is sports.

In April, Kühnert participated in a Global Talk organized by the BMW Foundation Herbert Quandt. The discussion revolved around the question of whether we need a United States of Europe.
Until recently, Martin Schulz, the former chairman of the Social Democratic Party (SPD) and candidate for chancellor in the 2017 elections, was a respected leader. Now he is left with a mess. How are you different from Mr. Schulz?
Martin Schulz has become a product of the election machinery. A sad example of how we should not deal with each other in politics. He was flying too high at the beginning, and fell too low at the end. We Jusos had the courage to stick to our position. I would also wish to see this from the leaders of the party.
Argumentative leaders such as Gerhard Schröder and Andrea Nahles are also former national chairs of the Jusos. As Juso chair, does one automatically become a rebel?
Not as an end in itself; it always needs to be justified based on substance. Our job is to push the SPD. A certain rebelliousness is part of the Jusos' self-image, since we are, according to our own definition, an independent left youth association. Our members do not have to be SPD members.
You became the face of the NoGroKo movement practically overnight. What is the best advice you received during the campaign?
The best advice came from Antje Vollmer, a former Green politician. She told me to make conscious use of media events and not to do anything that had nothing to do with politics. We received invitations from cooking shows. For us, that was out of the question.
The NoGroKo campaign was very exhausting. What gave you the energy every morning to carry on?
Conviction helps – and the 25,000 new party members in January, which were essentially a result of what we had done.
As the face of the NoGroKo movement, you were feted but also treated with hostility, even from within the party's own ranks. How did you cope with this?
It wasn't so bad. Most responses were positive. I could live with the negative ones, since I was at peace with myself and my position at any time.
The social media were an essential part of the NoGroKo movement. What was the worst you had to put up with on the Internet?
I did not have to put up with anything really bad. But I know from my predecessor, Johanna Uekermann, that things can be different. By talking to her, I realized that there could be attacks all the way to death threats and rape fantasies. Unfortunately, this is not uncommon on the Internet. Something like that hasn't happened to me. This definitely also has to do with the fact that women are still treated more roughly on the Internet than men. 
How did you use the social media?
For us Jusos, the social media are fundamentally important, since it is where we find the biggest concentration of our target group. A medium that I have discovered for myself is Twitter.
Why Twitter?
Twitter partly replaces the function of the press release, since almost all media representatives are on Twitter. I can use Twitter to comment on political developments directly and at short notice. What I write is taken to be a political statement and is also cited, as the case may be.
So you are using Twitter like U.S. President Trump?
Sure. Our content differs, but Trump has understood the mechanism well. 
Trump, Erdogan, Putin, Ms. Merkel – today's governments are led by people over 40. Does our generation have to wait for 20 years until it's our turn and something changes?
At least as far as Angela Merkel is concerned, we are not talking about a 20-year perspective. The problem, however, is not individual people but the fact that Trump was seen by many people as making the best political offer.
Brexit or Trump: How can we counter the discontent felt by many people?
Moralizing will not eliminate the discontent. We need to improve people's lives.
The actions of people in positions of leadership – whether politicians or CEOs – can have an impact on society. What distinguishes a Responsible Leader?
Those who assume responsibility should have empathy and think about the consequences of their actions. Let me give you one example: The president of Eintracht Frankfurt said that his club was not a place for AfD members, since their basic values were contrary to those of the soccer club. It's no small thing to say something like that shortly after the party had received almost 13 percent of the votes. He spoke from conviction and triggered an important debate. I would like to see more of that.
[recommended:8964]
What global challenges need to be urgently solved by your generation?
The biggest challenge is how to distribute global wealth. If we are talking about distributive conflicts, we are talking about access to resources, about riches, about the inequality between the global North and South. Germany should face up to the fact that it is in its own interest to give, since the alternative would be conflicts, partly of a warlike nature. Other huge challenges are climate change and terrorism. 
How can your generation succeed in tackling these challenges?
I don't know whether we can succeed. But we have to succeed. My generation is characterized by a certain worldliness. We grew up seeing what happened in other countries on TV. Social networks help us communicate with people from all over the world. Talking with each other is the basic prerequisite for tackling the enormous challenges. Currently, we are talking a lot about each other but not enough with each other.
What role will Europe play in the geopolitical power structure ten years from now?
If we want to play a global role, Europe will have to harmonize many processes – for example on trade issues – not only in ten years, but before then. We need to find structures that do not paralyze us. Approaches such as the principle of unanimity do not move us forward. If I look at the EU at the moment, there are two tendencies: There are those who say that we need to go back to the nation-state. And there are others who say we need to have more cooperation. A person committed to humanistic values can only conclude that the right option would be greater European collaboration. We can passionately argue about how, but hopefully no longer about whether this is necessary at all. 
The United States is not really considered a role model at the moment. Why then a United States of Europe?
The terminological similarity suggests that it would be a construct like the United States. This is not necessarily so. I am in favor of the model of a federal state. The key to how to get there is a common constitution. In a constitution we can formulate our ideals. What do we mean by human rights? What does the right to asylum mean? How do we distribute wealth? This discussion process would be useful to finally talk about the questions that are still unresolved.
[recommended:8681]
This article is presented in collaboration with TwentyThirty. 
TwentyThirty is an online magazine presented by the BMW Foundation Herbert Quandt. It sheds light on the social, political, and environmental challenges we face and features inspiring Responsible Leaders who are working to solve them. Follow their work on Facebook.