At the end of 2015, we made a big decision. For two years, the three of us had been slogging away with the invaluable help of interns and occasional freelancers, but we were running against a brick wall. We were in the hamster wheel, working long days and under constant stress, but not making the progress we aspired to. We desperately needed some additional (wo)manpower and expertise on board. And we needed breathing space for strategic and long-term planning rather than opportunity-driven, short-term gratification. Above all, we had so much more in mind for The Changer. But how to pay for it?
Our earned revenues - predominantly from promoting jobs and running workshops - couldn't cover it yet and public funding had proven to be a dead-end. Crowdfunding? Our feeling was that The Changer wasn't direct-impact enough for individual giving. And anyway, only very few campaigns reach a level of financing that would see us through more than a couple of months. So we took a deep breath and went down the path we considered to be the best option: impact investing.
To cut a (very) long story short and fast-forward nine months, we were successful in "closing our round" in October! We raised 280.000 EUR impact funding from four impact investors, including a large charitable foundation. Additionally, in order to reach the amount we calculate that we will need to get ourselves to financial sustainability, we have also invested 25.000 EUR of our own money (having already maxed out our savings we borrowed it from friends and family).
We are incredibly happy and to be honest, very relieved. It is an unbelievable feeling to know that other people really, truly believe in our idea, as well as recognising the vital importance of investing in young social businesses like us. Despite closing the round in October, we have not been shouting from the rooftops until now because, honestly, it was one of the hardest nine months any of us has ever experienced and we needed to take a moment to reflect. But now we're more than ready to make it happen. We are SO very grateful that we have the chance to develop this idea further, because we truly believe that The Changer can make the world a better place.
So where to next? Well, our ambitions are… big. By 2020 we aim to become the global online destination for people who want to use their time at the office to change the world. Why global? Because that is where we see the greatest potential for creating impact.
Firstly, by giving visibility to innovators around the world who are working to solve similar problems - from climate change to refugee integration - and thus enabling knowledge-sharing and the spreading of good ideas.
Secondly, by providing all social organisations and purpose-driven businesses easy and affordable access to the world's top talent.
And thirdly, by ensuring all social entrepreneurs and intrapreneurs have access to the cutting-edge news and information they need to maximise their impact.
To do this we need to ramp up our technology, start to build local communities in the world's social innovation hotspots and build up a team that can ensure that we are offering the companies and organisations that we serve the best possible service, at all times. 
What is impact investment?
For those of you who aren't familiar with impact investing, the concept is simple. Unlike a regular investment, where an investor is only interested in a financial return on investment, an impact investor wants more: namely a financial return on investment and a social return on investment. Example: a social enterprise delivers nutritious meals to families on low-incomes. A regular investor would traditionally want them to maximise their profits and charge the families the maximum possible amount e.g. make annual profits of 20%. An impact investor, in this case, might accept that they should make a smaller financial profit, but in that case would want to see a measurable Social ROI. So for example, annual profits of 10% plus 10% improvement in health stats of families targeted.
Impact investors can be both private or institutional. Some examples of well known impact investors in Germany are GLS Bank, Bon Venture and Social Venture Fund. In 2015, over 420 million was channelled into impact investing in the UK. In Germany, it was just 70 million. Want to know more? Read an in-depth report from the Bertelsmann Foundation here. 
"In 2015, over 420 Mill was channelled into impact investing in the UK. In Germany, it was just 70 Mill."
For many, the term "investment" might set alarm bells ringing. It did for us too. And, quite frankly, it should, because it is not something to be taken lightly. It means giving up some of the autonomy that you have fought hard for as a founder and contractually obligating yourself to your company, and these people who you have only just met, for an indefinite period of time. It's a bit like entering into one really big, really creepy marriage, which is why you want to make sure that you have chosen the "right ones". We are very confident that we have.
Our investors are people who are all incredibly motivated by what they see as a huge potential for positive social change in releasing funds for impact investment, that would otherwise be assigned to non-impact investments. They are all personal ambassadors for impact investing within their own personal and professional networks. The "angels" have already offered us invaluable advice and they will continue to advise us going forward, even though they are not obliged to do so.
You may be concerned about what this means for our mission and vision. Will we now turn into a money-making machine, only concerned about revenues and profits? The answer, of course, is no. We have worked hard over the last few months to make sure that we are completely mission aligned with our investors. Our social mission is built into our statutes and all investment contracts, and if we deviate from it and become too commercially driven, the investors can demand their money back. So it is in everybody's interests to ensure that that doesn't happen.
We would like to take this opportunity to thank Markus Freiburg from FASE who was an invaluable help in getting to this point. Having never raised a round before, we decided to hire FASE - a charitable financing intermediary founded by Ashoka Germany - to manage the process. They would advise us on our business plan, make connections with their large network of around 200 impact investors, accompany us to pitch events, and handle the negotiations when it came to it. For this service they would receive 5% of any investment we raised. This seemed like a lot of money but, in retrospect, we strongly believe that it was worth it. 
What's next?
And now, time to build the global online destination for people who want to use their time at the office to change the world. We can't wait! Thank you to all of you who have believed in us from the start - we hope you will stick by us on the journey ahead. Our promise to you is that we will always be transparent about everything, from how we are spending our money to where it is coming from. We will always hold ourselves accountable to our mission and vision. We hope that in return you will also continue to hold us accountable, guide us, support us and be THE CHANGER, just as much as we are. We can't do it without you!
If you have any questions about our investment, or anything else at all, just send us an email to hello@thechanger.org. We look forward to hearing from you!
- Nadia, Nicole and Naomi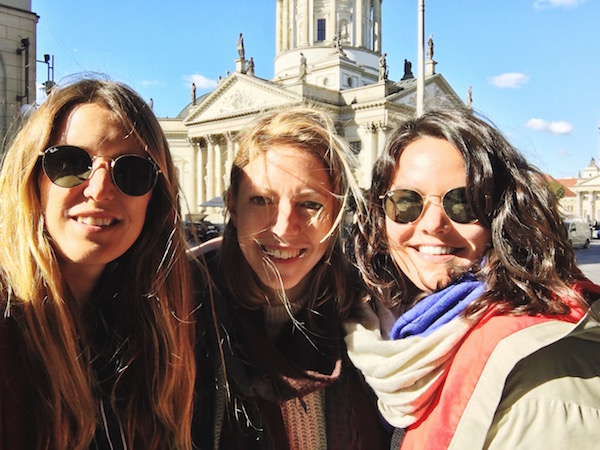 Three very happy, relieved and slightly exhausted Changers after the notary appointment to sign the investment contracts. :-)
Originally published December 7, 2016