Originally published May 18, 2016.
A lot has changed since Give Something Back to Berlin launched three years ago. The social landscape in Berlin has changed dramatically with increasing numbers of refugees coming to Germany and the discussion surrounding integration has reached an epic roar. So how has GSBTB responded? 
Well, to put it simply, they've nailed it. Just a few weeks ago, they won the Intercultural Innovation Award from the UNAOC and BMW. But it wasn't always easy. Like almost every social venture, they struggled to find funding and spent countless hours trying to convince people of the value of their work. 
In honor of their accomplishments, we wanted to catch up with Give Something Back To Berlin's founder, Annamaria Olsson, to discuss their work and how they approach creating sustainable urban integration. 
In this interview, Annamaria describes the platforms in which GSBTB works and explains why they are important in fostering integration between "privileged" migrants, German locals and more vulnerable migrants, such as refugees. She also offers advice (and some words of caution!) to flourishing refugee-related projects and gets real about the funding issue. 
You just won first prize for the UN Intercultural Innovation Award. Congratulations! So tell us, what is GSBTB's special "innovation" sauce?
If we should believe the folks at the UNAOC and BMW, not to mention our 3 years of practical experience, our innovation lies in our work model. Since 2013, GSBTB has grown organically into a huge community, both on and offline, comprised of hundreds of skilled volunteers in over 60 social projects all over the city.
Today GSBTB works on three parallel levels; we send eager volunteers to existing projects throughout the city, we act as a network and catalyst where people come together to develop new ideas and we initiate and run our own GSBTB projects. The collaborations can be anything from working in homeless centers, mentorship programs for underprivileged youth, working with the elderly or creative work with children. At the moment, we run nine weekly GSBTB refugee programs involving 95 volunteers, reaching out to over 270 refugee participants with 52 educational hours per week. (These 52 hours do not include any kind of administration work hours, or the times when people take a chance to get to know each other and just hang out as friends…) 
With all this, GSBTB has created a tool for community integration that brings together more "privileged" migrants, German locals and more vulnerable migrants, such as refugees. In our extensive grassroots work, different migrants and their Berlin neighbors meet. The intercultural volunteering is positive, lively "think global, act local" work, proving that everyone has something to share with others regardless of their passport, status, language skills or how long they may have been in the country.
Our official collaborations tend to offer a framework in which new projects can informally grow. In our network, people come together to develop new ideas, projects, offer jobs, found start up's, participate in art collaborations, build up their professional networks for now or the future or simply hang out. It is simply impossibly hard to keep track of the thousands of connections being made between different groups and people all over the city thanks to our work, let alone the synergy effects and spin-off collaborations that result from these.
Through this model, GSBTB has never been a charity were one group is "helping" another. We've always been co-creating our project with the participants. With a major part of our volunteers being migrants (many of them having refugee status themselves), we constantly blur the lines between old, new, Germans and different kinds of migrants.
For instance, in our project, refugee newcomers don't get a traditional "mentor" or a "German friend" – instead they get tons of open contacts, networks and potential friends. It's a modern and dynamic way to create community integration and doesn't feel so staged. Since we are also an already mixed and international community, I think it makes refugees feel a bit more on the same level and not like a "charity case".
By building partnerships, relationships and dialogue between people from the cosmopolitan art, creative and start up-scene with local NGO's and refugee communities, we are in the end creating a form of small-scale sustainable urban integration and developing a culture of enabling disadvantaged local communities to profit more from the globalized creative, tech and start-up industries. We call it "making worlds meet, working together for a better city".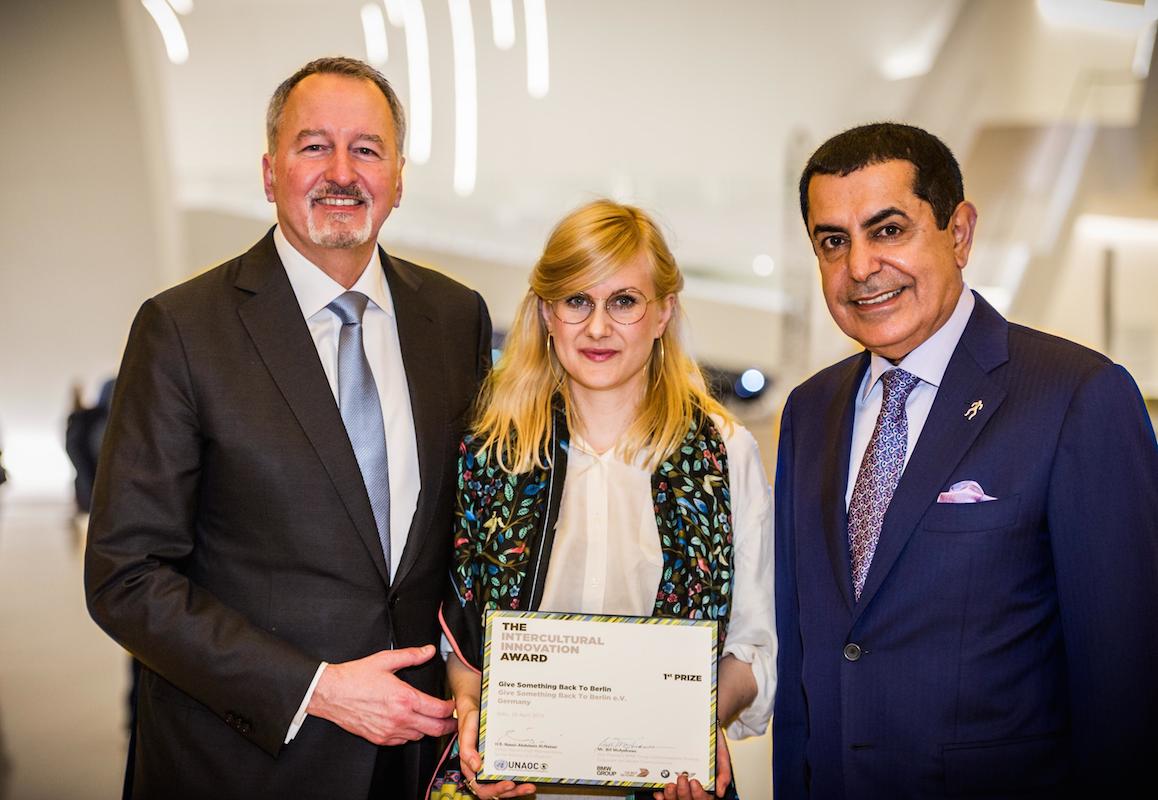 Has the current refugee situation in Germany changed the nature of your work and the way that it's been perceived from the outside?
Yes and no. Our original idea back in 2012 was to create an easy and modern tool to mobilize social engagement, for international new Berliners to get involved locally to make neighborhoods and newcomers profit from each other.  We wanted to build bridges, foster intercultural dialogue and create meeting points between old and new.
Back then, the whole gentrification debate was making more privileged newcomers the target and scapegoat of all sorts of things, in the same way refugees today are the center of attention and to blame for… all sorts of things. With GSBTB, we wanted to create a concrete positive solution and make migrants themselves become  part of the conversation and city.
Last summer's refugee crisis just made it even more clear why it's important to create new ways for mobilizing people and tools for community integration. But the segregation and xenophobia have been there for much longer and GSBTB was involved heavily with the refugee community since our start in 2013, starting at Oranienplatz and Ohlauerstrasse. GSBTB's work hasn't changed more than in the scale and professionalization, but back then people and journalists were obsessed with the question of gentrification, whereas today the angle is the refugees.
In two years it's maybe something else but the need for real solutions for living together and sustainable city development remain. This type of work is much bigger than the refugee media trend.
In that vein, there have been a number of refugee-related projects springing up in response to the current situation. What would be your advice for them? Any words of caution?
Look around and see what is already out there before you start building on your brilliant and spontaneous idea. Since summer, so many initiatives sprung up that are more or less doing the same thing. Of course we need tons of people engaging in the topic, but we also need to be a bit strategic how we invest our energy if we want to make things sustainable.
We do in fact need hundreds of Sprachcafés all over the city but for sure we don't need 103 welcome-websites explaining the exact same thing. I think several of the projects and social start ups should seriously collaborate or merge to get more (wo(man)) power and greater social impact. It's about building alliances and INCLUDING people in structures that already exist instead of creating an extra "refugee" project for everything and building one's own parallel structures.
From my own experience, people should be a bit more cautious about going to work in refugee shelters and communities without any experience or structures around them. You need to know that you will be able to commit and stay around for a long time before you start building things with people in very vulnerable situations who might have who lost everything.
What might feel like a fun, challenging idea for you might be a question of life and death for others.
People might end up feeling confused, used or instrumentalized if it's done wrong and you as a changer might feel completely overwhelmed and end up quitting since the challenges and work loads are tougher than you might have thought in the beginning.
Start small and grow it with time, only after gaining experience. And be a bit culturally sensitive – just because yoga and/or a fun Halloween-party might do you good, it doesn't mean that it's what people from other cultures might want or need in a new, stressful and chaotic situation.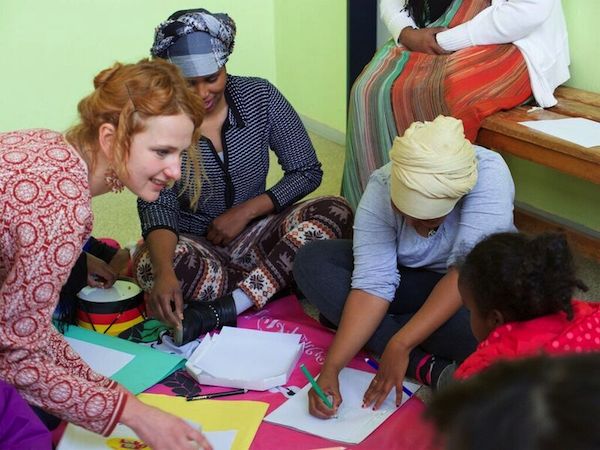 Early on, you struggled to get funding. Did that change at some point and if so, what exactly changed?
Back in 2014 when you interviewed us I said,
"Trust your "Bauchgefühl" and have patience. If you're a real changer you (hopefully) know your theme/what you're talking about and have a feeling in which directions things are (and should) be going. But not everybody has. It can take a lot of time and patience to establish your idea and convince people about your cause if you're dealing with complex issues. As a real changer, you are often a bit "before" the mainstream with your ideas, analysis and solutions for things. It's really crucial to hang in there, wait and create your moment. If you're idea is good, it will for sure come!"
That is what exactly what happened; innovative ideas take longer to establish – that's just the way it is!
Our model and way of doing things was always innovative and for a long time was not particularly "German". Since last summer's refugee crisis, it felt like Germany (and Europe) kind of got that this work can't (and maybe shouldn't) be organized in this super-planny, projekt-anträge schreiben und zehn monate warten kind of way. It strangles innovation and makes it impossible to react as fast as you need to. I have the feeling something crucial changed in how the state, civic society, social entrepreneurs and funding-structures can work together.
" Innovative ideas take longer to establish – that's just the way it is!"
But something else happened too. After GSBTB established and proved ourselves, knowing that we were onto something and not just a "good idea", we took time to network and slowly the people on the funding level started to get what we did.
And to be honest, if the GSBTB founders would have been men, we might have started networking with money givers even before we had any proof that our idea really works.
Guys can come in and blabla a bit without much concrete proof and are seen as founders, risk-takers and leaders. That gets them the money. Meanwhile, women get real PROOF, build up shitloads and then are seen as some kind of sweet Florence Nightingale's. In my opinion, there are clear gender perspectives on these issues.
What's next for Give Something Back to Berlin?
As a part of the Intercultural Innovation Award Prize, we'll receive one year of capacity building from BMW and UNOAC, with the goal of developing our model further to then replicate and scale. Since we became a best practice of "modern ways of integration", we also have tons of requests to talk and share our knowledge. This week a prime minister delegation from Japan, next week the city of Seoul, then a Polish delegation, then we go to Canada, etc., etc. That's of course fancy-pancy and cool but the most important thing is to continue building on all the great project work and knowledge that we build up in here in Berlin.
Regarding the refugee question, I think the real challenge starts now. Organizing German courses, a Job-börse and roof over the head is one thing but the real challenge is to create sustainable structures for long-term integration.
How can people get involved or support you with your work?
There are tons of things to dive into on our website! Or follow us on Facebook to find out when we're having our next Team-Up event! And, as always, we are looking for cool partners and sponsors who get what we do and want to be a part of making the project and work grow.
Right now we are specifically looking for partners who want to team up in developing the technological side of our project. We grew super fast and didn't have time to keep up with the tech side of things, since we were crazy busy with the very practical grassroots work that needed to get done in one of the epicenters of the migrant crises…  Now it's time to see how we can utilize technology to make the most of the experience and brilliant community who came together under the GSBTB roof!