Europe is a global shaper when it comes to same-sex or gay marriage. Of the 20 countries worldwide that have legalised gay marriage, more than half are located in Europe. In 2001, the Netherlands became the first country to legally allow same-sex couples to wed. In November 2015, eight more EU member states passed laws allowing gay marriage, including Ireland after the public overwhelmingly voted in favour of gay marriage in a referendum. To this day, 17 out of the 28 EU member states legally recognise some form of civil union. 
These European countries allow same-sex marriage

| Country | Since |
| --- | --- |
| Belgium | 2003 |
| Denmark | 2012 |
| Finland | 2017 |
| France | 2013 |
| Iceland | 2010 |
| Ireland | 2015 |
| Luxembourg | 2015 |
| Netherlands | 2001 |
| Norway | 2009 |
| Portugal | 2010 |
| Spain | 2005 |
| Sweden | 2009 |
| UK | 2014 |
Yet, while legalization is progressing around the world, gay marriage remains a contentious and sometimes divisive topic. Only a few years ago, in 2013, France witnessed huge and passionate demonstrations against gay marriage. Homophobia still remains widespread in much of Eastern Europe and resistance towards gay marriage holds strong. 
It is against this background that we decided to take a closer look at what Europe as a whole thinks about gay marriage. We conducted a census-representative survey of almost 12,000 people across all EU-28 countries to see how public support for gay marriage varies across Europe. Is public opinion in line with the recent laws enacted in favour of same-sex unions?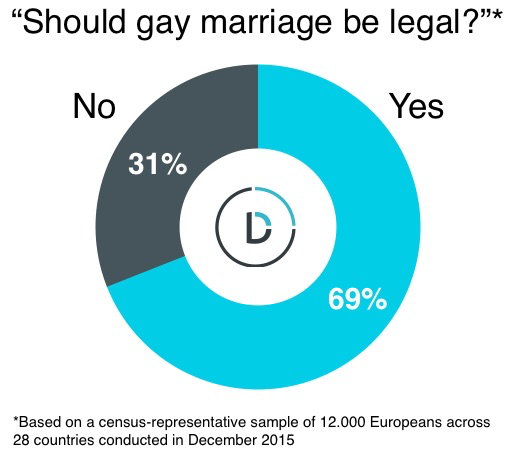 Rainbow Europe?
Considering the EU as a whole, a staggering 69% of those surveyed think that gay marriage should be legal. However, we can still notice huge disparities. A majority of people living in Eastern European countries is against gay marriage. In Northern and Southern Europe, a majority supports gay marriage.
" 69% of Europeans think that gay marriage should be legal."
Women are more supportive of gay marriage, with 75% approving the legalisation of same sex marriage in contrast to 63% of men.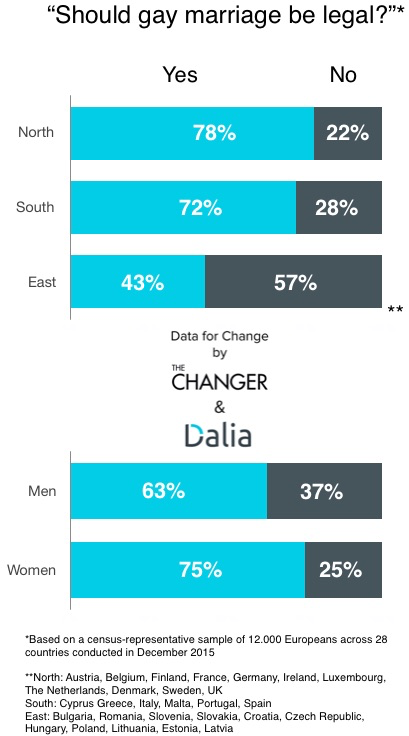 To our surprise, generational differences are very small. We would have expected that the young are much more supportive of gay marriage than the old, who supposedly value traditional families more. But the support for gay marriage among the 14 to 25 year-olds is only 2 percentage points higher than among the 40 to 65 year-olds. 
What can we learn from the results?
The difference between Eastern and Northern/Southern European acceptance of gay marriage might indicate a "Europe of two speeds". While legalization is progressing in Western Europe, seven countries in Eastern Europe still have a constitutional ban on gay marriage. 
Albeit slowly, Eastern Europe is changing. In 2014, Latvian Foreign Minister Edgars Rinkevics announced that he was gay, galvanising Eastern Europe's socially conservative political scene, while last year Riga hosted "Euro Pride", a pan-European LGBT parade. 
Gay rights have polarised societies around the world and the road to a more inclusive society has always been one of debate, discussion and advocacy. As support for gay marriage has been steadily progressing in the old EU member states, we may soon see a convergence of the new EU member states as well.
This post is part of an ongoing collaboration between The Changer and Dalia Research on surveying public opinion across Europe to shed more light on a range of social and political issues. To find out more about the survey and methodology, see daliaresearch.com/e28
Originally published March 10, 2016