Header: Noah Buscher via Unsplash.
Have you ever wondered how to make your work more impactful? Do you feel like your sustainability efforts have a rather limited effect? So what can you do? The Collective Leadership Institute (CLI) might have the answer – the Collective Leadership Compass will guide you through your impact journey. This science- and practice-based tool helps you navigate stormy waters even if your goal seems to be out of reach. Read on to find out how you can start increasing your impact by reflecting on your leadership style. 
The challenges we face right now make it easy to feel overwhelmed. The coming years will have a decisive impact on what happens to us and our world – this fact can create a lot of anxiety and lead to sleepless nights. Can you relate? You are not alone! We, the people from the impact sector, know that many things need to change – on many levels – ranging from personal behaviour to systemic transformations. That's why we work on transforming our society, we work on the way we do business, treat people and our Mother Nature. We work in all sectors, the public, private and/or civil sectors, and make an important contribution in each. We work on the implementation of the Sustainable Development Goals and try to make this world a better place by driving transformation. Every step counts!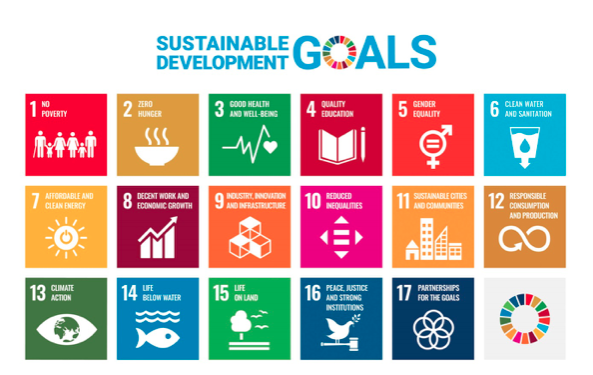 Sustainable Development Goals (SDGs) https://sdgs.un.org/goals
Nowadays, change and transformation are popular buzzwords. That does not mean that it is getting easier. I am sure many us know that transformation is easier said than done. When was the last time you tried to change a personal habit of yours? How did it go? Despite the best intentions, I personally struggle to reduce plastic, travel less or to eat less meat. It is one thing to know something needs to change but a whole other thing to implement the change. Moving from knowledge to action is not easy for us. It gets even more complicated if you are not trying to change "only" yourself but a whole multi-stakeholder system around you. Suddenly, there are many people from various organisations from different sectors with their individual perceptions of the world, different working styles and with different approaches to change needing to be reconciled. 
If you want to achieve something as complex as the SDGs, Collective Leadership is needed.
"We need to see leadership as the capacity of the collective to catalyse change for the common good" - Dr. Petra Kuenkel, founder of CLI and full member of the Club of Rome
We need to change the paradigm from individual to Collective Leadership, which is defined as the skill to collaboratively contribute to a shared purpose and catalyse transformative change. We should move from standing behind one visionary leader or feeling the pressure of fulfilling this role on our own to, instead, leading transformative change collectively. 
No matter the context or the actors involved, to be able to drive change we need to drive change in ourselves first.
"Change will not come if we wait for some other person, or if we wait for some other time. We are the ones we've been waiting for. We are the change that we seek." - Barack Obama
After addressing your own openness to change, you need to understand what is happening around you and to find out in which direction you want to move – in your team, your organisation, your stakeholder system – since transformations can't be designed in isolation. The last step is to figure out how to get there and to create an action plan, which is the level of process. As a take-away for successful transformation, it is necessary to address all three levels: 
Self-awareness is the first step towards increasing your own and your organisation's impact. To be able to make a difference together we need to find out how to make use of our strengths best and how to further develop our weaknesses. At the same time, we need to acknowledge and respect the strengths and diversity of others in our system and bring together complementary skills and opinions to make the collective effort more successful and meaningful.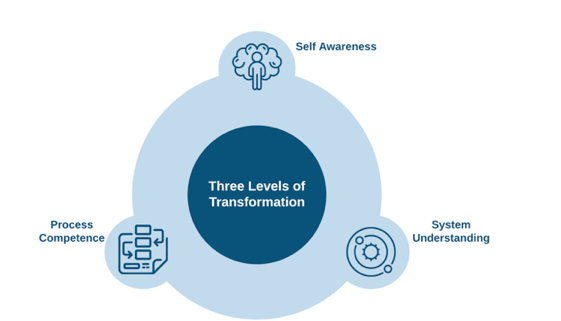 Three Levels of Transformation
One entry point for developing a Collective Leadership mindset is to start working with the Collective Leadership Compass. This methodology helps you to get a process towards a transformation of both, self and system, started. 
The dimensions and aspects of the Compass were identified during 20 years of scientific exploration and practice in complex multi-stakeholder settings around systems change for sustainability by Dr. Petra Kuenkel.  It can be used to strengthen individual leadership skills, to enhance the leadership capacity of a group and to shift systems of collaborating actors towards better co-creation. 
The six dimensions are: 
future possibilities
engagement
innovation
humanity
collective intelligence
wholeness
Learn more about the dimensions in detail here.
Collective Leadership Compass©
The compass can help to enrich your work in many different ways. For example, imagine that you are working in an NGO advocating for children's rights. You found out that your personal strong dimension is humanity which helps you to connect to your target group and be empathetic about their needs. On the other hand your weakest dimension might be innovation and you struggle with using new tools and adapting new trends. You know that your team is strong at collective intelligence because you often exchange and develop ideas together, but is also weak in innovation which you can see e.g. in outdated working methods and tools. So what can you do to help yourself and your team to further develop your weakness? As an entry point, you might use your empathy in the humanity dimension to talk to your team about their fears of new working solutions. When they are on board you could use the collective intelligence of your team to come up with new solutions collectively on how you could address the problem, which might be hiring a new colleague with complementing skills or joining a training on new tools to build your teams capacity. 
So far, so good. In theory. Now you might wonder, how do I get started? One way to begin is to analyse your own leadership style. The assessment we recommend is based on the Compass and respects all six dimensions, giving you the chance to find out your strengths and weaknesses. 
So grab a nice cup of tea, look for a cosy spot, download the leadership assessment here and take those 20 minutes to start your Collective Leadership journey!
"All of humanity's problems stem from man's inability to sit quietly in a room and reflect." - Pascal Blaise
Did the concept of Collective Leadership resonate with you? The systemic and enlivening approach goes far beyond what can be summarized in one article. Check out CLI's new open access book, which is a practitioner guide to realizing the SDGs, here. 
The book is a must-read for implementers of Agenda 2030 and will be the perfect companion on your sustainability journey. Feel free to download it now and dive deeper into Collective Leadership! 
About the Collective Leadership Institute: CLI's vision is to empower future-oriented people to lead collectively towards a sustainable future. With our Capacity Building Programmes, our Transformation Support, our Collective Leadership Hubs Network, and our Research, we build competence for sustainability. The institute has been operating since 2005 and has offices in Germany, South Africa and the USA.