Communitas refers to a state in which all members of a community are sharing an experience, usually through a rite of passage, and through this experience seeing each other as equals - the ideal conditions for bonding. Communitas is also called the 'co-experiencing of liminality'. In other words, it is a collective dissolution of boundaries and tapping into that which unites us.
I find myself planted firmly in the lotus position, in the most ideal of locations for exploring liminality, the 'Liminal Village', a strange colourful space for strange colourful people. It is the aptly named stage for cultural (r)evolution at Boom Festival, a weeklong transformational gathering that takes place in Portugal every two years. I sit and listen to Woman Stands Shining, also known as Pat McCabe, a Diné activist and ceremonial leader: "we need to learn from Indigenous experience and remember ourselves and our own birthright relationship with Mother Earth." She speaks about 'thriving life', a commitment to being in service to all that is pulsating with the unbridled wildness of living things. While she speaks I look around, and I see communitas... I see it in people's faces, I hear it in their breaths, I sense it in the hot sticky air; these words of wisdom are connecting us all to one another as much as they are connecting us to the woman uttering them.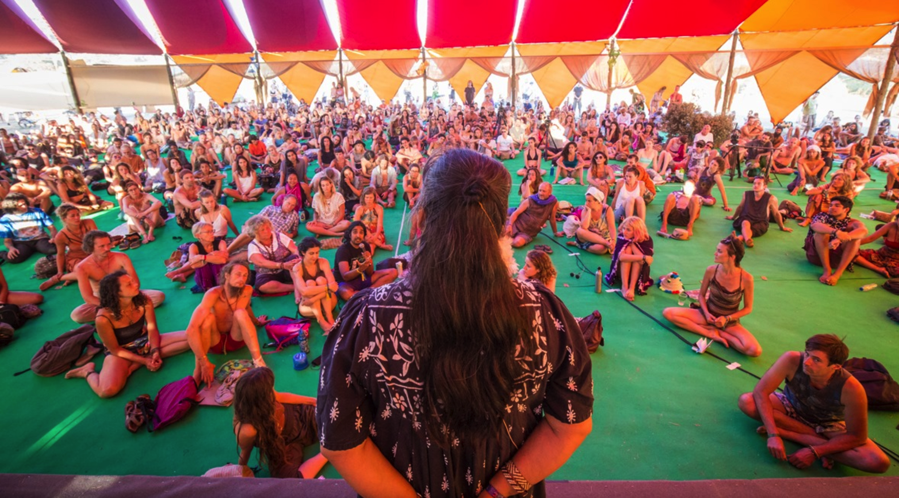 Woman Stands Shining, Pat McCabe, speaking at Liminal Village during Boom Festival in July 2018.
In a few days, I swap the phenomenal frenzy of Boom for the timid tranquility of Tamera, an ecovillage and holistic peace research centre, where approximately two hundred people work, study, and live, building a model for a regenerative future without war. The occasion is the second iteration of the 'Defend the Sacred' gathering that Tamera also curated last summer, in order to bring together movement leaders and Indigenous elders from around the world, with the aim of merging Indigenous wisdom with futuristic thinking.
One extremely exciting element to this gathering is that is not outcome-oriented, it is not trying to emulate the standard model for a conference or strategizing event, i.e. lists of objectives, indicators, tallies about how well they were met. Instead, it is a confluence of diverse earthlings committed to protecting water, air, land, and finding ways of building communities that heal instead of hurt. During open space conversations, the intrepid invitees offer their pearls; "social entrepreneurs, politicians, academics talk of developing new models for environmental sustainability, but if you want to see real sustainability in action, humans living in environmental balance, you need not look further than indigenous communities still alive today" says Tiokasin Ghosthorse, a member of the Cheyenne River Lakota Nation of South Dakota, teacher, musician and founder of "First Voices Radio". He goes on, "humanity needs to shift from building peace on Earth to creating peace with her". Lakota is a relational language, one that is built on verbs, on actions, on dynamic aspects of life, it is not hierarchical, rigid and binary like so many Western tongues.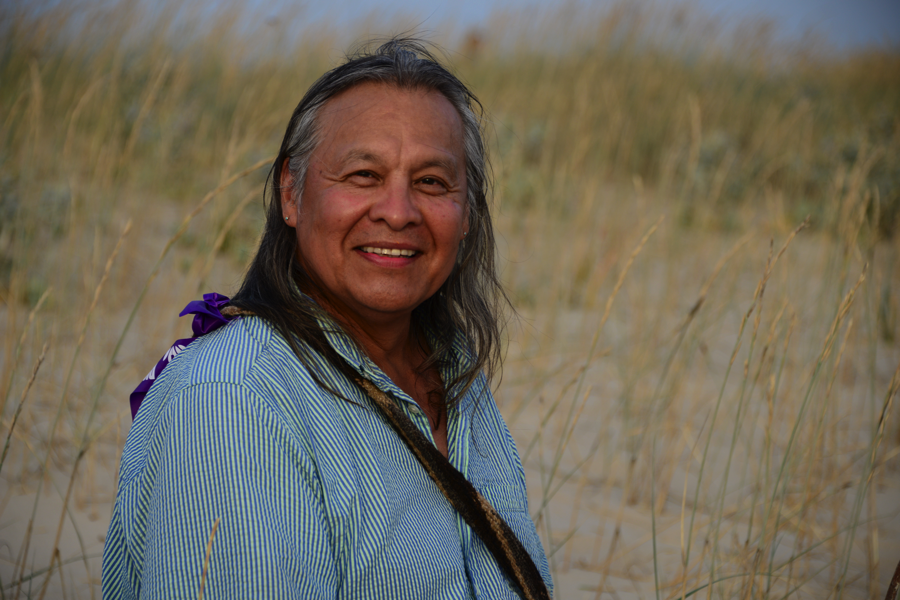 Tiokasin Ghosthorse, activist, artist, overall badass.
That night I spend hours on my phone in my bell-tent reading about the Iroquois, how they were fierce hunters who also harbored a respect for deer and other prey that prevented overhunting in the US-Canada borderlands. George Hamell, a specialist on the tribe at the New York State Museum in Albany,  writes about that which Tiokasin speaks of, that the religious beliefs and traditions of many tribes encouraged the view that humans were part of the natural world, rather than its masters. The Iroquois viewed other living creatures as possessing qualities of humanness and even kinship, while in plant-animal relationships reciprocity was implied.
[recommended:8885]
Shifting away from a culture of anthropocentrism, also known as myopic-self-centred-douchiness, and breaking free of the language of oppression we have been raised in, is no easy feat. But we have not gathered here for easy. The backdrop against which this gathering is taking place is the environmental battle Portugal is waging against itself. Business interests in drilling for oil and gas are seducing government officials to support this financially lucrative and planetarily ludicrous venture. Portugal has never even explored for oil, yet the companies Eni and Galp are keen to taint that track record. And what better way to build communitas than to create a large scale collective action blending, art, activism, and merrymaking, in order to spark public attention onto the extractivist threat? Communal-artivism-meister John Quigley is brought to design and orchestrate the aerial action because his creations can only be seen from a bird's eye view or a radical shift in perspective if you will.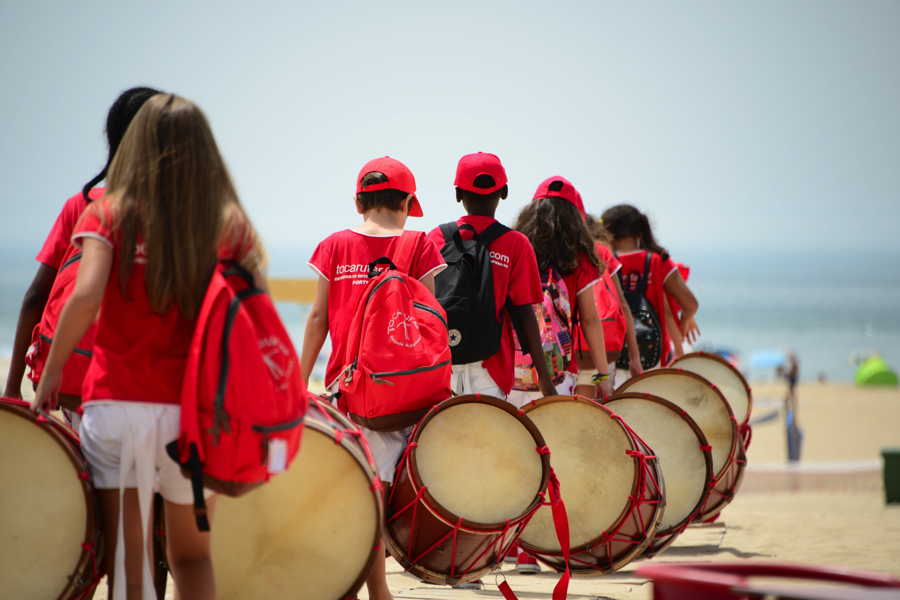 On August 4th, even the weather cooperates, underscorching the effects of climate change, as it happens to be the hottest day on record in Portugal. Several hundred people descend on Cova do Vapor beach near Lisbon to stand united for a regenerative world, right where the Tagus river meets the Atlantic Ocean. The message, "Parar o Furo" (Stop the Drilling) and "Water is life", is written using human bodies on sand instead of ink on paper, encircling the shapes of a mother and baby dolphin and enveloped by a bright sun. It is all there.
Water is fundamental, protect it. Stop extractivism, that type of thinking and those kinds of pursuits, rid society of extraction wherever possible.
Remember the fellow earthlings we share a home with, dolphins, seals, seagulls, swordfish, they too have young ones.
Do not forget the ever-giving power of the sun, harness it.
And the Tamerans do not leave this final message to theory, instead they set up a demonstration site with twelve solar cookers, gifting solar-cooked vegan treats to beachgoers to show that clean, regenerative alternatives are possible and that this action is not simply against something, but clearly in favour of something else (for more information, visit the campaign page.)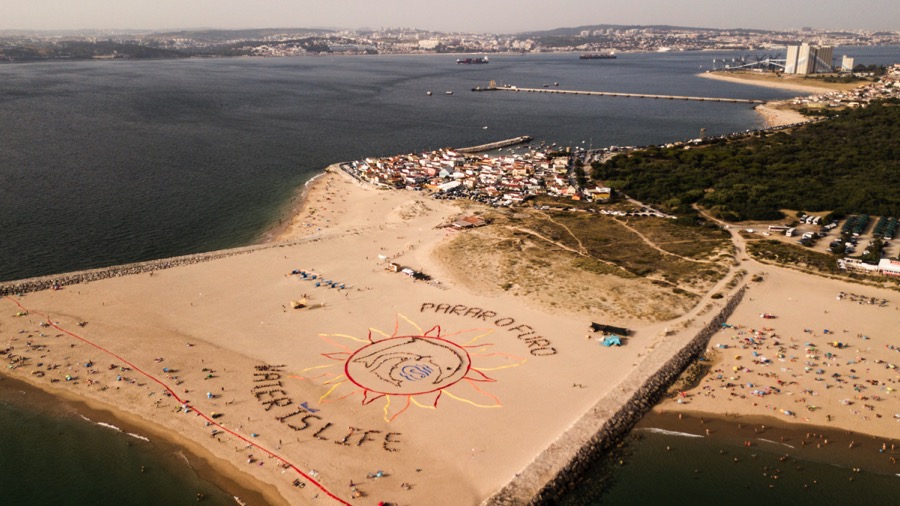 Drones capture the procession from above, but what they cannot capture is the emotional magic emerging between the 'protestors'. Communitas is all around. LaDonna Tamakawastewin 'Bravebull' Allard, holds the ceremony offering a prayer to the water and then to each person who enters John Quigley's growing artwork. LaDonna is a Lakota elder and one of the first people to use her land in North Dakota, as ground zero for resistance camps against the Dakota Access Pipeline at the Standing Rock Reservation. The Lakota presence in Portugal is a part of healing work that is still unfolding, a step in addressing the wounds of colonialisation that Portugal played a prominent role in.
Tokata Iron-Eyes, an incredibly precocious youth activist from Standing Rock offers her song, while Portuguese school children beat their drums and the rest of us try to coax beachgoers in joining the party. Quigley's piece needs at least 800 bodies and so it will only work if people who have come to tan, to swim, to rest, choose to get up and join in, to stand in solidarity.
Ati Quigua, an activist and councilwoman from Colombia, stands alongside LaDonna representing the Arhuaco people, and alongside her stand peace-builders from Palestine and Israel, and alongside them musicians from Sao Paolo's Favela da Paz, and alongside them permaculturists from Kenya and Cameroon, and alongside them stands Monique Wilson from the Philippines carrying with her the energy of billions. Finally the concept of 'holding space' makes sense to me, I can feel the potency of these protectors. They have journeyed far and wide to stand together because something as commonplace as water means something to them, it means the most.
Of course, it is hard to tell whether such an action can actually impact political decision-making, it is very difficult to draw the correlation between cause and effect. Yet, nine days later, a court temporarily suspends the planned oil drilling off the coast of Aljezur. Time will tell. In the meantime, Portuguese activists who supported this action continue the struggle on their home turf. Catarina Gomes & Joao Costa, of The Red Line Campaign, are there standing for new wave activism in Portugal, their work blends craftivism with community organising and processing of big-picture thinking about environmentalism, economics and politics.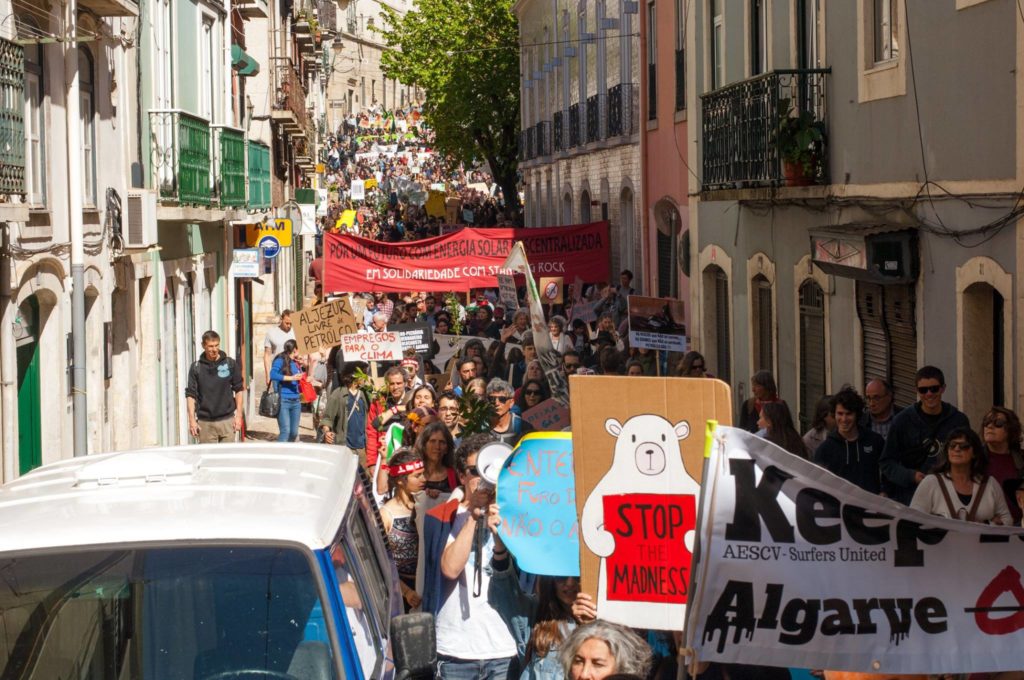 Times they are a-changin', all over the world. Earlier this year, in Melbourne, Invasion Day protests drew bigger crowds than Australia Day, an unprecedented 50,000 souls. Invasion Day coincides with the colonial celebration of Australia's 'founding', instead spotlighting the history of Aboriginal resistance and how indigenous culture and custom is being treated. Therefore, now is the ideal time to radically change the way in which we live and what we live for. There is so much that we can rediscover and relearn from indigenous communities and it this wisdom that informs what we call 'sacred activism'. "Sacred" however, is a word that still triggers a lot of people, or causes confusion or disagreement, due to both the multiplicity of subjective interpretations as well as the abstract nature of 'sacredness'. I remember asking Pat McCabe two years ago, what 'Sacred' meant to her, and I remember being very satisfied with her answer. She smiled at me and said, 'life'.
Adventures in Activism
This article is part of the "Adventures in Activism" series. A defiant column letting you in on who the coolest cats of today's rebel alliance are, why grassroots movements matter more than ever, and what radical systemic re-envisioning is being done by badass activists around the world. For more articles like this, go here.
Ivan March is an activist, storyteller, alternative events designer
and Sci-Fi nerd. He is the Communications Director at the grassroots-movement-supporting Guerrilla Foundation, Campaigns Coordinator for the Psychedelic Society & European Steering Committee Member of the EDGE Funders Alliance.