This article was originally published in 2016. 
Food, flowers, toiletries - the subscription box has made a come back. But what about books?
Librileo offers just that; a book subscription for kids in order to help children and parents navigate early childhood development. But it's not just about selling books. Librileo has two halves - a commerical business and nonprofit. Why? Because founders Sarah Seeliger and Julius Bertram believe in equal opportunites for all children.
Read on to how to find out how Librileo promotes development and creativity and what challenges they have faced in operating under two different legal structures.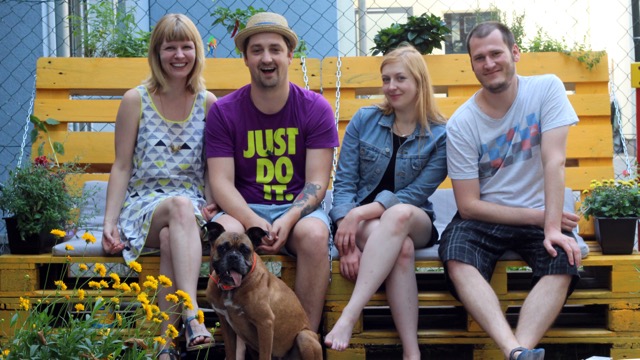 Librileo is the first company in Germany to have a book subscription for children. What prompted this idea and how has it changed from its initial conception?
We are young parents and what we love most is to see our children grow and learn something new about the world. Our favorite way to show them the beauty and value of the life is reading books - especially reading aloud. We come together, cuddle, read, look at the pictures, talk and laugh. It is so simple and so important both for kids and parents. 
To share our experience and joy, we decided to found commercial Librileo, which sells 'book boxes' for children from 0 to 6 years old. The boxes each have different topics such as creativity, time, and culture. Selling the boxes means supporting reading in the families that already promote literacy in their family lives. What about the 2.5 million children in Germany that live in poverty? 19% of all German children don't have access to resources integral to shaping their childhood. Their parents may not be able to buy them books to aid their early development for a number of reasons; we still don't think those children should be forgotten. 
That was why we founded the non-profit side of Librileo. We set out to provide families in poverty with high-quality book boxes that always consist of three elements: a book, a game and an info-poster. The materials are developed by experienced teachers and handle topics such as brushing teeth, watching TV, and eating healthy for example. These ideas support families with small children that may not find the support elsewhere. 
On your website it says "Reading trains the attention, the concentration, the social behavior and encourages creativity." How do the curators at Librileo select themes that promote these skills in children? 
The topics we choose are essential for young parents in everyday life. For example, families with babies 0 to 3 years old get book boxes with the topics like clothes or oral hygiene. It sounds simple, but not every parent knows how to dress a small child; how they should clothe the child, whether winter shoes or wool socks better and why you should put on a hat - even in summer. Answers to all these questions can be found in our materials.
Generally, the first books a family gets are developed for the parents. But the ones for 3 to 6 year olds appeal equally to the children. There are lots of different ways of spending free time with the children explained in the info-poster. 
A good example is a book box on watching TV. It contains a TV-frame made of paperboard which helps parents to speak with the child about the video content they have just had seen. It is a common problem that kids watch too much TV, and we encourage parents to do some extra activities with them to draw educational lessons from this process. 
Another example is our game to the topic meals.  It is a memory game but with one didactic trick. Namely the vegetables on the cards are talking: "Ich bin eine Tomate" or "Ich heiße Zweibel". It sounds simple but this is the way for small children to learn the first grammar structures. 
It is crucial for us that we don't lecture parents but encourage them. We never say 'you are doing it wrong, that's the way to do it right', we simply give them the opportunity to learn something new and speak to them parent to parent. 
Once you've selected a theme, for example tolerance, how do you select books that make these advance themes accessible for young children? 
We have social teacher who is a very important member of our team. She is the one who knows exactly what meets the needs and interests of a child in a particular age. One of our aims is to transmit the values that gain importance in the modern society, and tolerance and getting to know different cultures are good examples for them. 
Tell us about your impact. How do you measure how well you execute the ideals you aim to promote? 
This question is a part of our daily to-do list. The non-profit Librileo is young – it's almost a year old now, it was founded in February 2015. We have conducted a survey which showed very positive results: 60% parents said they read more with their children thanks to Librileo book boxes and 90% would recommend them to their friends. 
Our next step would be to establish a long-term evaluation system that will help us to develop the project. 
Librileo is only 2 years old but has had a wealth of positive reviews. Was there anything you learnt from your first start-up company that helped shape Librileo as it stands today?
We had another start up before – Kirondo – an internet platform selling clothes for small children. So we were lucky to have already gained some experience before we started the non-profit Librileo.
I myself have studied entrepreneurship, but the theory does really differ from the things that work in the real world. The most important thing I learnt: your company is like your baby, you have to take care of it 24/7. Also I am sometimes perplexed when someone asks me what I am doing at work. Well, everything. From calculating finances to buying toilet paper for the office, it's all part of running a company. 
I've also realized that the right team is the key to success! 
What made you decide to found both a for-profit business and a non-profit? How has it helped it you and does operating under two separate legal structures cause any challenges? 
The non-profit Librileo developed out of the for-profit one. When we started it, it quickly became clear that we don't reach those parents who really need support. They just couldn't afford to buy for any kind of books their children, let alone have an ongoing subscription. 
The difference between for-profit and non-profit in terms of organization and legal structures is really huge. Our first step was to choose our organizational form and that alone was a challenge. All these Verein, Verband, Selbstverwaltungskörperschaft, gemeinnützige Gesellschaften (gGmbH, gUG oder gAG), Genossenschaft and the diffrences between all of them drove us crazy. Then the story with finances followed; searching for the foundations that would support our idea and so on. Now we are in the middle of an application process for a big long-term funding - fingers crossed that it will work out.
What has been the biggest obstacle in the Librileo's path and how have you overcome it?
If you start from the very beginning mostly every step is an obstacle. It takes time and it might take mistakes. At the same time, all obstacles can be overcome if you are confident about thing you do and are motivated. 
The most classic obstacle for non-profits is surely getting money. It the beginning, we were only thinking about donations but then stumbled across the "education and participation package" (Bildungs- und Teilhabepaket). Now it is a fundamental for our whole business concept, but as I said, it came much later. 
It was also relatively difficult to find a designer who understood our ideas and embodied them in a way we loved. But we managed it and now our ideas have been brought to life, just as we imagined them!
What's next for Librileo in terms of expansion?
According to the newest statistics, there are over 400 000 families that are our realistic potential target group. We will be able to consider our job done only when each and every one gets our book boxes and can use them to help ensure a bright future for their kids. 
This article was originally published in 2016.