Between 2014 and 2016, global socially responsible investments grew by a whopping 25% to 23 trillion dollars, as society continues to respond to the demand for companies to acknowledge their responsibility as influencers of the masses and contributors to environmental and social welfare.
As the sector continues to grow and evolve, there are a number of new tendencies emerging, often echoing the collective economic, political and social interests of the time. Below are a number of trends to watch out for over the coming period:
Corporate political activism
Diversity and equality
Supply chain audits
Ethical product lines and packaging
1. Corporate political activism
If Trump and Brexit have taught us anything, it's that stability is no longer something we can take for granted. Polarisation is something that is set to remain on our agenda for some time to come and for better or worse, big corporations have realised that they can have an influence on both the public and political sphere. It's certainly a risk, but actually it often pays off: A recent study from PR agency Weber Shandwick found that:
44% of Millennials would feel more loyalty towards their CEO if he or she took a stand on a contentious issue versus 19% who said they would not.
47% of Millennials think CEOs should speak up and take active stances on social issues.
51% of Millennials surveyed said they are more likely to buy products from companies that have activist CEOs.
And more than the business opportunity, there is something to be said for standing up for what you believe in. One of the strongest but simplest examples is Patagonia's "The President Stole Your Land" ad from 2017, which was swiftly followed by a lawsuit being launched to contest his reduction of the size of two of Utah's 2 national monuments. Patagonia refused to release sales figures (presumably and hopefully because this wasn't the motive behind it) but based upon the fact that external sites reported sales six times higher than average on the day after the ad, suggests that the figures are true – people respect and appreciate brands that take a stand.
[recommended:4783]
2. Diversity and equality
Whether it's the #metoo media frenzy, the increased emphasis on diversity reporting (such as the recent introduction of equal pay reporting in the UK) or the watching and observing other brand's pain in the face of getting it wrong (Pepsi/Kendall-gate), there's something heartening about the increased recognition of diversity and equality amongst corporates.
Diversity both in the workforce, but also in advertising has been proved to boost business performance: McKinsey & Co reported back in 2015 that companies in the top quartile for racial and ethnic diversity are 35 per cent more likely to have financial returns above their respective national industry medians. HP are a nice example of a large company who asked their agency to increase diversity in their advertising and saw a 33% increase in revenue per impression.
This momentum is going to continue to build, not least as the authenticity-craving Millennials push brands to really prove they mean it when it comes to diversity. From Converse to Primark, you'd have to be blind to not have noticed the boost in pride-related ads and products coming from mainstream brands this year, but unless it's authentic it's not enough, as articles like this show. It's in this area that brands are going to have to do some work on diversity and equality in a very real sense, making sure that they can back up their marketing with a diversity report and a CSR strategy that matches.
[recommended:5931]
As Cone Communications' Alison DaSilva says, "Consumers are willing to dig deeper and learn more about a company's business practices. Companies need to be extraordinarily transparent and dig deep into their own organization to ensure they're truly 'walking the talk' with issues on which they're taking a stance."
3. Supply chain audits
The job of building a supply chain that is ethical is more challenging than it sounds. From packaging to farming to transportation, the supply chain is made up of a myriad of links, and globalisation has led to those links feeling even more remote to a company's procurement team.
But in a similar vein to diversity, consumers are digging deeper to make sure the products they buy are not causing any unnecessary harm and are increasingly boycotting companies that aren't employing due diligence in this area. From Apple, to Zara to Volkswagen, no company is immune to the media scandal and reputational damage that can lead from one journalist picking up on a supply chain oversight.
As a consequence, companies will increase investment in auditing their supply chains, educating their staff in the need for only contacting suppliers that can confidently and with evidence, prove that they in turn are implementing social responsible practices. Ikea is just one example of a company who is fully committed to this outcome, making a statement that they intend to use only recycled or FSC certified wood by 2020.
There has also been a rise in law suits that challenge lapses in supply chain conduct, examples being Yum! Brands and Costco, which is leading to a better alignment between CSR and procurement, to make sure the dots are joined and they can back up their CSR strategy all the way along the supply chain.
4. Ethical product lines and packaging
There are also more and more brands investing in creating and promoting ethically sourced, sustainable product lines, such as Topshop's 'Reclaim to Wear' collection, L'oreal's vegan hair-care line and Coca-Cola's Honest Tea line. We can assume this is to ensure they can maintain the loyalty of the ever-conscious Millennial consumer, and can compete with new brands, such as Matt & Nat who are trading on the specific USP of creating 'good' products. And it's working: Unilever reported that their sustainable brands (one of which is Pukka organic teas) grew 40 per cent faster than the rest of the business in 2016.
There is of course the issue with regards to plastic pollution that has risen in public awareness over the last year. The blitz of reports such as The Guardian's – 'only a third of the plastic in packaging pots and trays for food can be recycled' have led the way for food and drinks companies to reconsider their approach to packaging and recycling and in turn, incorporate it into their CSR strategies: Procter & Gamble have committed to introducing 25% recycled plastic across 500 million bottles sold yearly across its haircare brands. Coca-Cola have also responded to pressure and raised their 2020 recycling target to 50%.
There's something a little disheartening about the fact that the trigger for improvements in CSR strategies seems to mostly come from media pressure and threats. However, in the world of supply and demand, it can't be a bad thing that the demand is there and companies are striving to meet it.
It looks like the sustainable and ethical approach is only going to keep on growing as the demanding and morally-minded Millennials and their younger counterparts continue to question and pressure the system that keeps it.
About the Author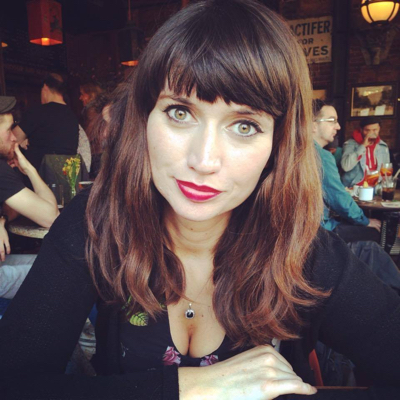 After working for 6 years in charity marketing in London, Jemima Jordan moved to Berlin to try out working agency-side. She has now allotted over 10 years of experience in Marketing, Communications and Digital, and specialises in CSR and youth marketing. She also likes to paint!