The world needs you. Not your money, not your attention. It needs the most valuable part of you — your skills and your time —to help build a more sustainable planet free from injustices.
This is why many of you come to tbd*: to find opportunities to do socially impactful work, or to make a career change to the social impact sector. However, if you're discouraged by the long timelines involved in applying to and starting a fellowship, and the competitiveness of some of these opportunities, you may be encouraged to discover that you can begin your journey now into innovative, social impact work through one of the upcoming MovingWorlds tuition-based fellowships and career acceleration programs.  
Our team at MovingWorlds knows that navigating a career change to find work that contributes to the greater good is no easy task. In fact, our MovingWorlds Career Change Fellows tell us it's a little bit scary, too.
When working through a career change, you'll want  to go through 3 main phases:
Orient your career direction
Build your skills and profile
Adapt your professional story and resume
Here's some thoughts on how to make this work for you:
Step 1: Orient Your Career
As Dan Pink shares in his bestselling book, Drive, the things that make you feel alive at work are not what you might think. The money you make and the people you impact won't give you as much fulfillment as how you do the work, how you do it with, and the things you learn along the way. Here's a great video summary of it. In other words, when you think about your career direction, don't ask yourself what causes you want to work on. Rather, ask yourself:
What type of work will give me a deep feeling of purpose?
What type of work will help be use and build on my strengths?
What type of setting and culture will let me choose the time, technique, and people I work with in a way that best resonates with me?
Certainly, these aren't easy questions to answer on the fly, so we recommend you do an audit. Think of this like peaks and valleys. When in your career were you most energized? For each time, think about the work you were doing, the skills you were using, the things you were learning, and where and how you were doing the work. Now think about the lows in your career and ask yourself the same questions: What work were you doing and how were you doing it?
Step 2: Build Your Skills and Profile
When companies hire people, they take on a lot of risk, so they do everything they can to mitigate that risk. First and foremost, they want to hire people that have a proven record of delivering results related to the demands of the job, the sector of the organization, and the workplace of the organization. This is why start-ups are slow to hire people from big corporations, and vice versa. It's also why many nonprofit organizations are wary about hiring people from the for-profit sector. A hiring manager at a global development organization once told me this: "Everybody likes the idea of working in global development, but I can't tell you how many people we've hired who have resigned 3 months later because they didn't like travel or couldn't cope with the emotional struggles of the job".
So here are a few simple things you can do to build your experiences in a way that will prove to future employers that you are the right match:
Demonstrate you can deliver results in a similar role and setting. Pro bono volunteering is one of the best ways to build relevant experience in a new sector, and by working on projects that build on your skills but strength you to grow, you can clearly show to others that you know what it takes to make things happen. And as an added bonus, it will show your commitment to this area.
Spend more time getting exposure to the sector by going to networking events, sitting on a Board, volunteering, and/or engaging in sector-specific professional development courses.
Build your network, volunteer, job-shadow, and do anything else you can to spend time in the workplaces and impact-spaces of the environment you want to work in.
Step 3: Adapt your professional story and resume
Oftentimes, this can be the hardest part. Telling your story to an audience you are still figuring out can be hard. Our advice: don't go at this alone. First, do research online to find guides and suggestions based on the industry you are applying to. Secondly, use your network and ask your first and second degree connections for insights and advice. Then, use a trusted friend or mentor to help you think about how to tell your professional story in a way that will resonate with this new direction. You'll need to make sure you customize your resume, LinkedIn profile, and interview speaking points in such a way that your audience can quickly build confidence that you are indeed the employee of their dreams.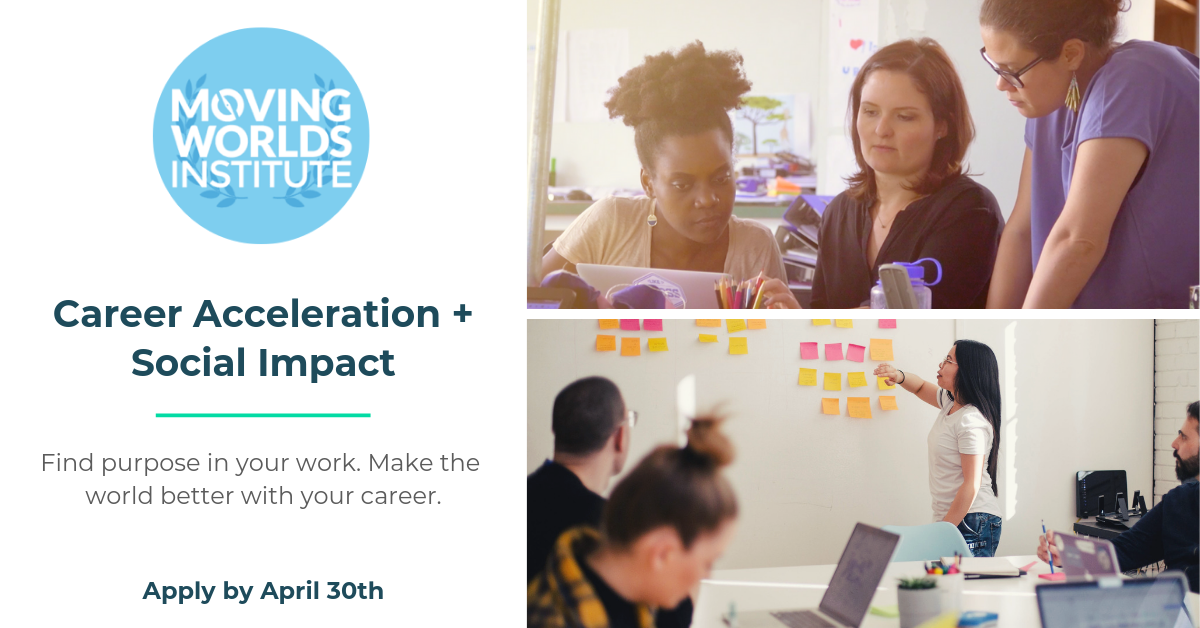 Turn These Steps Into a New Career In Social Impact
Want more guidance at each stage? Visit MovingWorlds to download your free Career Change for Social Impact eGuide, and then apply to the MovingWorlds Institute Global Fellowship: Our career acceleration program for professionals looking to find more purpose in their work and make a positive impact with their career.
This 6-month program for working and in-transition professionals will start with an in-person training where you'll get to meet face-to-face with the MovingWorlds team as well as your cohort of Fellows from around the world.
We'll spend an inspiring, informative, and energetic long weekend together learning leading social impact frameworks, as well as exploring what it takes to transition and/or accelerate your career in this sector.
After our in-person weekend, you'll return home but stay very engaged with our team and your cohort as you continue to explore leading insights directly from industry leaders on human-centred design, shared-value, and sustainable social enterprise.
In tandem, you'll receive professional coaching, peer support, and mentorship as you further explore your own purpose drivers and develop as a world-positive leader. And no matter where you live, you'll then have the chance of a lifetime to go Experteering to support real social innovators in the field on an immersive short- or long-term project (You get to choose your own availability).
All said and done, the Fellowship will help you build the skills, confidence, experience, and network to accelerate your impact career.
Our next cohort which will kickoff in Lisbon, Portugal this July, and official applications close on April 30th (with some exceptions).
This article was co-authored with Mark Horoszowski, the CEO and cofounder of MovingWorlds, a social enterprise that operates leadership development + social impact programs for individuals as well as global corporations. Mark also serves as adjunct faculty at the University of Washington Tacoma's Center for Social Responsibility and Leadership. You can find him on Twitter at @markhoroszowski and @experteering.