Photo credits: Abou Aboughazala; Artist (header): U48
Working in the "social impact" bubble can sometimes be tricky. Since (almost) everybody in the bubble shares the same goals, values, and opinions about the topics we care about, we tend to forget that there are still a lot of people out there to inform and educate about topics like sustainability and clean energy. So how do we get people on board that are not interested in socio- ecological problems at all? You have to find a common ground that inspires both sides! 
Abou Aboughazala, the initiator of the project the Solar Panel Art Series, tells us in an interview how creativity helps to reach people "outside the bubble" and why it is so important to raise awareness for renewable energy sources.
Can you tell us more about the Solar Panel Art Series?
I work for The Beam magazine which is a tri-annual publication covering energy transitions toward zero carbon economies and climate-related topics. Within this context, we hoped to promote renewable energies as an essential part for a sustainable transition towards a better future. To do so we initiated this creative project called the Solar Panel Art Series. And what do we do with the solar panel art series is that we distribute repurposed solar panels to international artists around the world and we invite them to use those panels as their medium to create art out of them which we then exhibit in Berlin (and will be launching our first NYC exhibition on Nov 13th). We then sell the artworks through online benefit auctions with Paddel8 and with the money we donate half of the proceeds to Little Sun foundation which is the foundation that helps supply school children in Rwanda living without access to energy with clean and reliable light. With the remaining proceeds we give the artists 30% and retain 20% to be reinvested in the project and partially divided to cover our auction partners costs.
Initially, it wasn't planned that the project would become a series. How did the first exhibition go and what kind of feedback did you get?
Our first exhibition was at the Tech Open Air conference in 2017. We had around 20 artworks exhibited there, giving attendees an opportunity to get up close and personal with solar panels, and by extension invoke thought on the topic of sustainability and in specific renewable energies. We recieved a lot of positive feedback and support both from those who attended the conference as well as organizers, media and businesses.
To keep the momentum going on this we then decided to continue moving forward with the project, launching officially with a grand exhibit at Anomalie Art Club in October that same year with great success. We now have more than 80 participating artists, some of whom are world renowned for their works such as Felipe Pantone, Okuda San Miguel, Katrin Fridriks, Swoon, Olek and Edward Granger.
You mentioned that the Solar Panel Art Series is also working together with the Little Sun Foundation. Can you tell us more about your work with them?
We established a partnership with Little Sun Foundation, as our official charity partner. Within the context of this partnership we simply make the donations when a sale is made and they then use this money to supply school children and their teachers in Rwanda with little sun devices. These devices replace the conventional and extremely harmful kerosene lamps households usually use, and have enabled thousands of kids to study after dark, bettering their grades, quality of life and will surely impact their future generations of children as well.
What do you think needs to change in order for people across the world to have access to clean energy?
I don't think there is one specific solution or change that needs to take place to facilitate this, but I do think that ending global energy poverty is key to ending poverty itself. Over a billion people worldwide live without energy access today, and this is a statistic that shouldn't exist in the 21st century. For active change to come all stakeholders that constitute modern societies need to actively participate in driving this agenda forward. This means that governments need to adopt more pro-renewable energy policies, they need to provide the infrastructure and space for individuals to create their own grids and energy sources away from our reliance on private companies to do so. Micro-grids, feed-in tariffs are a few examples of potential solutions that can help accelerate this transition.
Feed-in tariffs

Feed-In Tariffs (also known as FITs) are the electricity part of what some people call Clean Energy Cashback, a scheme that pays people for creating their own "green electricity". The second part of the scheme is the Renewable Heat Incentive, a similar measure for heat.
Financial institutions need to revisit payment schemes and come up with new models that fit the needs of todays people. Increased awareness and sustainable investment opportunities in rich countries can also drive the development of poor nations by taping into peoples disposable income and putting it to good use. Higher taxes on carbon intensive industries and fossil fuels would also have a significant influence on shifting our energy reliance away from carbon based sources and towards clean energy. So its hard to pin point one or two things that need change because the problem is with the global economic linear model that we have inherited and conditioned to participate in. This system needs to change.
This means that politicians need to advocate for and propose more pro-clean energy policy and legislation, the financial institutions need to provide better accessibility to funding of sustainable development projects, citizens need to be better educated and empowered to make their own individual changes. Research institutions, manufacturers and the industry need to realise the importance of clean energy and invest more time and money in optimising current efficiencies of clean tech, this would inevitably drive prices down thus enabling more people to opt for renewable solutions.
Collectively all these dimensions, will result into greater global accessibility to clean energy that is independent from the currently capitalistic, politicised structure which is often a barrier to real advancements. These instituions have profit as the soul purpose of their activity, and this means that giving access to clean energy, if not profitable, does not interest them.
The gap is often covered by NGO's and environmental organisations, but even they are limited by funding and are not sustainable solutions to global problems (we need to come together and resolve.)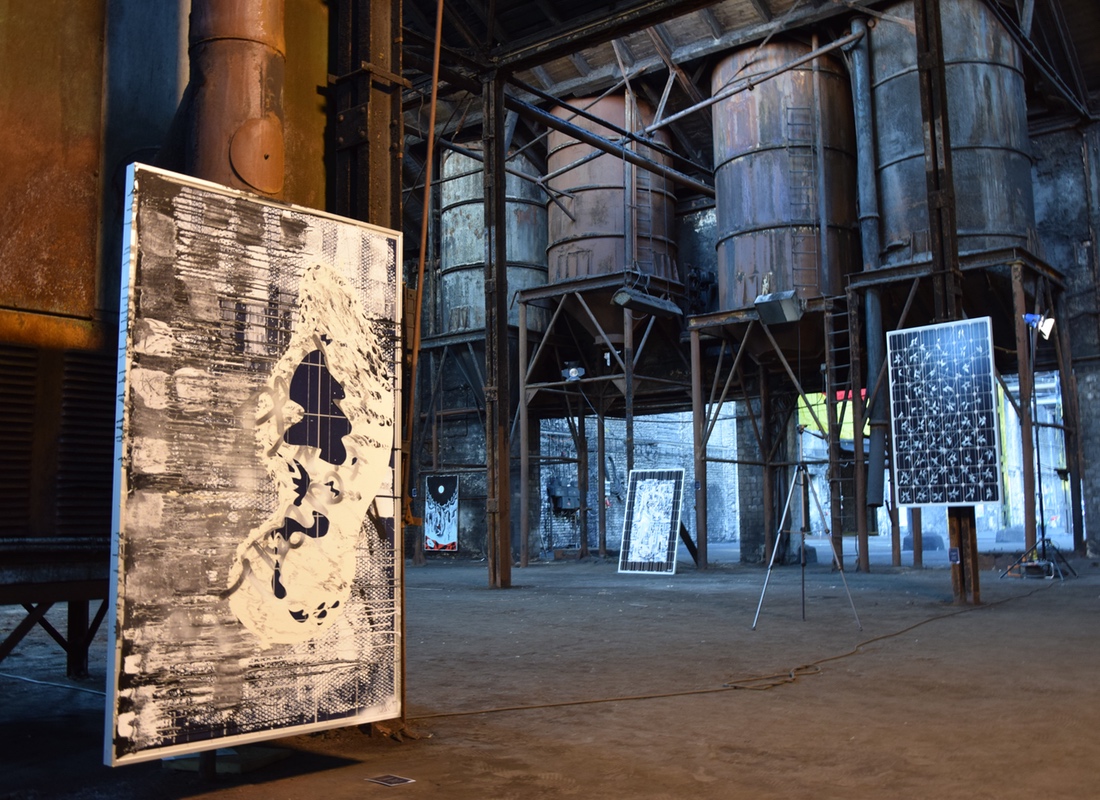 Artist: Ian Shevack 
Your project brought together the art and the social impact scene. In general, how do you think we can get more people involved in topics like sustainability and clean energy?
I think when more events, startups and projects integrate the topic of sustainability and clean energy into real life, magic can happen. The predominate narrative surrounding these topics is highly academic and science intensive which by default makes the discussion inaccessible to those who do not have a vested interest in the issue.
The problem is, these are topics that affect us all, understood by few and communicated in a language that even fewer understand. Once we start to invest efforts into simplifying the agenda to make it more accessible to the wider public change will come automatically. This is one of the things we hope to achieve with The Solar Panel Art Series.
Many people have never even seen a panel upclose before, and here they are in exhibitions, drinking beers, listening to music, having a good time with friends and coming face to face with solar panels that have been turned into art. This creates an emotional shift towards the issue, it makes it more accessible, more relatable and once that happens, people are more willing to listen with an open heart and mind.
What are the plans for the project in the future?
Well currently we are very excited to be launching out debut exhibition in New York on Nov 13th of this year. The exhibition will be powered by Urban-X and hosted at A/D/O in NYC feature some great international artists like Swoon, Olek, Maya Hayuk, Zaria Forman, Edward Granger and Brian Kenny. Moving beyond NYC we hope to take over LA, inviting artists based there to participate and our global movement to empower people, spread awareness on renewable energies and to leverage art as an effective tool for change towards a brighter and more socially and environmentally conscious future.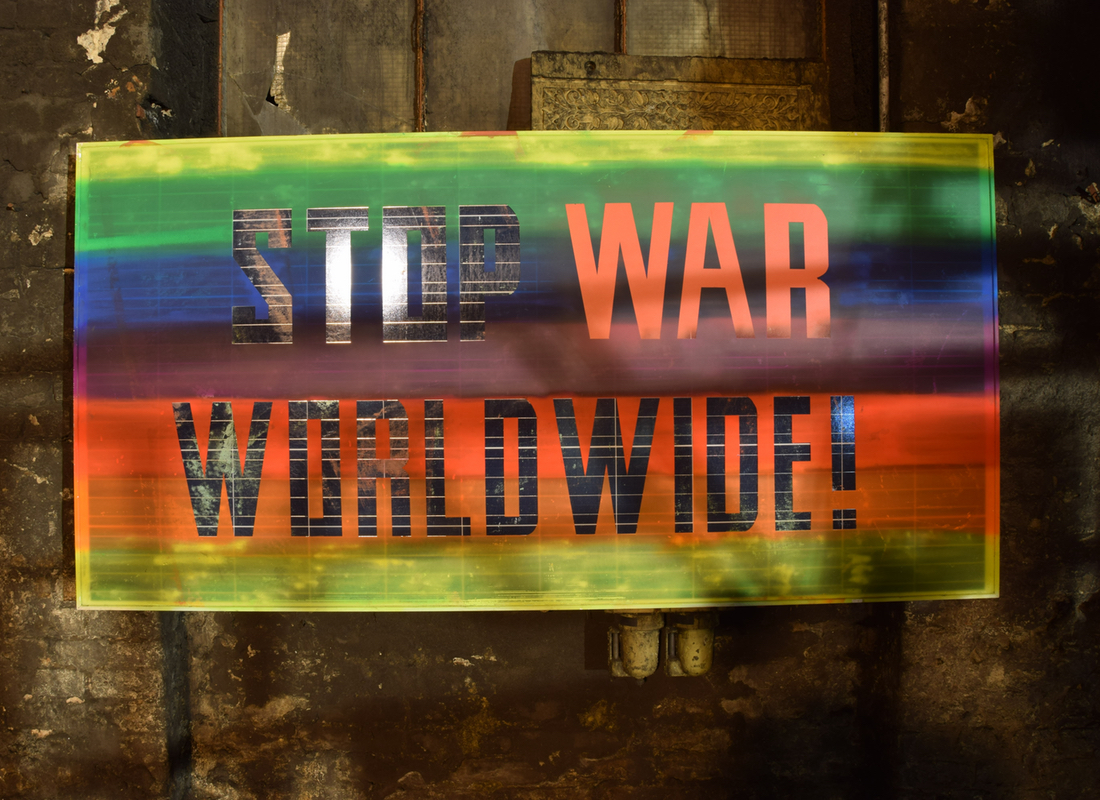 Artist: Skalmo