When you work for a salary, at the end of every month you gain your expected gratification. But, if you work hard to make the world a better place, and measure your progress toward a cause as your compensation, the expected gratification may be delayed. How can you guarantee not only your project's sustainability, but also the sustainability of yourself?
The changemakers' fatigue, when it's not a real burnout, is an under-represented phenomenon that is now coming out more and more often as one of the challenges that people in the impact sector need to be aware of. Why does it happen? How can you protect yourself? How can you thrive and not merely survive in your work?
In her 20-year career in the social sector, Ilaina Rabbat, Co-Founder of Amani Institute witnessed how common burnout is in social innovators' lives, in fact she close to experiencing it herself. That's why she decided to learn the scientific reasoning behind her empirical observation and, while pursuing a Masters' Degree in Applied Positive Psychology at The University of Pennsylvania (UPenn), she focused on what makes changemakers thrive or survive.
Interviewing people who are following their calling and working in the social sector, Ilaina has discovered that every social entrepreneur (or intrapreneur) starts their venture with a very honest and deep connection to purpose. These are amazing human beings, determined, courageous people who are driven by a vision. The dark side is that their mission and the strong desire to help, can make them blind towards themselves, can make them ignore both the advice of loved ones and the requests for help that come from their own bodies.
All of the changemakers that Ilaina interviewed have 10 common characteristics that act as a compass for all of their actions and choices: positive relationships, self-awareness, sacrifice, work centrality, responsibility, privilege, empathy, motivation, impact achieved and prioritizing. The way the characteristics are interpreted by the individuals will determine if they are closer to surviving their calling, or thriving in it.
Take for example our sense of responsibility: we all feel responsible to change things for the better. It could be the environment, childhood education, healthcare… And in every single project we show a deep commitment to our responsibilities. But we can't be responsible for everything. We see more and more complex problems out there and we can't push ourselves to solve all of them at the same time. The endless sense of responsibility is the dark side of the positive sense of responsibility that narrows down problems to identify limited, tangible, achievable goals for us to reach.
This strongly connects to sacrifice. We are all ready to sacrifice a lot in order to have a career of impact. One person sacrifices sleep to ensure they are spending more time in the field, another person lets go of a big salary in the private sector, another doesn't spend a lot of time with their family… The difference here is in how we perceive this loss. I sacrifice because I want to, it's a decision I made. Or… I have no choice, I must work at night, I can't spend enough time with my family, I'm compelled to have a frugal life in a complicated context.
As long as you are aware it's your own choice and you don't feel obliged to, sacrifice is a further motivation to achieve your goal and help you thrive. Vice versa, if you feel trapped in sacrifice determined by the situation, you more easily get stressed, or depressed.
As you can see in the chart below recounting the 10 variables Ilaina examined in her Master's Thesis (read the full version here), a lot is related to overcoming a binary perspective: me versus them (the people I'm willing to help). It's about you andthe people you want to help. You are part of the picture.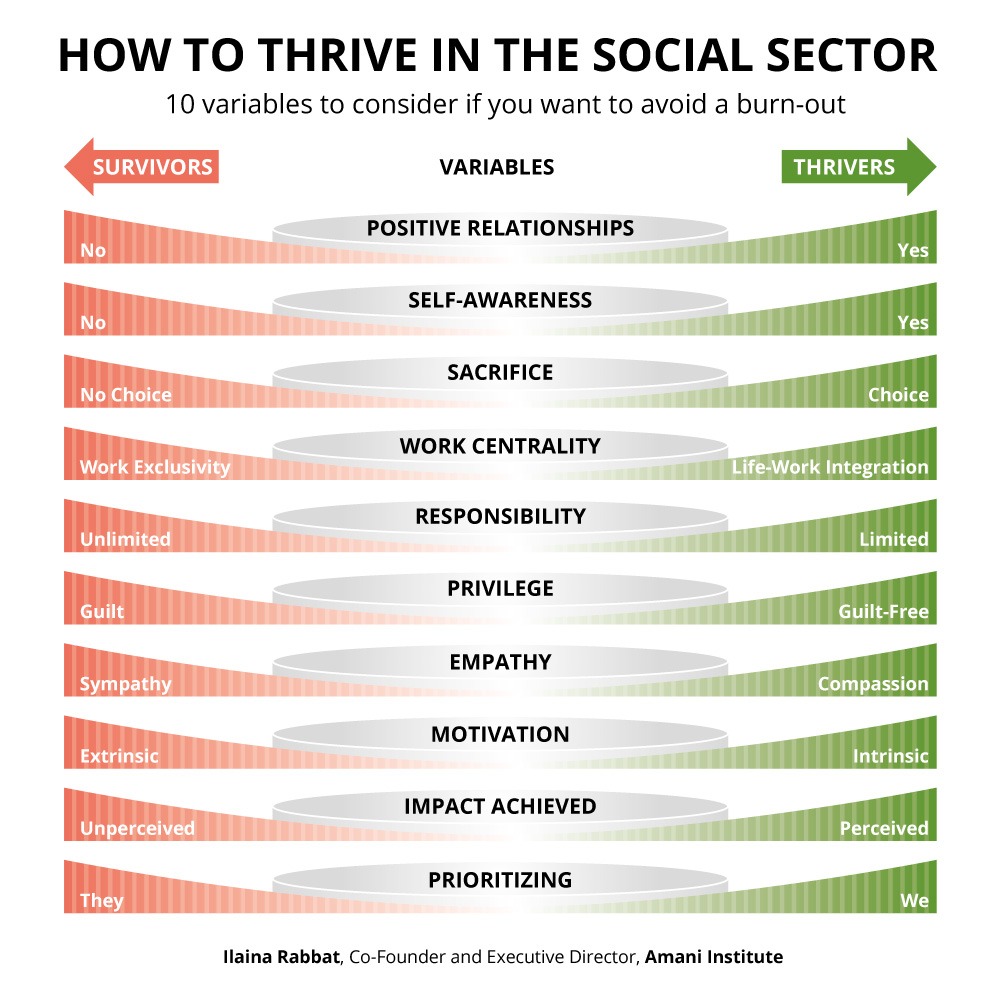 Remember what flight attendants say on the plane: "Put on your oxygen mask before helping others put on theirs."
Amani Institute is a non-profit organization based in Kenya, India and Brazil to develop professionals and organizations who lead social impact. The Social Innovation Management program is a 6 month hybrid program (3 months online and 6 months in Nairobi) and brings together changemakers from all over the world to learn from global master practitioners at the top of their fields.