As homelessness figures in the UK continue to steadily increase, tens of  thousands of people are struggling to escape the trap and find a permanent place to call home. The country's costly hostel system and a lack of flexibility with housing benefits result in the illogical fact that finding a job can actually leave you worse off. Fat Macy's, a London-based catering social enterprise was set up with the aim of tackling this catch-22 situation. They provide young homeless people with an opportunity to run culinary pop-up events, using the project's profits to create a specified housing deposit scheme for the participants. We caught up with founder, Meg Doherty, to find out more.
Can you tell us a bit about Fat Macy's? Where did the idea come from and how did it get started?
The idea for Fat Macy's began while working at the YMCA - an 150 bed homeless hostel in North London. It became very obvious that there were no clear pathways for young people living in homeless hostels - they act as a benefit trap because the only way residents can afford the rents is by staying on housing benefit. If people work, their benefits are cut and then they are forced to pay the high hostel rents themselves, which is unaffordable for many.
I was trying to create a model which would allow people living in temporary accommodation to move out into their own homes, in a way that was empowering rather than charitable. One day, working in the hostel's little prep kitchen, I realised that food would be the perfect way to do so. Residents in that hostel really loved cooking, and all had loads of personal recipes they wanted to try out. By combining their love of food with a social enterprise model, Fat Macy's was born.
We run supper clubs and catering events, where the food is prepared and served by our trainees. Our trainees agree to complete a 200 hours work experience placement with Fat Macy's, for which we donate a percentage of our profits to our charitable arm. As they progress through the 200 hours, trainees reach milestones, where they can request a 'reward' - whether photo ID, clothes or shoes for work, travel cards etc. At 200 hours they are eligible for a housing deposit and 6 hours of move on support work 1-1.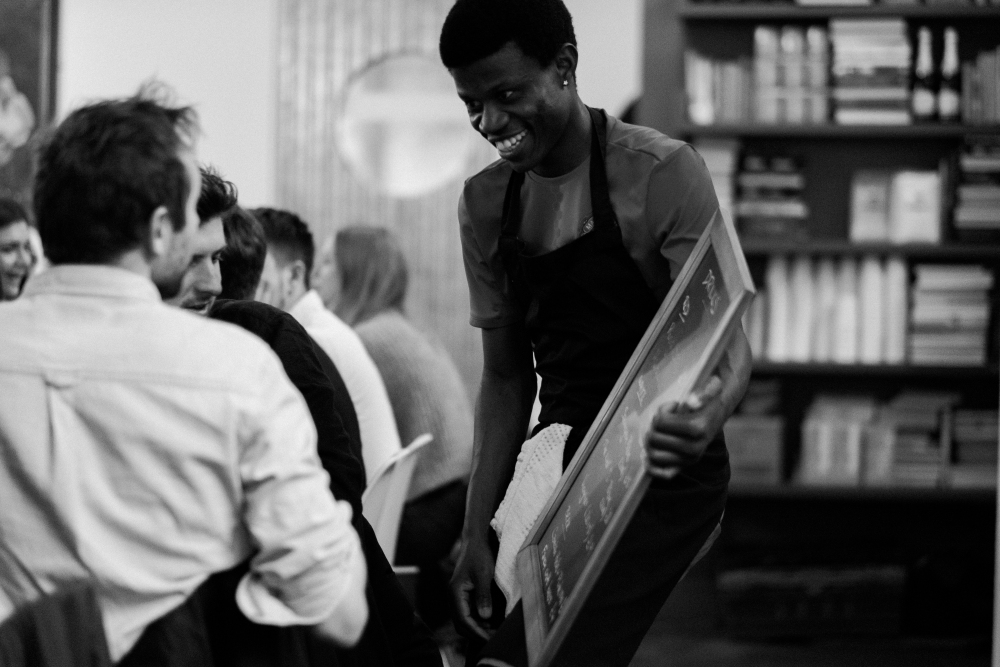 Statistics from 2017 showed that 1 in every 59 people in London are homeless. What do you see as the key contributing factors leading to this shocking figure?
High rent prices are key - in London especially. Eviction has recently become the main reason why people become homeless, with landlords pushing up rent to keep up with the high cost of living and other competition. It's a huge issue, especially for those who have often lived in social housing. As social housing is squeezed, people are forced into unsafe un-secure private rented accommodation, often without the guarantee of tenure. Landlords can kick people out easily, and if they don't know their rights, or aren't able to keep up with rent payments, it's really difficult.  
What has been the main social impact of Fat Macy's to date?
So far, Fat Macy's has trained 15 young people living in temporary accommodation - providing them with the opportunity of real work experience, qualifications and money towards housing deposits, with two now in their own flats. We're still working on our model and trying to refine the way we work so that our model could be adopted by other food businesses.
As the founder of a social enterprise, what have been the biggest challenges in getting Fat Macy's to where it is today?
Every day presents a new challenge - when doing something like this there's no guide set out to follow, and no precedent set. You're constantly wading into the unknown, and there are always surprises along the way - good and bad! The biggest challenge for me has been setting the direction - always having to know the next step when you're still not sure if they step you've just made will work. That and having to be every member of a team at the same time: accounting, marketing, budgets, strategy, events, often without any prior training!
What makes the UK, or London more specifically, a good/bad place to start a social enterprise?
London is an amazing place to run a  social enterprise as there are so many inspiring people blazing the trail ahead of you. The social enterprise world here is still quite small, but growing rapidly. Unlike how I'd imagine more competitive profit-only driven business, social enterprises are seemingly always there to lend a hand, support each others' work, refer between other social enterprises. The networks are really incredible.
Also - by being in such a huge city, there are always people willing to give it a go, try something new, and support the work we're all doing - and that's really special.

Last year Fat Macy's ran a hugely successful Crowdfunding campaign to raise funds for a permanent home - what do you think was the key to its success?
Wow - that was such a tough few months! I'm not sure what made it successful, other than I think people realised that our model can do something quite innovative in finding new ways of getting people into homes. With Fat Macy's, we wanted to create a really great food brand, that gave people an easy way of doing good. To support Fat Macy's social mission, all you have to do is eat dinner, drink wine, chat with your friends - and who doesn't love that? We want to appeal to those who didn't know what to do about homelessness - what to give the guy sitting outside the local shop? - but knew they weren't happy to do nothing. With Fat Macy's, you know the people cooking your dinner are directly benefiting from the money you've paid, the time you're spending there, and from the whole experience. It's real, and it's measurable, and I think that resonates with people.
What's planned for 2018 and beyond?
We're hoping (fingers crossed!) to open our permanent home in early summer of 2018, so we're pumping everything into getting that off the ground at the moment. We've had incredible support from local architects, designers and all the rest, and it's so exciting to think we might be able to open our own kitchen. It will mean we can triple our social impact by offering work experience hours to trainees almost every day.
Interested in reading more content like this? Sign up for our UK newsletter here.