Andreas Heinecke is the Co-Founder and CEO of Dialogue Social Enterprise. He is the first Ashoka Fellow in Western Europe and Member of the Global Agenda Council on Social Entrepreneurship of the World Economic Forum, and a Global Fellow from the Schwab Foundation of Social Entrepreneurship. For the Academia Report on Social Business 2019 of the YY Foundation he gave the following exciting interview:
Being in the social business field for many years and always with many different hats on, please tell us what you are up to these days?
This is a tricky question to start with, because everyone tells me that I am not focused and that I should be much more focused with my various activities. I still wear one hat running my various social businesses Dialogue Social Enterprise and the Dialog Museum. As of last year I am also the President of the MODI Foundation. MODI stands for the Museum of Diversity and Inclusion. We are conducting in-depth research to try to understand how museums can become a catalyst for social change. The whole notion of museums is interesting because politics, the corporate world, universities, they all understand that social business and social entrepreneurship are important topics, but the cultural sector is still reluctant and sleepy. With MODI we try to unleash the potential of culture so that they join as a new stakeholder in the social business world.
In addition to this, I still teach and publish. I wrote an article on trauma and empathy to find out whether traumatic experience do or do not foster empathy as part of the book "The Alchemy of Empathy". In this context we are working with the Dalai Lama and I will be in India for a one-week seminar with the Dalai Lama to understand what needs to be done to promote empathy in the museum field.
I recently published another article on transformative learning trying to understand how learning works when we talk about transformation. It is basic research to tackle other learning processes and then to try to track the impact we have or our exhibitions may have.
I was member of the Wellbeing program, which was a very important experience for me. Over the course of 18 months a cohort of 30 entrepreneurs were invited to join and it was a real deep dive inner journey to understand where we are, what we are going to do, how and where we can find the energy, what is hindering us, and what is helping us. It was a very interesting and very fundamental experience to have the freedom and space to face yourself with all these critical questions, which may arise when you are trying to survive as a social entrepreneur.
All the people who joined this cohort were experienced social entrepreneurs who had worked for at least 20 years in the field. They all have big issues to solve and it was not easy to find the balance between the economic side and the social mission.
From your point of view, what are the main challenges for social businesses? 
There are certainly many challenges. It is always very difficult to have a sustainable business model. With all the glory and the hope, we are still very short of money. It is an ongoing fight to survive and to cover costs, but to be honest every entrepreneur has more or less the same challenges to stay in the market, to be able to adapt to the changes and to deal with additional challenges, as we all have a different agenda since we have multiple objectives in order to reach a certain social impact. Another major challenges is certainly to keep the energy and to find a good work-life balance and not to be despaired. We are doing our very best and dedicate our lives – myself now for more than 30 years – and when we see what is happening every day in world that the world turns for the good, but also for the bad, you have to keep a very optimistic mindset in order to keep the energy, to motivate your people, to be a source of inspiration and to lead by example with what you do.
And then we need to acknowledge that we can only be a drop in the ocean. Although one drop is better than no drop, you have to be aware that our impact is pretty limited and not really a systemic change, because our resources are limited and our capability in terms of management is not sufficient enough to bring many models to a global scale. The challenges are becoming bigger and bigger and I hope that I am personally not shrinking, but growing with the expansion of complexity and the growth of problems.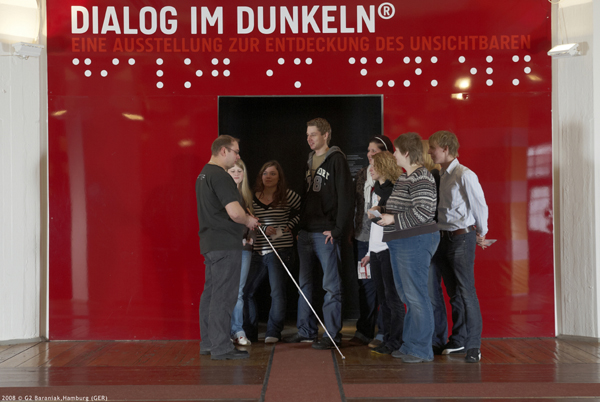 Dialogue in the dark, Hamburg.
You mentioned the systemic impact as a challenge, do you now see different approaches in terms of system thinking and that social business entrepreneurs have other strategies now in terms of collaborating with other stakeholders from different sectors?
In theory yes. We have all these buzzwords of co-creation and collective impact. We all know that we have to think across borders and out of silos. There is definitely a lot of hope and optimism and open mindedness. But in practice, I am not aware of an alliance of different stakeholders or different social businesses that really join forces for common goals. In many cases, there is too much ego and most have their own agendas. It is somehow wishful thinking. People are sitting together and know they need to do it, but in the end, everyone stays inside their box because they don't want to give up their own territory.
You mentioned your activities in the field of teaching and research. how does the interplay between academia and social business take place in practice? 
The good news is that there is a wave of publications also from students. It is really amazing to see how many students are interested in the topic. The number of publications and theses is growing exponentially. It is wonderful that young people are engaged and spend time and energy to try to understand how the challenges that we are facing everyday can be solved from a theoretical angle with some discourses in the field.
For us at Dialogue Social Enterprise, we are doing research in trying to understand what future business models could look like. We are trying to understand what actually learning might look like, how we can give proof and evidence so that we really succeed in transforming people in a verbal way, in an individual way and in a long-term way. Besides this, I am also interested in teaching methodologies and how can we provide innovation in terms of teaching. This is like a hobby for me. I really like to invent new formats in terms of teaching and learning and giving me as a teacher a new role.
The students are then the ones who are actually running the course, while I am more of a facilitator, but not the actual content provider. For me, it is important to question the role of a teacher and to be on the same eye-level with the students.
I wrote a new syllabus for social entrepreneurship and social business teaching and compiled an overview about best practices to identify what is going on at other universities and business schools, and what is best practice in terms of social business education.
How can we further increase the relevance of academia in the social business context? what would you wish for and would like to see? what could be concrete next steps?
First of all, I think that social business should become a compulsory course for every student. And not only social business, but also broader topics on responsible leadership, which would lead to a better understanding of how businesses actually work.
Secondly, the academic field is very scattered and there are a lot of things going on in various disciplines. What would be very helpful would be an Award of Excellence for academics who show excellence in research. It should be a significant prize, let's say up to €50,000 to recognize important research and to gain exposure and press coverage.
The Award could also be something that could be incorporated in the GSBS Academia Research Conference... 
Yes, of course. We have to be honest, the Research Conference is still on a rather small scale, since it is pretty young. We should look at management or leadership conferences that we should benchmark to have significance in the field.
Moreover, the exchange of experts is really important and this should be much more in a workshop style, to build clusters to have a certain understanding and reflection upon the topics. The format should be adapted into a much more collaborative way.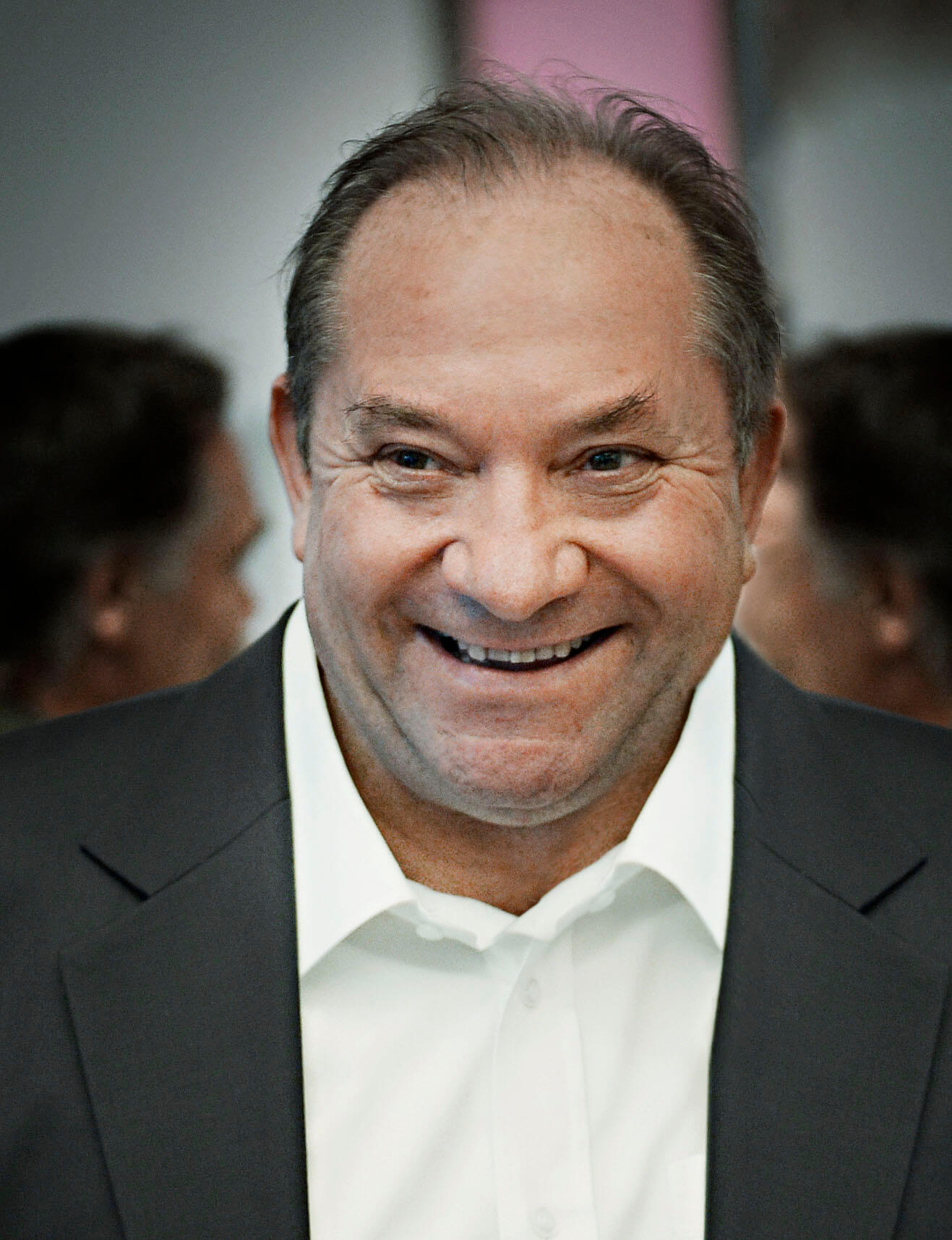 Dr. Andreas Heinecke
Andreas Heinecke is the Co-Founder and CEO of Dialogue Social Enterprise. He is the first Ashoka Fellow in Western Europe and Member of the Global Agenda Council on Social Entrepreneurship of the World Economic Forum, and a Global Fellow from the Schwab Foundation of Social Entrepreneurship. Andreas is the recipient of various international awards, and additionally, he holds a PhD in Philosophy and since May 2011 he holds the Honorary Professorship at the Chair of Social Business at the European Business School.