So you want to work for the United Nations - great! That decision was the easy part. The UN is a massive organization and the opportunities for working at the UN are incredibly diverse.
In order to make the opportunities for entering the UN system a little more transparent, we've reached out to professionals working in different UN programmes. The goal is to help you better understand what program is right for you and what background and skills are required. 
To kick things off, we spoke with Vojtech Hledik, the UN Volunteer Programme Officer in Ukraine. In this interview, he gives us a closer look at the UN Volunteer Programme and shares his advice for those considering a UN career.
For those of you looking for a general overview of the UN programmes, have a look at our UN Career Guide.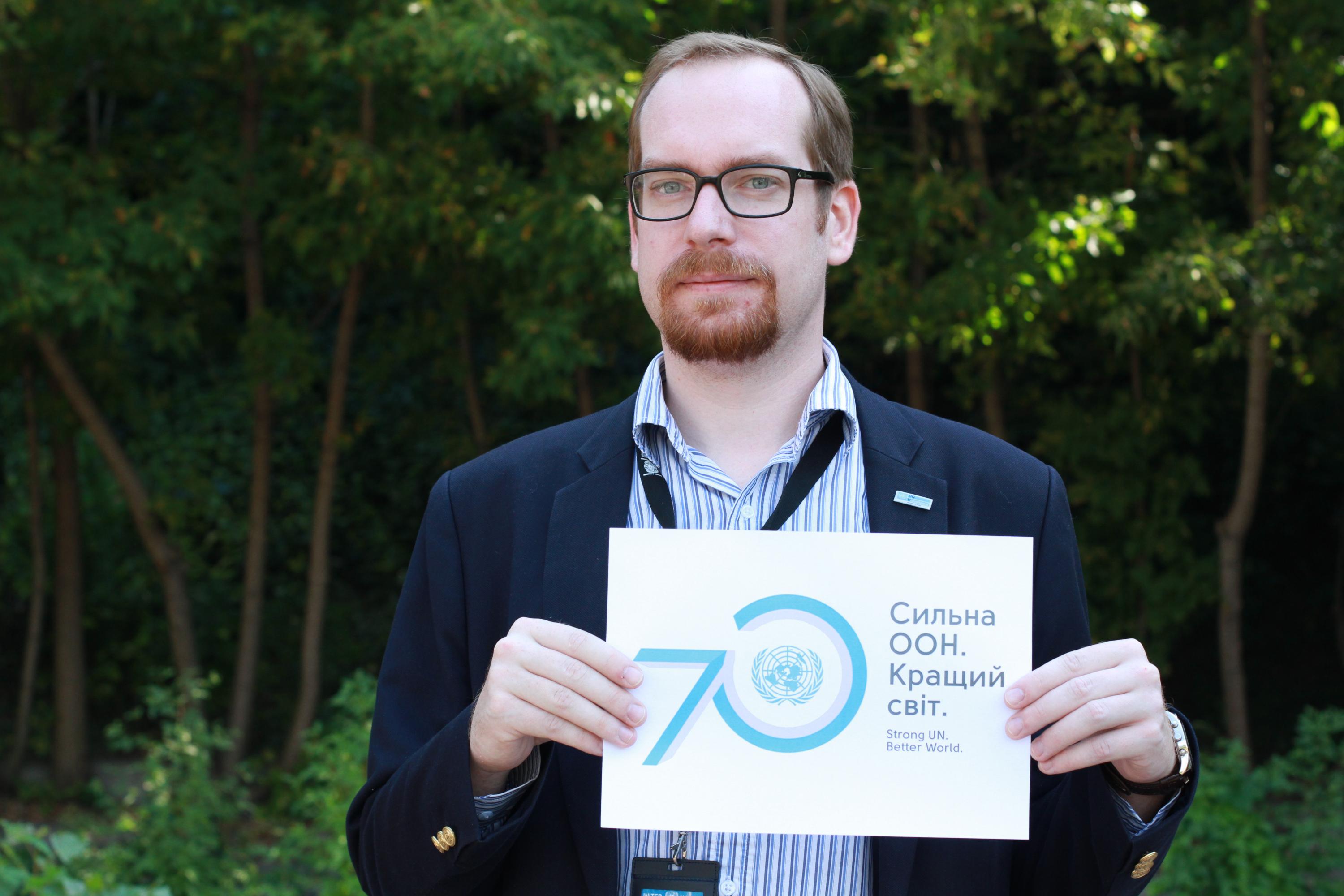 Tell us about yourself. 
When I was five years old, I wanted to be the Pope. Later on, a doctor. In high school I was almost sure I would be a biologist but then I got involved in Model UN, and various organizations promoting European integration, which shifted my interest towards politics. 
I studied international politics and European studies at the University of Economics in Prague. During my studies I worked for a youth organization, was active in a small political party, and worked for the Czech government in the area of EU affairs. 
One day a friend of mine sent me a link that the Czech Republic funds several UN Volunteer assignments a year. I always wanted to work for the UN so I applied and was accepted. I worked for a year for UNAIDS in Uzbekistan in the area of advocacy and communication. Then I became the UNV Programme Officer (country level representative of UNV) in Uzbekistan, and after two years I moved to Ukraine. 
The UN is a massive organization and the UN Volunteer Programme is one opportunity within the UN system- can your break down your department/its mission, as well as your specific role as a UN Volunteer? 
Massive indeed. UN Volunteers programme is administered by United Nations Development Programme (UNDP) but UN Volunteers work across the whole UN system. To illustrate, in 2015 UNV deployed 6,796 UN Volunteers to 122 countries. Largest number of UN Volunteers was hosted by UNDPKO (UN Peacekeeping Operations), UNDPA (UN Department of Political Affairs), second place belongs to UNDP, third to UNHCR (UN Refugee Agency). Overall UN Volunteers were deployed to 38 different UN entities. 
The professional backgrounds of UN Volunteers are equally diverse ranging from doctors, midwives, human rights officers, and vehicle mechanics to social media specialists, election observers or lawyers, there is more than 100 job profiles we look for. In 1970, UNV was primarily created to deploy volunteers within the UN System. That is still our main role, but since then our mandate has expanded to promote volunteerism for peace and development. We also have our own programme initiatives and priority areas: basic social services, peacebuilding, disaster risk reduction, youth and volunteer infrastructure. Our mandate is therefore very relevant to the new global agenda – the Sustainable Development Goals. The UNV HQ is in Bonn, Germany. 
I am the UNV Programme Officer. I coordinate the UNV programme in Ukraine while still being a UN Volunteer myself. I am responsible for administering and supporting the serving UN Volunteers, hiring new ones, representing the programme in the country, building partnerships with the host government, civil society, other UN agencies and international organizations. 
How is being a UN Volunteer different from being an intern or JPO at the UN? 
Inclusiveness. I would say that being a UNV is the most accessible option for everyone. Internships are for those who can afford to live in sometimes quite expensive UN HQ locations, and is by default short term and seen as something to kick start your career. 
JPOs are sponsored by UN member states so it is opened to you only if you are a citizen of a country that provides that. They are also designed as a first step in a UN career. 
UNV positions are open to everyone (there are also assignments funded by some member states though but that is a small portion in the overall total number). UN Volunteers receive a living allowance so they can cover their expenses while serving so it doesn't matter from where you come. We don't care if you are rich or poor, we are interested in your skills. 
UNV was initially designed for professionals in their respective field who wanted to contribute using their skills to the work of United Nations by dedicating a couple of months or years to this service. It is not meant to be a gateway in to the UN. However, recently UNV launched a Youth UN Volunteer modality for young people from the ages of 18 to 29 who do not have significant work experience in order to open the organization to more young people to contribute and have their voices heard. Inclusiveness is our key principle. 
The fact that some people stay with the UN after their assignment is proof that UN Volunteers are high quality professionals. 
What does a "normal" day at work look like for you? 
It is more of a desk job than people might imagine. Most of the time is filled with writing emails, drafting reports and concept notes, and sitting in meetings pretending to look smart. There is also a lot of stuff to read. I wish I had the time and capacity to read everything I receive or find. In this information age there is too much exciting and important information, so, prioritizing and continuous learning is a big part of the job. 
My favorite activity is meeting young and motivated people from various civil society organizations. Sometimes I get invited to speak at an event because those who invite me presume I will say something wise or give valuable advice, so I try not to disappoint them. Also, meeting government officials who want to promote volunteerism values in their country is very rewarding. In Ukraine, I have met quite a few.  
The most important part of my job is to make sure that the serving UN Volunteers in my country are well supported and have proper conditions to do their job. The hardest part of my work is persuading the other UN agencies that they need much more UN Volunteers in their offices. 
You and your UN Volunteer colleagues all have very diverse backgrounds - are there any common traits that unite you? 
That is the best part about UNV. We all work in different agencies but we have in common the fact that we are UN Volunteers. There is always someone to support you, and you have a broader view of the UN's work in the country thanks to this "second hat" of a UNV. UN agencies are very autonomous entities and sometimes people get so consumed with their agency's particular work that they don't have the time to follow what others are doing.
Also, we all joined the UN because we wanted to work for a good cause and see the huge value of volunteerism. We don't do it for money or prestige. 
What three pieces of advice would you give to people considering a similar career path? 
As a first step I would go to UNV website (www.unv.org) and read all of the necessary qualifications and information about what we do and who we are hiring and what skills we need. For international assignments UNV uses a roster of candidates. Those interested can go to create their profile there. National UNV positions are advertised on the local UN websites. 
Make sure you have experience in or knowledge of a field we are looking for. Motivation is a big part of UNV assignments but it is not enough. UN agencies are looking for skilled professionals.  Previous volunteer experience is also a big plus. 
Knowledge of languages is very important. English is a minimum, French and Spanish are a must for working in some regions, and knowing Arabic or Russian is a great advantage. 
Interested people need to be prepared to serve in often challenging environments. 
By the way, we are now establishing a UNV Programme Officer Pool. Anyone who fits the criteria can apply. Detailed information is on the website under Special Recruitment. 
Where do you see yourself in five years time? 
A question hated by everyone. I hope I will be fortunate enough to still be working for the United Nations. Despite its many shortcomings, the is UN a crucial place for dialogue among nations, an organization giving voice to the voiceless, protecting the most vulnerable, raising issues that some would like to see to be ignored. 
What makes you stay determined?
I think that first of all, the work changed me. I see firsthand that complex issues have no simple and fast solutions. I see that some things are very different from what one might think sitting in his comfortable living room watching TV. I see that people from various countries can come together to fight for values that we all declared to be universal. I try to be more empathetic, try to fight my prejudices, and always keep the initial humanitarian ideals that made me choose this work. 
Changing just one life is worth it. Very often, not much is needed. Providing some simple diagnostic machine to a rural hospital can save a life. Sharing to someone about a good idea or learning opportunity might help a young student start a company or get into a university. 
It was important for me to accept that the UN will not change or save the world alone. The change always has to come from within. We are there to help create conditions for change, perhaps to motivate and show the way but for it to happen there has to be the willingness in an individual person, community, nation or state. 
Originally published January 20, 2017