In December 2015, world leaders met in Paris at the UN Conference on Climate Change and agreed to limit the global temperature increase to 1.5ºC. European leaders are currently figuring out how they can fulfill their obligations under the agreement. It is clear, as a memo by the European Commission leaked in February 2016 highlights, that European citizens need to make "profound lifestyle changes." 
Amidst the discussions of a pan-European response to climate change, we were interested in finding out how willing Europeans are to adjust their lifestyle. We conducted a census-representative survey of almost 12.000 people across all EU-28 countries and asked them about their lifestyle choices.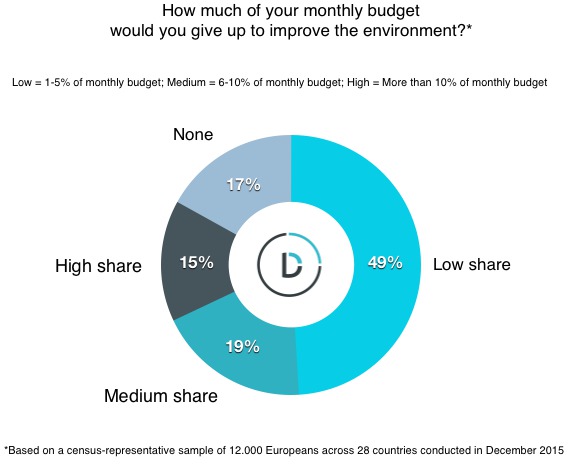 Overall, almost half of all Europeans state that they would spend between 1% and 5% of their monthly budget in order to benefit the environment. If we assume the average European citizen's budget on final household consumption (which is €21.100 according to Eurostat), this amount would translate into something between €20 and €90 per month.
While there are no marked differences in terms of gender, we noticed that young people would spend more money to improve the environment: almost a third of the young between the ages of 14-25 are willing to spend over 10% of their monthly budget to improve the environment, compared with only a one-tenth of those over 40 years old. 
Not surprisingly, differences in income showed up at the margins: one in five of those reporting high income stated they would spend more than 10% monthly, compared to one in ten of those reporting very low income. 
Sustainable choices
If Europeans are willing to give up some of their money to improve their environment, what would they spend it on? We focused on three sectors and asked how many people would spend more on sustainably produced food, electricity and transport.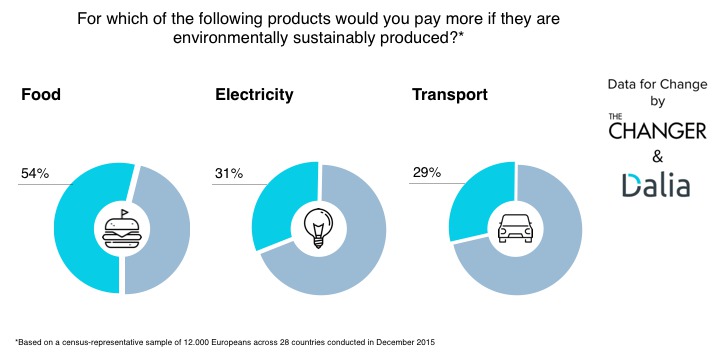 Food was the preferred choice, for which 54% of the people are willing to spend more money. However, this number was considerably lower in the electricity and transport sectors. Overall, 31% of Europeans are willing to pay more for sustainably produced electricity. Similarly, 29% of Europeans are willing to spend more for sustainable transportation.
More notably, people who indicated a greater willingness to spend more money on the environment overall were also more likely to invest in sustainable electricity and transport. 
What can we learn from the results
This could mean three things: first, options and information regarding sustainable food make lifestyle changes easier, or at least people perceive it that way. Second, the options in electricity and transport, like solar panels or Tesla cars, are perceived to be expensive. Or, third, people who are willing to spend more are "more committed" to improving the environment and see the need and benefit in investing in electricity and transportation. 
Yet, our question did not explore if people are willing to lower their carbon footprint in food, electricity and transport by spending less money, not more. A lifestyle change can be as simple as taking public transportation, riding a bicycle, eating less meat or consuming less water. 
The good news is that Europeans are overall not averse to making "profound lifestyle changes". It is now important that sustainable electricity and transport become more affordable and that people are educated on, and conscious of, their options. 
This article is part of an ongoing collaboration between tbd* and Dalia Research on surveying public opinion across Europe to shed more light on a range of social and political issues. To find out more about the survey and methodology, see daliaresearch.com/e28
Icons created by Freepik from www.flaticon.com
Originally published March 17, 2016