"Many Entrepreneurs and Business Owners completely avoid building their personal brand in fear of being seen as that shameless self-promoter", says Alex Pirouz in "5 Ways to Successfully Cultivate Your Personal Brand".
Hitting the nail on the head, anyone?
I feel like a disappointment to Millennials: I don't know how to brand myself; tooting my own horn is super uncomfortable. Despite all the cool work I do in different countries and the incredible people I meet and get to work with, I have trouble thinking of myself as something or someone who should be marketed let alone intentionally promoted. It's simply not my jam.
I don't do inspirational quotes in beautiful hand-lettering. I don't have instagram-worthy peonies on my desk. In fact, my desk itself (a painted old door on two sawhorses) looks like a construction site of ripped-out articles to read, a scattering business cards that I'm sure I will one day refer back to (not), receipts and envelopes in 21 colors and shapes. Not much there screams *Social-Impact Driven Brand Babe in the Making!* My work revolves around people, theories of change, socially responsible small business owners and startups on their way to making an impact. It's not all that tangible, let alone sexy. Amiright?
On Balance
If you trust Matt Speedwood "Personal branding has become a requirement for anyone looking to grow their business, get a better job, get noticed by the press, take their career to the next level or meet new, high quality friends." While I am not enthusiastic about finding "high quality friends" (whatever that means) through personal branding, he has a point.
In an era of freelancing, entrepreneurship and steep corporate ladders, we look for ways to stand out and take a position among the do-gooders and change makers who we inadvertently compete with. It helps us attract clients, promote thought leadership to lay the groundwork for the next promotion and create a solid presence in a digital world that advances our career prospects.
Without mentioning any names, a few online personalities seem to spend so much time carefully curating their online presence that I wonder how much time they actually spend on creating meaningful social impact. On the other hand, you don't want to sell yourself short. If you are already going through the trouble of creating a website, getting your SEO right and connecting your social media channels, you want to ensure you are making the most of your efforts. See balance and remain authentic.
Some of my favorite websites from fellow do-gooders include
A lot has been written about personal branding (see the end of this article for further reading) but little light has been shed on the personal brand of us Social Venturers, professionals who are working to change the world around us by building social businesses, or empowering those who do by training them, telling their stories and building ecosystems that allow them to thrive. Instead of my usual list of best practices, this is a personal account of how I started thinking about letting people know what I care about, and what they can hire me for.
1. Website
Following a rough time with ecosystem building earlier this year, I decided to invest more in my marketable skills of running programs, advising early-stage socially responsible businesses and consulting with more established conscious companies on issues of impact assessment, triple bottom line and B Corp Certification. I wanted one central place to let people know how I can help and what they can hire me for. I wanted a website. And I did my research. Customer journey mapping. User experience. SEO. Click and conversion rates. And still. I struggled to showcase my work and confidently promote it in a way that felt authentic and not like self-aggrandizement.
The Social Venturer approach
In my typical ways, I just started writing and writing and writing. I had a lot to say! In a language that no-one who is a novice in the social impact field would understand. My friend Shannon - experienced entrepreneur and boss babe par excellence - pulled me aside during her maternity leave and gave me this advice:
Use simple language, especially if you are addressing an audience that might not even know yet they are your clients

Position your services front and center, make them easy to read and understand

Make sure your content tells visitors

Get testimonials (details in this post)
2. Branding
Another friend of mine helped me out with some details from a branding class she had taken as part of her masters in journalism at Georgetown university. Molly put branding in terms that resonated more with me than the idea of some glossy ad campaign with puffy hair blowing in the wind of a fan:
"Your brand is what people say about you when you're not in the room. It lets people know who you are, why your work matters and how you stand out from the crowd."
The Social Venturer approach
These are a few of the questions I asked previous clients to get a better sense of how was being perceived by the world-outside-my-own-brain (fun!), and the responses were awesome:
If my name were a brand, what would the three key attributes be?
Sophisticated, personal, snappy

Relatable, targeted advice

Intelligent, creative, committed

Champion, motivating, respectful
What do you think is my specific expertise?
"From a business perspective, I think your expertise is in socially conscious or socially motivated businesses. From a personal perspective, I think your expertise is your ability to set people at ease, and your frankness. When you're developing a business, there's a pressure to feel like you have to know it all. You made me feel more relaxed about saying 'I don't know.'"

"You are an excellent sounding board. We often have already done our homework before meeting, but sharing ideas with you helps us to approach ideas from a different perspective and explore creatives solutions."

"Letting a person's story speak to their brand, making them ask themselves the right questions to move forward and keep on track. Pushing entrepreneurs to just do it… Stop planning, start doing!"
What do you think I'm most passionate about or interested in?
"You come across as genuinely passionate about your clients' endeavors and successes. You also seem to be very invested in social entrepreneurship."

"Social entrepreneurship and women founders."

"Supporting and cultivating a thriving B Corp community."

"Riding your bike and looking awesome doing it… Ha ha, just kidding! Helping businesses with a social mission be successful."
Make sure to not ask your family members or people who you have a close personal relationship with - they are probably too nice to be helpful. Ask clients who can truly speak to your professional aptitude.
On all accounts, this is an eye-opening and humbling experience. If, like me, you feel as though you are too close to your own business to paint a clear picture of what makes your services or products stand out, ask people who you have worked with to do it for you.
One unexpected upside of this exercise was gaining more clarity on the value I bring to clients: Until recently, I was proud of the technical expertise I was able to provide my clients with. What I learned through this exercise, however, was that they really value the fact that I buy into their businesses, that I get personally invested in their progress and success. While I always thought catch-up sessions were not valuable because you don't walk away with a specific output, my clients do in fact appreciate the opportunity to simply run some ideas by me, talk decisions through and use me as a sounding board. Excellent!
I approached this entire branding and website exercise as lean as I could: Create a draft, obtain feedback, iterate. Repeat. Once I had my website content and a better sense for the brand (reflected in the copy), a lot of the feedback I received in the second iteration related to layout and the visual experience. If you have people with a good eye (designers, artists, etc.) ask them for feedback once your content and basic layout are solid.
I have a good sense that our online presence, much like our personalities, will constantly shift and change. Don't get caught in a cycle endless iteration. At some point, I decided to just "ship it" and check back in in three months to do another overhaul if necessary.
3. Social Media
The majority of B Corps and socially responsible businesses I work with struggle with social media. Either they feel like they don't get what all the fuss is about or it feels like work to them that doesn't naturally resonate with them. I will say this: Not every company HAS to entertain five different channels. On the contrary, social media is one channel for marketing and it will only be effective if that is where your target audience spends their time.
The Social Venturer approach
Luckily, social media has always been an outlet I enjoy. I don't view Twitter or Instagram as a marketing tool. I always considered it a window to my world, an opportunity to share with others what I'm working on: who I meet, what we work on, and what cool stuff is happening in my world (and my kitchen).
Instagram is the most personalized channel I use because it is not geared toward a professional audience; it mostly includes friends, family and people I interact with on a regular basis (other small business owners, photographers, people I work out with, etc.). At best I would describe my approach to Instagram as snapshots of my daily life; none of my posts are especially artistic or follow a certain color scheme (@Chicstripes has that stuff figured out!). I view them as snippets of life, captured in the moment without much editing.
On Twitter, on the contrary, you will hardly find any personal content. I view it as my megaphone to broadcast news and insights from the field of social entrepreneurship, B Corp, women in business and socially responsible companies. I especially like Twitter for engaging with institutional players like: (not in order)
In conversations around topics that I'm interested in:
#SocEnt
#SocInn
#ImpInv
#BCorp
#SustBiz
#socialbusiness
#BTheChange
#startup
#entrepreneur
In real-time conversations at events like:
LinkedIn was a real surprise to me since I didn't expect anyone to actually interact on it. Oh my, was I wrong! It seems to be the procrastinator tool of choice right around the time that everyone commutes to and from work, is on lunch break, or is trying to make it through the afternoon caffeine low. LinkedIn has a long way to go in terms of perfecting their algorithms (Am I the only one chasing vanished posts that I saw just before I blinked?); with all that being said it has proven a surprisingly effective tool in engaging with professional contacts in my local environment. As opposed to the rather anonymous Twitter crowd, I engage in way more "conversations" with my LinkedIn audience. More room for thoughts and words and links. Hence, I have found LinkedIn to lend itself more to local and regional content, with the occasional global highlight or thought leadership piece thrown in.
And such, my friends, is the unglamorous approach to branding yourself as a changemaker. If I took anything away from this exercise, it is that you should not let the world drive you crazy with the channels and apps you should be using. Only work with what is a good fit for you, learn from your role models, be inspired by what others in your industry do and develop your own take on it.
Don't try to present an image of you that is not you; in the end all it does is attracting the wrong type of customers who might have bought into the image of you and your business but not your true essence.
With photoshop and all the filters in the world, it is hard to stand out through beauty, so why not take a stab at being authentic and see who you can connect with based on the real you?
Further reading
On my reading list this summer:
Show Your Work, Austin Kleon

Badass Your Brand: The Impatient Entrepreneur's Guide to Turning Expertise into Profit, Pia Silva
About the Author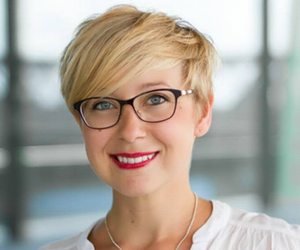 Anika Horn has devoted her career to working social entrepreneurs from around the world building mission-driven businesses. As a mentor and coach at Social Ventures Australia, Social Impact Lab Hamburg and the DO School, Anika recently moved to the United States where she builds ecosystems for social entrepreneurs in mid-tier cities. On an international level, Anika researches best practices and common challenges in social enterprise support around the world. Her research is published under www.socialventurers.com.
Learn more about her work: www.anikahorn.com
Originally published August 7, 2017