Cooperations between civil society and businesses can complement the work of the social sector. The achievement of the 2030 Agenda for Sustainable Development requires creating synergies with different sectors by pooling in expertise, financial resources and and technical know-how. This case-study from Kiron takes a look at how they are utilizing partnerships to maximize their impact - and shares five of their most essential learnings. 
Why Education Matters
As Nelson Mandela once said, "education is the most powerful weapon you can use to change the world." Unfortunately, according to UNHCR less than 1% of all refugees attend university - an enormous difference compared to the global tertiary enrolment rate of 34%. In a world where nearly 20 people are forcibly displaced every minute as a result of conflict or persecution, the refugee crisis is indeed a grave one and there is only so much that governments can do. This calls for action from businesses, the civil society and NGOs.
As a non-profit ed-tech organization with operations in Germany, Jordan and Lebanon, Kiron has leveraged the use of technology, private sector capital and financial support from foundations and the public sector to assist around 3,200 refugee students to attain higher education. Any refugee with an internet connection and the desire to learn, can access the Kiron digital campus and become a Kiron student.
Wafaa, like any other young woman, always dreamt of pursuing higher education. The ongoing civil war forced Wafaa to flee her home country, Syria. After an arduous journey, she finally arrived in Munich in 2015, not knowing how life would be thereafter. Wafaa was able to access higher education through Kiron's online platform and today she has successfully transferred to University Duisburg-Essen as a full-time student pursuing business administration. With Kiron's support, she had the opportunity to continue her higher education without losing time. Her participation in the Kiron mentoring program connected Wafaa to the corporate sector.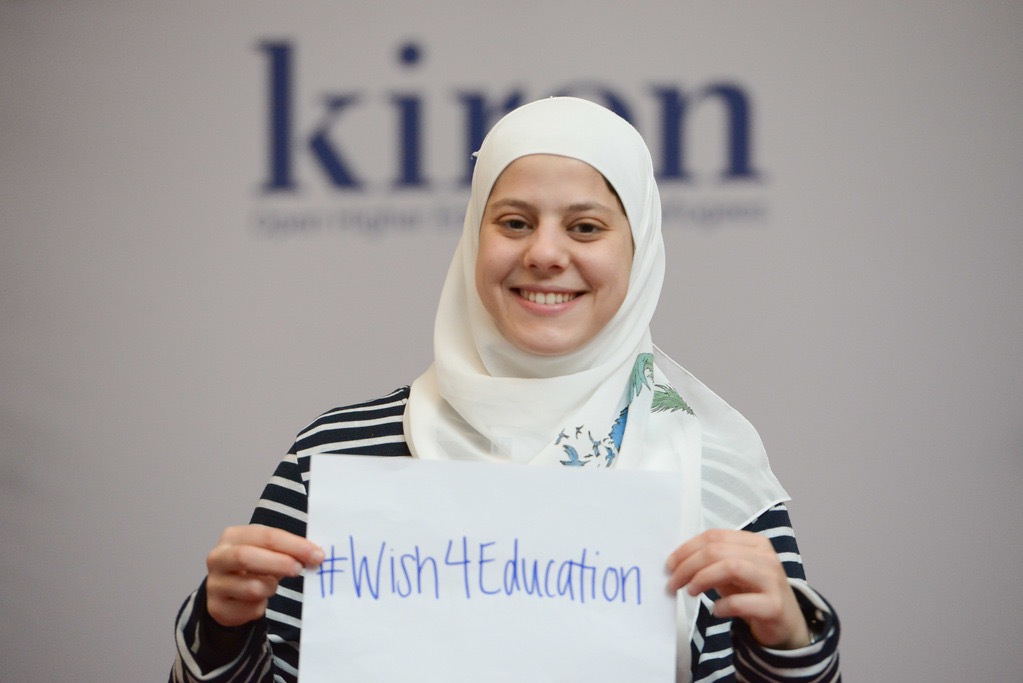 Connecting UN Goals and Corporate Social Responsibility
One of the goals for the achievement of the 2030 UN Agenda for Sustainable Development is to encourage and promote effective public, public-private and civil society partnerships, building on the experience and resourcing strategies of partnerships. Meeting partners at eye level and developing mutually beneficial corporations, however, is important to create long-term impact knows Ariane Kilian, Head of Refugee Aid at Volkswagen Group, partner of Kiron since 2016: "The collaboration is about more than just giving money: We would like to support the students in their educational and personal endeavors. Volkswagen Group perceives the partnership as a great opportunity to connect refugees with our employees. By having young Volkswagen professionals as mentors or inviting Kiron students to participate in an ideation workshop together with other university students, we build bridges for Kiron students into society and the labor market."
Corporate support does not only enable non-profits further their mission but also provides for-profit organizations of all sizes with the opportunity to support a cause for sustainable change by matching their corporate philosophy with those putting it into practice, as explains Hanns Peter Becker, CFO of the management consultancy e&Co. AG. And that also matters to prospective employees as a report on Corporate Social Engagement by Beyond Philanthropy shows: When considering a new job, 50% of Generation Y will be influenced in their decision by the social commitment of companies.
Working with Corporates to Develop Services Non-Profits Can Offer
Currently, in collaboration with over 50 partners, Kiron provides an opportunity for external stakeholders to create a positive social impact by investing in refugee students, thereby empowering them to be active and productive members of society. Partnerships between corporates and non-profits have become complex commitments. Regular meetings, email exchanges, the lengthy process of developing concrete project proposal, drafting contracts - all these have become typical working packages of non-profits today.
Since 2016, Kiron has been developing concrete programs with external partners tailored to their individual capacities and to the needs of Kiron students. Corporate funding is used to provide services such as psychological counseling and professional guidance programs that enhance student learning experiences with Kiron's unique education platform. Some partnerships have also enabled Kiron to hold workshops for Kiron students informing them about scholarships and university in Germany, or helping them to network with each other and our different partners. 
The organization's mentoring program connects employees with refugee students like Wafaa, opening a door for them into the professional world while also allowing employees to contribute to a social cause and to develop their leadership skills and intercultural competencies. The direct contact with those benefiting from the programs non-profits offer means much more than this though. Julia Jürgens, Head of Leadership Development at Metro AG stresses that "With my busy work schedule, I am glad about the opportunity to mentor someone online. As a mentor, I can assist to maintain focus, and I can encourage positive action. It means being there for another person - with my experience, my encouragement and an open mind and heart." 
And Wafaa, how does corporate engagement impact her? "Someone hears you, someone who is qualified to hear. That someone asks you questions, offers help, shares, and records for you. It is a wonderful feeling that your plans are more clear now!"
Five Tips for How to Approach Partnerships with Corporate Organizations
So what are the main take-aways for effective partnerships with corporate organiz
ations and what should non-profits keep in mind when approaching potential supporters from the private sector? Below you'll find some of our most essential learnings.
Give and take for both sides.
Be transparent.
Make sure what you offer is ambitious but manageable and reflects your current realities.
Expect it to be work. A partnership, like any relationship, requires effort.
Don't expect everything to go as planned.
Let's dive a little deeper into each point. 
1. Give and take for both sides.
When teaming up with an external party for a common goal, all sides invest a significant deal of resources - be it of human, financial and/or of logistical nature. Keep in mind that all stakeholders will only be willing to make commitments if there are give and takes on all sides.
Asking for support is easy, making an interesting and irresistible offer that the other side cannot not accept requires time and patience. Conceiving a joint project can be a time-consuming undertaking with much back and forth. However, putting the focus on reaching a common ground will prove more fruitful for the future cooperation.
2. Be transparent.
There is no point in making up numbers to make an organization look better or more successful than it is. Sooner or later the realities will show. Be transparent to your partner. Show solutions to challenges you have encountered, be able to provide alternative strategies. No one expects you to be perfect. On the contrary: Honesty and transparency can even be rewarded - and make you more credible in the sector.
3. Make sure what you offer is ambitious but manageable and reflects your current realities.
When developing programs or projects with partners, check their feasibility with all stakeholders involved - internal and external (if necessary). This way you will ensure that your offer is realistic and that it reflects your current strategy.
4. Expect it to be work. A partnership, like any relationship, requires effort.
The cooperation has been formally concluded and the contract signed - now that's it? In most cases this will only be the beginning of a cooperation requiring substantial efforts to reach project deliverables. And even if the partnership seems to be pretty low key in terms of project management or KPIs, there is a magic trick: Spoil your partners with information. Include them in partner communication, share with them your annual report, send them a little something for the holidays. Offer to work together on a small additional project that doesn't involve additional costs, invite them to events, mention them at opening speeches. There are many possibilities to provide visibility to the partnership and to give insights into your organization that will help you understand each other better, develop your cooperation and make both sides happier.
5. Don't expect everything to go as planned.
Two words: Murphy's law - if something can go wrong, it will go wrong. Most importantly: Stay calm, brainstorm solutions and - if potential threats put the project at risk - do not hesitate to talk to the partner. There has been a strategic shift in the organization and the project requires adaptation? Rethink the project, be open to the partner, make suggestions for changes that your partner cannot turn down. Key people are leaving the project or the organization? Make sure the handover is well-prepared and that the new contact person is properly on-boarded. Don't panic, there is always a way out of the impasse.
Now it's your turn to make it happen. Good luck!