Kresse Wesling is co-owner of Elvis and Kresse, a company that creates unique, hand-made products from a range of reclaimed materials. We caught up with her to discuss the challenges of running a social enterprise and how upcycling can help to revolutionise our wasteful economy. 
Can you tell us a bit about Elvis & Kresse?
Kresse was born and raised in Western Canada, Elvis was born and raised in London, England. They met in Hong Kong when they were both working there at the start of this century. Neither of us have a background in luxury or accessories so the learning curve began when we decided to rescue the hose. We launched Elvis & Kresse in 2005, this business reclaims and transforms materials and donates 50% of our proceeds to charity. We know that good design isn't the same without good intentions. Our signature line of bags and wallets are made of impressively functional reclaimed materials like decommissioned fire-hoses, parachutes, and printing blankets. Our bags are beautiful, functional, and good for the environment. 50% of the profits from the fire hose range are donated to the Fire Fighters Charity.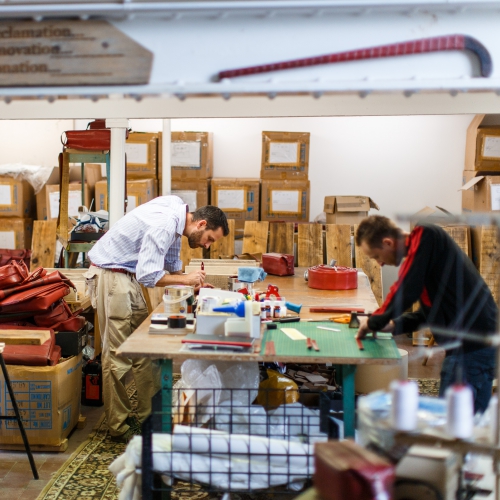 What was it that inspired you to start the company?
In 2005 we had a chance meeting with the London Fire Brigade and instantly fell in love with their damaged, decommissioned fire hoses. Everything started from the desire to rescue the fire hose. The initial goal was to create a business which could find a new life for these old or damaged hoses.
What achievements are you most proud of to-date?
In the early years there was a lot of doubt and not just from prospective consumers and retail partners, but from craftspeople and manufacturers too. No one thought it was a good idea or that we could make anything worthwhile. Elvis learned to sew, to design and refine products. These products then spoke for themselves. By 2010 we were large enough to be rescuing all of London's decommissioned hoses. The problem we first launched the business to solve, was solved.
What skills have you and your co-founder discovered to be most important when setting up a social enterprise?
Dividing the work. Elvis often tells me that I am the 'social' and he is the 'enterprise'. This probably isn't too far from the truth. We trust each other completely, both have a very strong work ethic and won't settle, but we don't overlap. That has been the key to us thriving in business and remaining a happy couple.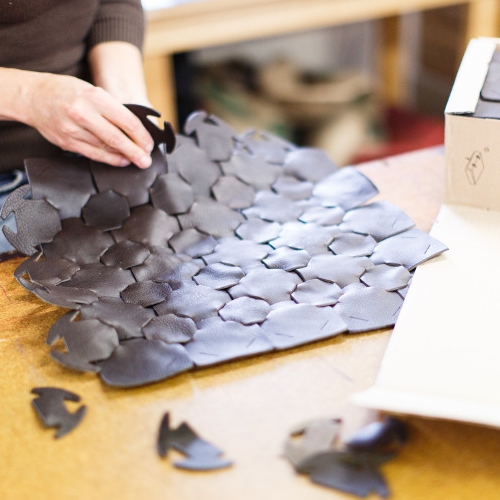 What have been the biggest hurdles in getting the company to where it is today?
We had a very difficult winter in 2012. The business was growing and simultaneously we lost our first manufacturing partner in Romania, a US based distributor ran off with lots of stock, the Poole based Remploy where we contracted a lot of work and where we rented our workshop was closed (which meant losing sewing contracts and having to relocate all at once) and a building we were trying to buy, to move the business to, fell through. We had over six months of limbo where we had to set up our own manufacturing, move the business 3 times and move ourselves twice and finally landed in the summer of 2013 at our current site, Tonge Mill, in Kent. It all turned out for the best but that was tough.
Your beautiful creations provide a great example for how the concepts of a circular economy can be put into practice. What key challenges need to be overcome in order to make this a more widespread phenomenon?
Wow, excellent question. I will give you a list of the key challenges, but you have to keep in mind that a Circular Ecomony requires us to work more interdependently, in a web. If we meet these challenges in isolation, we won't have a circular economy.
Assigning true value to raw materials (ie carbon tax plus, the work of Ex-Tax is really interesting).
Learning to share, and changing our relationship and desire for ownership.
Education and re-education, for everyone, in every kind of education, about how this kind of economy needs to function.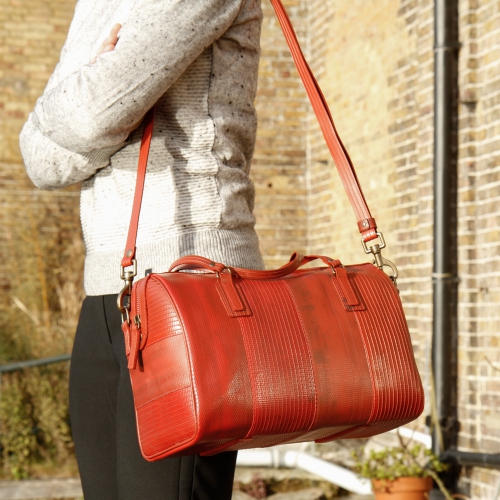 Do you think responsibility for cutting down on needless waste lies more so with consumers or policy-makers?
It is the responsibility of designers (and this includes everyone from architects and jewelers to engineers), manufacturers, policy makers, citizens, consumers, waste managers… this is everyone's issue and everyone needs to do more.
What does success look like in the future of Elvis and Kresse?
We have decided to tackle the world's leather waste problem. Each year, 800,000 tonnes of post-industrial, pre-consumer leather falls to the cutting room floor and is mostly landfilled or incinerated. This problem is 80,000 times larger than the fire hose issue. We have to scale to solve this problem. We have to solve it while continuing to run as a B-Corp and social enterprise and while donating 50% of our profits to charity.  
Interested in reading more content like this? Sign up for our weekly UK newsletter here.