The Lloyds Bank and Bank of Scotland Social Entrepreneurs Programme, run in partnership with the School for Social Entrepreneurs and jointly funded by The National Lottery Community Fund, is now open for applications from people who want to use business as a way to make a positive difference to their community or the environment.
The support programme provides social entrepreneurs with the financial support of grant-funding to start or develop a social business, as well as a comprehensive learning programme delivered by experts from the School for Social Entrepreneurs (12-14 learning days, spread over a year), and a dedicated mentor from Lloyds Banking Group.
There's also a tranche of the programme aimed at supporting established social enterprises to grow by increasing their income from sales, and helping them to significantly scale up.
The programme, now in its eighth year, will support 2,350 social entrepreneurs by 2020. In 2019-20, it will support 260 social entrepreneurs at nine locations across England and Scotland.
Social enterprises are businesses that trade to tackle social problems, improve communities, people's life chances, or the environment. They earn money and make profits, but crucially they reinvest their profits to do more good. They do this in many different ways, from creating jobs for people who are too often left out of meaningful employment, to supporting community projects, environmental improvements or vital services for people who might not get them otherwise.
The latest data from Social Enterprise UK reports that there are around 100,000 social enterprises, contributing £60bn to the UK economy and employing 2m people. In total, social enterprises are worth around 3% of UK GDP – three times larger than the agricultural sector – and 5% of all UK employment, employing as many people the entire creative industry sector.
People who are in the early stages of starting up a social enterprise, charity or community project can apply to the Start Up level of the programme, which offers a grant of £1,000 as well as mentoring and a learning programme to help turn their ideas into reality. Established social entrepreneurs can apply to the Trade Up and Scale Up levels, which focus on growing your organisation as well as developing yourself as a leader. They will be able to access Match Trading™ grants of up to £4,000 and £7,000 to support their plans to grow their businesses. 
Match Trading grants pound-for-pound match an increase in income from trading; rewarding growth with additional grant funding. Match Trading grants encourage entrepreneurs to grow their business through trading and increase their sustainability by incentivising them to explore new markets and diversify income streams.
Social enterprises offer an alternative to the 'norms' of business; and are leading the way in developing diverse workforces. The latest social impact report reviewing The Lloyds Bank and Bank of Scotland Social Entrepreneurs Programme, run in partnership with the School for Social Entrepreneurs and jointly funded by the National Lottery Community Fund, shows that one in four social entrepreneurs taking part are from BME communities, and 62% of all those taking part are women. One in four of the people who have taken part in the programme have direct experience of the social issue they are working to address. Some have themselves been formerly homeless, lived in a deprived area or have direct experience of living with mental illness. Many are supporting individuals who may be considered disadvantaged due to their circumstances.
People taking part will start their learning programme in October, and will come together with other social entrepreneurs in their area for training days and learning sessions for one or two days per month over the course of a year. No formal qualifications are needed to apply, and learning sessions are designed to be practical, fun and engaging.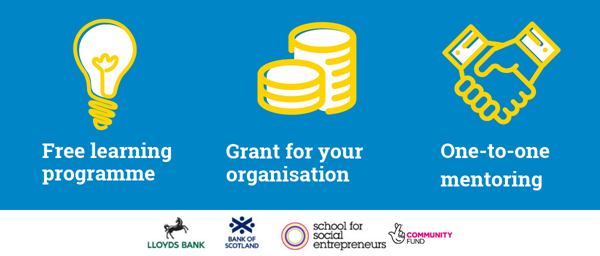 Applications are open now!
Applications to the programme are open now until Wednesday 27th March, and learning programmes will be delivered in venues across the UK, including Birmingham, Bristol, Cornwall, Edinburgh, Ipswich, Liverpool, London, Winchester and York.
Social entrepreneurs, or those running a charity or project that has an aim to improve their community or environment, can find out more information at www.bethesocialchange.com and can attend taster information sessions running at venues across the UK and online.