Tim Brown, left, and Joey Zwillinger, founders of Allbirds. (Photo courtesy Allbirds)
Allbirds was recently valued at a reported $1.4 billion. Incorporating sustainability into its shoe and company design from the beginning, Allbirds has attracted the attention of mainstream investors by breaking the mold — and doing it with style.
My first experience with Allbirds was awhile ago thanks to my college-age son, who is a pretty discriminating shopper — both for style and for the substance behind the brands he buys. Given my background as co-founder of the basketball footwear company AND 1, my eyes were drawn to his new, unique-looking shoes (sleek two-piece construction; lightweight wool upper). He noticed my stare and told me they were Allbirds. Responding to my blank look, he smiled and said, "Yeah, they're super-comfortable, and they're cool. They're the real deal; they're a B Corp."
Recently I had the opportunity to talk with Joey Zwillinger, Allbirds co-founder and co-CEO with Tim Brown, a former professional soccer player. Zwillinger's business background as an industrial engineer with a San Francisco biotech company and Brown's sports industry knowledge have proven to be a powerful combination.
Perhaps more importantly, Zwillinger and Brown had no experience in the footwear industry. Like it did for me and my partners at AND 1, coming into the industry without the baggage of preconceived notions turned out to be a competitive advantage. When they formed Allbirds in 2015, Zwillinger and Brown chose a direct-to-consumer business model so they could control distribution, better connect with the consumer and quickly incorporate product feedback.
Despite poor reactions during initial funding discussions with industry insiders who, Zappos aside, were still uncomfortable with a direct-to-consumer business model, Allbirds has since gone on to raise more than $77 million in five funding rounds from investors including T. Rowe Price, Fidelity Management and Research Co., and Tiger Global Management.
As someone who spent 13 years building a $250 million footwear business whose valuation never exceeded $100 million, I admit to being amazed at the reported $1.4 billion valuation for 3-year-old Allbirds. I decided to put my ego aside and give Allbirds a call to learn more.
The first feedback you got from investors in the footwear industry was a hard no. What made you and Tim think they were wrong and that you had something they weren't seeing?
Zwillinger: The big thing we knew early on was that we were coming at this industry differently. We get this reaffirmation that we're on to something interesting when people in the industry tell us what we're doing is wrong or that it's a bad idea.
The reaction to our product from consumers has been really strong from the beginning — and it's been strong because of our naivete coming into the industry. A lot of that [naivete] has allowed us to ask dumb questions and only accept logical answers — not answers that end with "That's just the way it's always been done."
With Tim and I, connecting our two backgrounds to form this company felt like something that was not only a great business opportunity but that could potentially change the industry in terms of how companies source material and think about sustainable design. We're really proud of what we've been able to accomplish in a short period of time.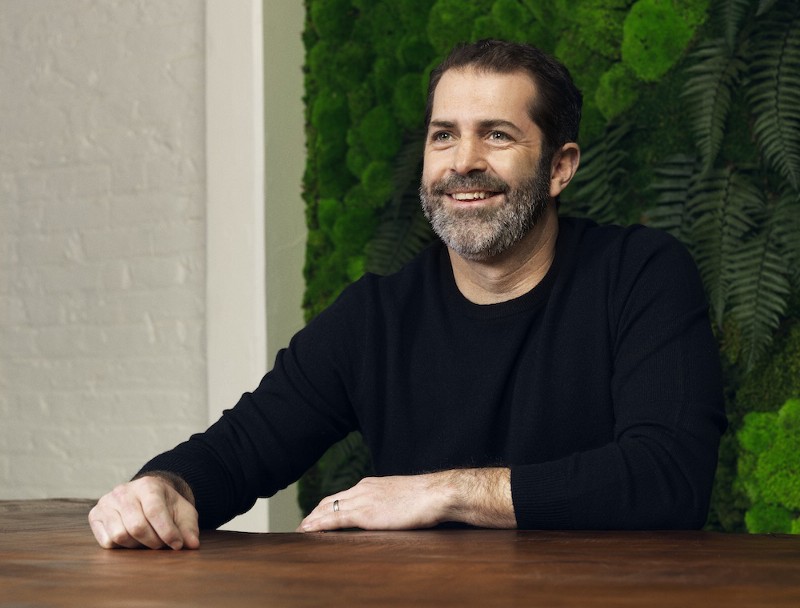 Joey Zwillinger incorporates his business background as an industrial engineer in his role at Allbirds. (Photo courtesy Allbirds)
I love that you have the humility and self-confidence to "ask dumb questions." Are there other guiding principles at Allbirds?
Zwillinger: We say live curiously. We say act intentionally. So basically, take the logic-driven answer supported by data and then simplify naturally. Streamline things and do it in the smartest way you can. It has a double meaning in terms of doing it in the most sensible way for the environment. Those have been our guiding principles as we build the company.
So tell me little bit more about "simplify naturally." How are you doing that with your footwear, and does it apply to your business practices or management style?
Zwillinger: It absolutely does. In terms of our product, we have three fundamental design pillars. We focus on comfort as a core attribute for the consumer. We also utilize a design principle that prescribes stripping away everything not functionally necessary, and what you're left with is that beautiful form that serves the function really well. The last aspect is around utilizing sustainable materials to create that comfortable product.
We would never suggest that we're perfect. There's always room to improve no matter how low of a carbon footprint we get. At some point we can get carbon negative and then continue to improve even beyond that. So that's our goal as a company. The focus on environmental well-being through our design and sourcing strategy is a big embodiment of that "simplify naturally" that we live every day.
What happens when the "better way" conflicts with better margins, and how does that work with investors like Tiger Global and your decision to be a B Corp?
Zwillinger: It takes time to be done within reason. We can't be unsustainable from a financial perspective and then be sustainable for the environment, because then nobody wins. Unless we have a healthy business model, we won't have the opportunity to do things better for the climate.
Here's one great example: We were making shoelaces out of virgin polyester, and we had been fighting since before we launched the company to make them out of recycled polyester. Finally, after ages it felt like, we found a way to be able to do that with a supply chain that could support our scale. Our manufacturers came to us with this solution and quoted a price that was three times the price we had been paying for our laces.
There was really no discernible benefit to the consumer from this perspective, but it lived up to those three product development pillars that we have around comfort and simplification and sustainability. So we had a quick go-around with our cross-functional team to decide this — it included finance, it included product development, all that. It was like a four-minute conversation which consisted of "Yes, this is a no-brainer even though it costs more," and the second output was we would never again sell a product that was straight virgin polyester.
This also unlocked a new opportunity for us to sell laces directly to consumers. Not only did we increase sustainability of our product overall, but we also increased the revenue of the company because we could sell laces we never would have been able to sell otherwise.
A double win.
Zwillinger: Yes. Let me give you one other example. This is really important and it's taken three years. When we started the company, we knew we had a weakness with sustainability in the bottom unit of the shoe. We called a company I'd worked with previously in Brazil, and we asked them to take the petroleum out of the foam bottom units and replace it with sugarcane as the base material. They figured out how to use a waste byproduct of sugarcane production to create a composite material we call SweetFoam.
Over three years we were able to convince the manufacturer to invest millions of dollars in this process and help us launch a showcase product called the Sugar Zeffer, our flip-flops, as a limited edition. Now we're injecting SweetFoam across all of our shoes across our entire product line.
When we launched this, we also shared that we were going to open-source the green EVA we had developed as the base of SweetFoam, so it could be used by the whole industry. So not only were we able to take something that was a high carbon impact and turn it into a carbon-negative product, but then we also were looking to drive down price by sharing it with the rest of the industry.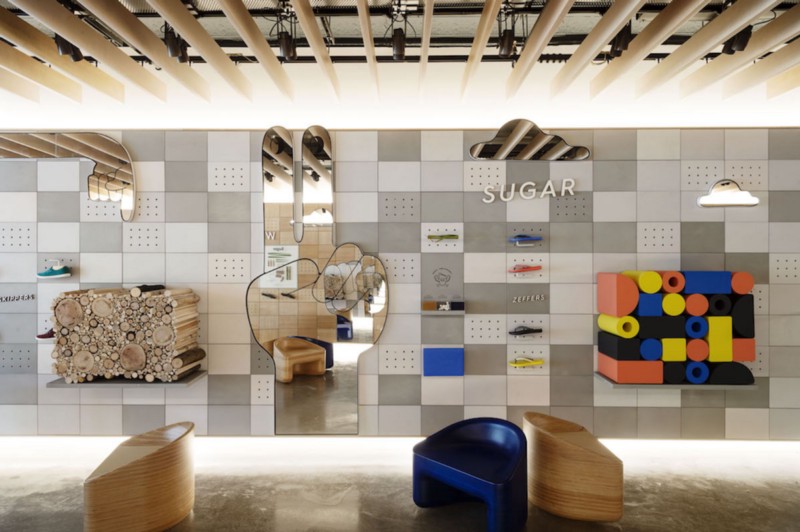 The Allbirds retail store display in New York City highlighted its limited-edition Sugar Zeffer flip-flop, created with the SugarFoam composite material. (Photo courtesy Allbirds)
But there are times when the interests of the environment aren't the same, even in the long term, as the interests of shareholders. Has Allbirds had to address this tension yet?
Zwillinger: Until we're carbon negative, we're making a compromise. I'm not trying to create this pristine picture of perfection and utopia, but we are striving for that.
We've become increasingly focused on making sure we make the right decisions about where we manufacture material. We're looking for production facilities that work on a very low carbon emissions grid and then — down to the micro-level — that have renewable power. Some of our product is made in China in a factory that relies heavily on coal-powered electricity. We are actively working on transitioning our factory to a newer, lower coal electricity grid while continuing to get the highest quality product. That's just an evolution process we work on every day.
Could you talk a bit about your decision to become a Certified B Corp and your decision as part of that to use the benefit corporation governance structure? How was that received by your investors?
Zwillinger: I have an extremely positive view on all of this. Investors have never questioned for a moment why we're doing what we're doing, nor have they questioned our benefit corporation legal structure. Some companies have had a challenge of making their B Corp status as a publicly traded company, but frankly I think this is the way the world is headed.
I'm completely comfortable with the fact that we're a public benefit corporation and a Certified B Corp, and I'm really proud of it. I think it helps our business because I believe people — particularly younger people — see business and the private sector as part of a larger ecosystem.
Not everyone buys our shoes with the knowledge that they're sustainable. But I think a lot of people get behind our idea: Making a great product and also doing it in a great way. Our investors have reflected that, and I think our employees reflect that. We are able to access far better talent than we otherwise could because we're a purpose-driven company. We are very explicit about what our purpose is, and we share how we go about doing that in the interview process. That's a really attractive feature to get us great talent to help us develop a great company.
For me it's a win-win for shareholders and for the environment in our case, and for other purpose-driven companies that elect to be PBCs and B Corps. The same logic would apply for whatever public benefit they're choosing. Great companies are going to come out and be PBCs and B Corps, and that's going to be a contributing factor for why they're such great companies.
This article was originally published in Forbes. Published on tbd* with permission of B the Change.