I'm a news junkie. Yet I have barely managed to make it through a non-fiction book in my life. But since reading the news has started to fill me with a horror beyond belief, I have started to explore that side of the bookshop. And what I have discovered is that, whilst the news gives you the "knowing", the non-fiction book gives you the "understanding". And in terms of gathering my weapons to fight whatever is coming, I feel a whole lot safer with the "understanding" on my belt.
But where to start? Recently I had the privilege of attending the Storia Summit - a gathering of leaders from around the world, mostly in the areas of human rights and socially conscious business, who are working on their own nonfiction books or memoirs. (An event I would recommend to anybody from the bottom of my heart. More info here.)
Inspired and humbled by the wonderful leader of the summit, Ariane Conrad aka The Book Doula, as well as every single one of the incredibly accomplished and passionate attendees, I noted down as many as possible of the books, authors and references that were mentioned during the course on the back cover of my notebook. And this is the list. Some are old, many you may have heard of, some are perhaps new. Some may be crap. I am a non-fiction nube, so bear with me. 
P.S. I have not read any of the books myself. That's what I'm doing after I finish this article. As I mentioned, I'm a non-fiction nube. I just noted the titles and authors and copied and pasted the blurbs from their websites. They are in no particular order and are not categorised. I just added them in the order they were mentioned during the event. 
P.P.S. I have deliberately not linked these books to any online stores. If you do decide to buy, please consider going to your local (independent) bookshop to purchase them.  
Winter is coming. Enjoy. 
Doughnut Economics, Kate Raworth 
Humanity's 21st-century challenge is to meet the needs of all within the means of the planet. In other words, to ensure that no one falls short on life's essentials (from food and housing to healthcare and political voice), while ensuring that collectively we do not overshoot our pressure on Earth's life-supporting systems, on which we fundamentally depend – such as a stable climate, fertile soils, and a protective ozone layer. The "Doughnut" of social and planetary boundaries is a playfully serious approach to framing that challenge, and it acts as a compass for human progress this century.
Freakonomics, Stephen J. Dubner & Steven D. Levitt
Freakonomics, a book about cheating teachers, bizarre baby names, self-dealing Realtors, and crack-selling mama's boys. They figured it would sell about 80 copies. Instead, it took up long-term residency on the New York Times best-seller list, and went on to sell more than 5 million copies in 40 languages.
The Misfit Economy, Alexa Clay & Kyra Maya Phillips
What do pirates, terrorists, computer hackers and inner city gangs have in common with Silicon Valley? Innovation. Across the globe, diverse innovators operating in the black and gray economies are developing solutions to a myriad of challenges. Far from being "deviant entrepreneurs" that pose threats to our social and economic stability, these innovators display remarkable ingenuity, pioneering original methods and best practices that we can learn from and apply in our own worlds. The Misfit Economy seeks to unveil and leverage this new well-spring of ingenuity. Join us in exploring the dark side of innovation.
You may also want to explore some books on Platform Economics and Behavioural Economics to understand our current economic situation and some of the problems, challenges, and solutions emerging.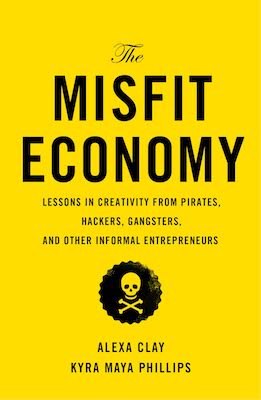 Evicted: Poverty and Profit in the American City, Matthew Desmond
Based on years of embedded fieldwork and painstakingly gathered data, this masterful book transforms our understanding of extreme poverty and economic exploitation while providing fresh ideas for solving a devastating, uniquely American problem. This book's unforgettable scenes of hope and loss remind us of the centrality of home, without which nothing else is possible.
Nudge, Richard H. Thaler & Cass R. Sunstein
Every day we make choices—about what to buy or eat, about financial investments or our children's health and education, even about the causes we champion or the planet itself. Unfortunately, we often choose poorly. Nudge is about how we make these choices and how we can make better ones. Using dozens of eye-opening examples and drawing on decades of behavioral science research, Nobel Prize winner Richard H. Thaler and Harvard Law School professor Cass R. Sunstein show that no choice is ever presented to us in a neutral way, and that we are all susceptible to biases that can lead us to make bad decisions. But by knowing how people think, we can use sensible "choice architecture" to nudge people toward the best decisions for ourselves, our families, and our society, without restricting our freedom of choice.
The Descent of Man, Grayson Perry
What is masculinity and what can it become? It might seem like a luxury in a world facing climate change and vast imbalances in global wealth, but Grayson Perry sees masculinity as a highly active component in all the big issues. Tracing the contours of the dominant male role today, its history and its clearly defined rules, The Descent of Man explores everything from sex, seriousness, and intimidation to clothing, childhood, and power, suggesting a more modern model of manhood which may reach escape velocity from the gravity of "Traditional Man".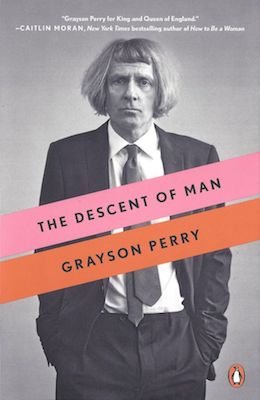 Being Mortal, Atul Gawande
Medicine has triumphed in modern times, transforming birth, injury, and infectious disease from harrowing to manageable. But in the inevitable condition of aging and death, the goals of medicine seem too frequently to run counter to the interest of the human spirit. Nursing homes, preoccupied with safety, pin patients into railed beds and wheelchairs. Hospitals isolate the dying, checking for vital signs long after the goals of cure have become moot. Doctors, committed to extending life, continue to carry out devastating procedures that in the end extends suffering.
Gawande, a practicing surgeon, addresses his profession's ultimate limitation, arguing that quality of life is the desired goal for patients and families. Gawande offers examples of freer, more socially fulfilling models for assisting the infirm and dependent elderly, and he explores the varieties of hospice care to demonstrate that a person's last weeks or months may be rich and dignified.
Full of eye-opening research and riveting storytelling, Being Mortal asserts that medicine can comfort and enhance our experience even to the end, providing not only a good life but also a good end.
Outliers: The Story of Success, Malcolm Gladwell
In this stunning new book, Malcolm Gladwell takes us on an intellectual journey through the world of "outliers"--the best and the brightest, the most famous and the most successful. He asks the question: what makes high-achievers different?
His answer is that we pay too much attention to what successful people are like, and too little attention to where they are from: that is, their culture, their family, their generation, and the idiosyncratic experiences of their upbringing. Along the way, he explains the secrets of software billionaires, what it takes to be a great soccer player, why Asians are good at math, and what made the Beatles the greatest rock band.
Just Mercy, Bryan Stevenson
A powerful true story about the potential for mercy to redeem us, and a clarion call to fix our broken system of justice—from one of the most brilliant and influential lawyers of our time
Bryan Stevenson was a young lawyer when he founded the Equal Justice Initiative, a legal practice dedicated to defending those most desperate and in need: the poor, the wrongly condemned, and women and children trapped in the farthest reaches of our criminal justice system. One of his first cases was that of Walter McMillian, a young man who was sentenced to die for a notorious murder he insisted he didn't commit. The case drew Bryan into a tangle of conspiracy, political machination, and legal brinksmanship—and transformed his understanding of mercy and justice forever.
Just Mercy is at once an unforgettable account of an idealistic, gifted young lawyer's coming of age, a moving window into the lives of those he has defended, and an inspiring argument for compassion in the pursuit of true justice.
Reinventing Organisations, Frederic Laloux
The way we manage organizations seems increasingly out of date. Deep inside, we sense that more is possible. We long for soulful workplaces, for authenticity, community, passion, and purpose.
In this groundbreaking book, Frederic Laloux shows that every time, in the past, when humanity has shifted to a new stage of consciousness, it has achieved extraordinary breakthroughs in collaboration. A new shift in consciousness is currently underway. Could it help us invent a more soulful and purposeful way to run our businesses and nonprofits, schools and hospitals?
Daring Greatly, Brené Brown
In Daring Greatly, Dr. Brown challenges everything we think we know about vulnerability. Based on twelve years of research, she argues that vulnerability is not weakness, but rather our clearest path to courage, engagement, and meaningful connection. The book that Dr. Brown's many fans have been waiting for, Daring Greatly will spark a new spirit of truth—and trust—in our organizations, families, schools, and communities.
Presence, Peter M. Senge & C. Otto Scharmer
Presence is an intimate look at the development of a new theory about change and learning. In wide-ranging conversations held over a year and a half, organizational learning pioneers Peter M. Senge, C. Otto Scharmer, Joseph Jaworski, and Betty Sue Flowers explored the nature of transformational change—how it arises, and the fresh possibilities it offers a world dangerously out of balance. The book introduces the idea of "presence"—a concept borrowed from the natural world that the whole is entirely present in any of its parts—to the worlds of business, education, government, and leadership. Too often, the authors found, we remain stuck in old patterns of seeing and acting. By encouraging deeper levels of learning, we create an awareness of the larger whole, leading to actions that can help to shape its evolution and our future.
When They Call You a Terrorist: A Black Lives Matter Memoir, Asha Bendele & Patrisse Cullors
Necessary and timely, Asha and Patrisse's story asks us to remember that protest in the interest of the most vulnerable comes from love. Leaders of the Black Lives Matter movement have been called terrorists, a threat to America. But in truth, these leaders are loving women whose life experiences have led them to seek justice for those victimized by the powerful. In this meaningful, empowering account of survival, strength, and resilience, Patrisse Cullors and Asha Bandele seek to change the culture that declares innocent black life expendable.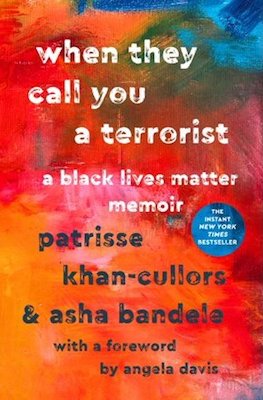 The New Jim Crow, Michelle Alexander
The New Jim Crow is a stunning account of the rebirth of a caste-like system in the United States, one that has resulted in millions of African Americans locked behind bars and then relegated to a permanent second-class status—denied the very rights supposedly won in the Civil Rights Movement. Since its publication in 2010, the book has appeared on the New York Times bestseller list for more than a year; been dubbed the "secular bible of a new social movement" by numerous commentators, including Cornel West; and has led to consciousness-raising efforts in universities, churches, community centers, re-entry centers, and prisons nationwide. The New Jim Crow tells a truth our nation has been reluctant to face.
Wild, Cheryl Strayed
At twenty-two, Cheryl Strayed thought she had lost everything. In the wake of her mother's death, her family scattered and her own marriage was soon destroyed. Four years later, with nothing more to lose, she made the most impulsive decision of her life. With no experience or training, driven only by blind will, she would hike more than a thousand miles of the Pacific Crest Trail from the Mojave Desert through California and Oregon to Washington State—and she would do it alone. Told with suspense and style, sparkling with warmth and humor, Wild powerfully captures the terrors and pleasures of one young woman forging ahead against all odds on a journey that maddened, strengthened, and ultimately healed her.
The More Beautiful World Our Hearts Know is Possible, Charles Eisenstein
In a time of social and ecological crisis, what can we as individuals do to make the world a better place? This inspirational and thought-provoking book serves as an empowering antidote to the cynicism, frustration, paralysis, and overwhelm so many of us are feeling, replacing it with a grounding reminder of what's true: we are all connected, and our small, personal choices bear unsuspected transformational power. By fully embracing and practicing this principle of interconnectedness—called interbeing—we become more effective agents of change and have a stronger positive influence on the world.
Find Me Unafraid, Kennedy Odede & Jessica Posner
Find Me Unafraid tells the uncommon love story between two uncommon people whose collaboration sparked a successful movement to transform the lives of vulnerable girls and the urban poor.
This is the story of two young people from completely different worlds: Kennedy Odede from Kibera, the largest slum in Africa, and Jessica Posner from Denver, Colorado. Kennedy foraged for food, lived on the street, and taught himself to read with old newspapers. When an American volunteer gave him the work of Mandela, Garvey, and King, teenaged Kennedy decided he was going to change his life and his community. He bought a soccer ball and started a youth empowerment group he called Shining Hope for Communities (SHOFCO). Then in 2007, Wesleyan undergraduate Jessica Posner spent a semester abroad in Kenya working with SHOFCO. Breaking all convention, she decided to live in Kibera with Kennedy, and they fell in love. Their connection persisted, and Jessica helped Kennedy to escape political violence and fulfill his lifelong dream of an education, at Wesleyan University.
The alchemy of their remarkable union has drawn the support of community members and celebrities alike—The Clintons, Mia Farrow, and Nicholas Kristof are among their fans—and their work has changed the lives of many of Kibera's most vulnerable population: its girls. Jess and Kennedy founded Kibera's first tuition-free school for girls: a large, bright blue building, which stands as a bastion of hope in what once felt like a hopeless place. But Jessica and Kennedy are just getting started—they have expanded their model to connect essential services like health care, clean water, and economic empowerment programs. They've opened an identical project in Mathare, Kenya's second largest slum, and intend to expand their remarkably successful program for change.
Ultimately this is a love story about a fight against poverty and hopelessness, the transformation made possible by a true love, and the power of young people to have a deep impact on the world.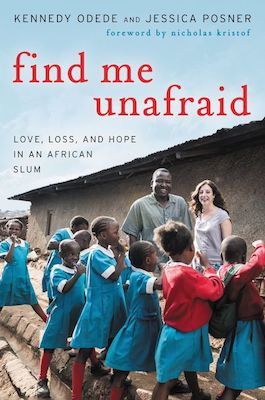 Emergent Strategy: Shaping Change, Changing Worlds, Adrienne Maree Brown
Inspired by Octavia Butler's explorations of our human relationship to change, Emergent Strategy is radical self-help, society-help, and planet-help designed to shape the futures we want to live. Change is constant. The world is in a continual state of flux. It is a stream of ever-mutating, emergent patterns. Rather than steel ourselves against such change, this book invites us to feel, map, assess, and learn from the swirling patterns around us in order to better understand and influence them as they happen. This is a resolutely materialist "spirituality" based equally on science and science fiction, a visionary incantation to transform that which ultimately transforms us.
Rebuild the Dream, Van Jones
Outraged by the escalating attacks on America's middle class and working families, Rebuild the Dream issues a bold defense of the progressive values that made the 20th Century an American Century. Rejecting the fashionable mantra of cut-backs and austerity, Jones makes the case for public policies and investments that will create 10 million, good-paying American jobs. Along the way, he argues that the 21st Century can be the Second American Century if the deep patriots stay true to the American ideal of "liberty and justice for all." And perhaps most surprisingly – Jones extracts powerful insights from the success of the tea party movement. In Rebuild the Dream, Jones spells out how a renewed movement, grounded in tough-minded American idealism, can once again inspire millions to come together and offer real solutions to America's toughest problems.
I also want to check out Van Jones' first book, Green Collar Economy.
Here Comes Everybody: The Power of Organizing Without Organizations, Clay Shirky
An extraordinary exploration of how technology can empower social and political organizers. For the first time in history, the tools for cooperating on a global scale are not solely in the hands of governments or institutions. The spread of the internet and mobile phones are changing how people come together and get things done—and sparking a revolution that, as Clay Shirky shows, is changing what we do, how we do it, and even who we are. Here, we encounter a woman who loses her phone and recruits an army of volunteers to get it back from the person who stole it. A dissatisfied airline passenger who spawns a national movement by taking her case to the web. And a handful of kids in Belarus who create a political protest that the state is powerless to stop. Here Comes Everybody is a revelatory examination of how the wildfire-like spread of new forms of social interaction enabled by technology is changing the way humans form groups and exist within them. A revolution in social organization has commenced, and Clay Shirky is its brilliant chronicler.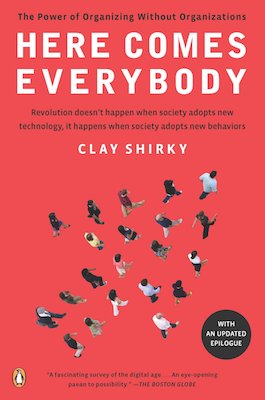 The Power of Now, Eckhart Tolle
Eckhart Tolle's message is simple: living in the now is the truest path to happiness and enlightenment. And while this message may not seem stunningly original or fresh, Tolle's clear writing, supportive voice, and enthusiasm make this an excellent manual for anyone who's ever wondered what exactly "living in the now" means. Foremost, Tolle is a world-class teacher, able to explain complicated concepts in concrete language. More importantly, within a chapter of reading this book, readers are already holding the world in a different container--more conscious of how thoughts and emotions get in the way of their ability to live in genuine peace and happiness.
Tolle packs a lot of information and inspirational ideas into The Power of Now. (Topics include the source of Chi, enlightened relationships, creative use of the mind, impermanence and the cycle of life.) Thankfully, he's added markers that symbolise "break time". This is when readers should close the book and mull over what they just read.
Winners Take All, Anand Giridharadas
An insider's groundbreaking investigation of how the global elite's efforts to "change the world" preserve the status quo and obscure their role in causing the problems they later seek to solve.
Former New York Times columnist Anand Giridharadas takes us into the inner sanctums of a new gilded age, where the rich and powerful fight for equality and justice any way they can–except ways that threaten the social order and their position atop it. We see how they rebrand themselves as saviors of the poor; how they lavishly reward "thought leaders" who redefine "change" in winner-friendly ways; and how they constantly seek to do more good, but never less harm. We hear the limousine confessions of a celebrated foundation boss; witness an American president hem and haw about his plutocratic benefactors; and attend a cruise-ship conference where entrepreneurs celebrate their own self-interested magnanimity. 
Giridharadas asks hard questions: Why, for example, should our gravest problems be solved by the unelected upper crust instead of the public institutions it erodes by lobbying and dodging taxes? He also points toward an answer: Rather than rely on scraps from the winners, we must take on the grueling democratic work of building more robust, egalitarian institutions and truly changing the world. A call to action for elites and everyday citizens alike.
With gratitude and a big high five to all of my wonderful Storia Summit colleagues, Latonya, April, Maisie, Nitzan, Tristan, Masum and Hannah who each contributed to this list. Watch out for their books, coming to a bookshop near you soon!
Naomi is one of the founders and directors of tbd*. tbd*'s mission is to connect the new global workforce that is determined to create an inclusive, sustainable future with the people and the information that they need to change the world.