Header: LeeAnn Cline via Unsplash
In this column, presented in collaboration with our friends from Wildling Shoes, we want to give more space and visibility to the issues of anti-discrimination, belonging, and intersectionality in the workplace. Through articles, interviews, and diverse perspectives, we aim to both challenge and inspire those working in the impact sector - while encouraging them to create authentically lived workspaces that foster more belonging and less discrimination. By gaining new perspectives and engaging in a shared dialogue, we can take a collective step toward radical systems change in the impact sector - from "power over" and "power for" to "power with."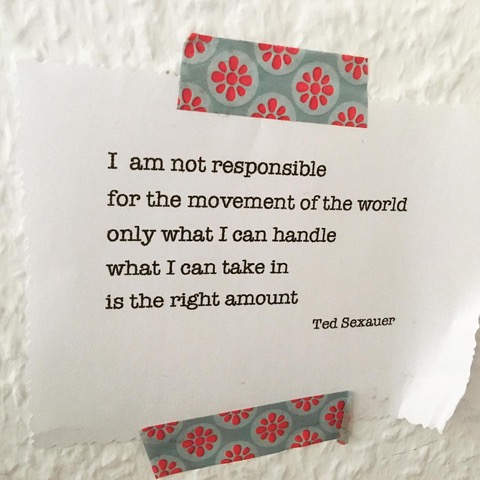 Photo: Private; Description: A close-up of a white piece of paper taped with flowered washi tape can be seen on a woodchip wallpaper. It reads: "I am not responsible for the movement of the world only what I can handle what I can take in is the right amount" –Ted Sexauer
It's often a fine line:
Knowing about near and far world events seriously and well, so as to be able to look beyond my own nose and be responsibel about it, while at the same time self-carefully examining which and how much information is reasonable for me at this moment.
Humbly, gratefully, and responsibly acknowledging my privileges while allowing myself and everyone else our fears, hardships, and concerns.
Learning to accept where the limits of my effectiveness, influence, resources are, while not losing sight of what lies beyond.
To remain activist and ambitious, and at the same time allow myself to rest.
Allowing myself all my feelings unconditionally, while keeping in mind that not everything my feelings tell me about the world or myself is the truth.
To worry about later and tomorrow and all the meta stuff, while not losing touch with the here and now.
Being interested in criticism of what I'm doing and taking it as an opportunity for growth and development, while maintaining clarity that it may be unwarranted.
Acknowledging the legitimacy of my coping strategies in a kind and soft way, while knowing: they ensure my survival, but in order to thrive and shine, it's important to make the jump more and more often.
Practicing a culture of fault friendliness, forgiveness, and kindness, while protecting the boundaries of my integrity.
Overestimating what I can accomplish in a day, and underestimating what I can accomplish in a year.
I've always wanted to change the world. And perhaps it's due to my neurodivergent naiveté that it took me so long to finally understand that behind this lies, on the one hand, a complete overestimation of myself - and, on the other, a complete overburdening of myself. Because that, too, is a fine line: having the confidence to create great and good things, and at the same time remaining modestly in touch with reality. How do I set my goals so that they are high enough for me to rise above myself, and also leave room for mistakes and new attempts AND still keep in mind that society, both trusts me – a marginalized person – with less and demands more of me - and at the same time keep my ability, both downward and upward, realistic and mindful in my awareness? I'm beginning to realize that maybe I don't need to answer that, because it's okay for this to be and remain a process-oriented endeavor.
I come from a family that, for complex reasons, could not serve as a role model for me. And I spent a few years flattering myself with something, that also shows up in this or similar form as an internet meme in my social media feeds: "I am the one who breaks the cycle!" And recently, I realized that's not true. While I've actually been very successful in my quest to do many things completely differently than my parents - I realized that my standards are those of my generation and my circumstances. For example, my father broke his family's cycle of poverty. My mother broke the cycle of illiteracy of the women in her family. My grandfather broke a cycle by providing academic education for his daughters as well as his sons. I realized: I am where I am because I stand on the shoulders of my parents, on the shoulders of my grandparents, my great-grandparents, and everyone else who came before me. And standing on my shoulders will be my children. I find that comforting, empowering - and incredibly relieving. I am not responsible for breaking THE cycle. I contribute what I can in this life, with this set of resources available to me. And I can nourish from what my ancestors have worked ahead and passed on to me - and I can trust my children and children's children to continue this development.
I am and we are part of a whole, of something old and something new.
"I am not responsible for the
for the movement of the world.
Only what I can handle
what I can take in
is the right amount."

Ted Sexauer

 
About
Sohra Behmanesh lives with her family in Berlin, works as a freelance anti-racism trainer, and finds caring and empathy just as superb as intersectionality.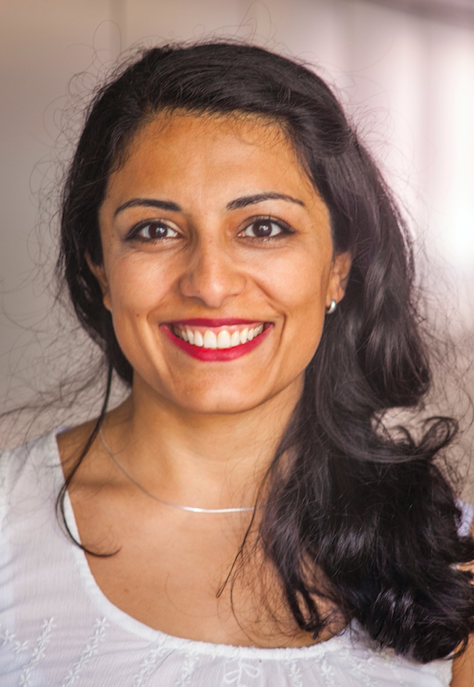 Photo: Kris Wolf