From London's Financial District to Berlin's NGO Scene
Melanie Wilneder is currently based in Berlin and works with the Supply Chain divisions of major companies in Germany, Switzerland, and Spain. In her current role, she helps corporate buyers integrate supplier environmental sustainability into their procurement. She moved from Deloitte in London to CDP's regional office in Berlin and currently looks after Germany, Austria, and Switzerland.
The switch from corporate to NGO came after almost 6 years of experience in London's financial district, primarily in Supply Chain. In other words, after helping companies spend their money with the most suitable suppliers as efficiently and economically as possible, she is now helping companies spend their money sustainably with the most climate-resilient suppliers.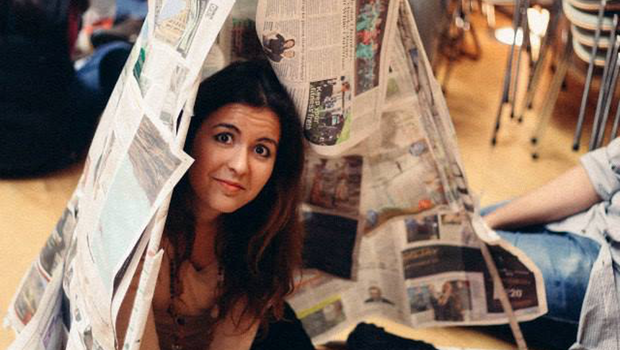 Background to climate change and CDP's work
Climate change is considered to be one of the biggest threats to humanity.
Scientists warn that global warming must be kept within 2 °C to avoid irreversible impacts.
More frequent extreme and changing weather resulting from man-made climate change puts access to potable water and security of food supply at risk in a world in which the population is expected to grow by another billion people in the next decade. Resource scarcity and changes to natural habitats such as sustained droughts and sea-level rise could force millions of people to migrate in what are already increasingly politically and socially unstable times.
CDP works with investors, corporate supply chains, and cities as key actors and influencers to change the way companies and governments value natural capital, thereby establishing the largest corporate environmental database as well as providing an independent rating system to benchmark corporate disclosure and performance. The aim is to bring climate change into the boardroom and into mainstream business strategies, enabling decision-makers to drive meaningful action towards an economic system operating within sustainable boundaries.
Specifically, the Supply Chain program, where I work, recognizes that while major corporations might have understood the risks and opportunities posed by climate change and are actively managing them, their suppliers are lagging behind. At the same time, suppliers are often responsible for the largest part of corporate environmental impact, as companies increasingly outsource their production. To bridge the gap, multinationals joining the Supply Chain program invite their key suppliers to disclose annually according to CDP's standard. Buyers use the data to track improvement and factor key environmental KPIs into purchasing decisions and supplier performance reviews.
What does a "normal" day look like for you?
In contrast to corporate life, where I'd run to the tube in high heels, BlackBerry in one hand, Starbucks tumbler in the other, a working day now starts with hot lemon water along with some healthy homemade porridge. On the bus ride to work the Financial Times has been replaced with something sustainability-related on the kindle.
After checking emails, I usually spend 50% of my time fostering relationships with procurement teams at prospective member companies. The other half of the time is spent helping existing members make sense of our data and help them drive action in their supply chains. I am targeted on recruiting new members to the program and helping the current ones expand their impact. There's a lot of Powerpoint, some data analysis, and communication via email and phone in English, German, and Spanish for both business development and account management. Additionally, I am frequently invited to give presentations as a subject matter expert, and lately I have been increasingly asked to moderate discussions, which I enjoy a lot.
There are a few peaks for different activities during the year, including some weeks of extensive traveling. If I am in the office for a few weeks I still spend enough time on the phone and running webinars engaging companies for it to never get boring. After a few weeks of intensive traveling I almost forget what my apartment looks like but at least it's always tidy.
Overall, CDP is a business-to-business NGO, and so a typical day is not dissimilar from the corporate world at first sight. We are about 10 people locally, roughly 60 in our London headquarters, and around 150 worldwide. A lot of colleagues come from business backgrounds that correspond to their current role.
Working for a mission-driven organization makes a huge difference. All of us share a sense of purpose coupled with strong motivation to work hard every single day. We have so many conversations with companies, and you can feel it when you make a difference, no matter how small it may be.
I enjoyed corporate life because I tend to immerse myself fully into whatever community I am part of, however at the end of the day I was only living for the next promotion to be able to afford a more decent place to live in once I paid off my student loan. Yes, on a corporate salary. Being social and a good organizer (of team drinks mainly!) I always thought I had wonderful colleagues but at an NGO it still feels like another level. We're like a big family, and we really look out for each other. My bosses seem to have a talent for hiring just the right people. It never stops to amaze me.
On a practical note, IT could be better, and processes don't run as smoothly as in the corporate world. I treat it as more of a cosmetic issue overall and try to breathe deeply whenever I cannot be as productive as I would like to be due to IT issues…
I am privileged to be part of two amazing teams: the local regional one in Berlin, and the globally operating Supply Chain program. While I am the only person in the office doing my job, I catch up with the program team weekly via WebEx, and in between via Skype. We communicate as much as possible via Skype internally to minimize both travel costs and the carbon footprint. When we meet companies in their offices, we often bundle our different topics into one visit and so I get a holistic view of our corporate engagement and some quality time learning from my local colleagues.
If it's an office day, I try to leave by 7 pm and relax. I will still check emails late but compared to corporate life I am taking time to look after myself. Healthy home-cooked food, yoga, meditation, catching up with friends, etc. Things I used to do before, yet a lot more superficially and always kind of rushed. During weekends and after work I am this little nerd reading climate change related stuff, because I want to. And therein lies the crucial difference. Before, it was always "because I had to". Now I feel free in a way that I never did before. I probably work more than before overall. At the same time, I live life a lot more consciously.
What would be your advice to people considering a similar career or those you are thinking of "making the switch"?
First of all, I do not think that there is a "perfect moment" to make the switch between the corporate and nonprofit world– just follow your intuition. I always knew I was going to "do something good" one day. However, I thought it would be when I was ready - meaning senior, influential, and important enough, whatever that was supposed to mean. CDP came as a completely unexpected surprise, and all I did was trust my gut feeling.
Not having been with Deloitte for long and enjoying consultancy a lot, it was probably the toughest decision from a professional and personal perspective, but definitely the right one. The job description for the role of "Business Development Manager Supply Chain" matched the experiences of my corporate CV so perfectly it was almost uncanny. Before coming across CDP, I thought I would eventually put my Supply Chain knowledge to good use at a later stage, and in an area like disaster relief logistics with the UN or similar. But as it turned out, this was a surprisingly ideal fit.
Secondly, if you know you want to make a move from the corporate world to an NGO, research your options in terms of mapping your current area of expertise to suitable organizations.
In summary, I advocate a middle ground between intuition and planning ahead. Enjoy the journey. Anything you learn in your current role where you question the value of it now might come extremely useful later, or even turn out to be a key differentiating skill. And planning ahead helps maximize your chances of finding the right opportunity at the right time, e.g. by signing up to the right newsletters such as The Changer, relevant LinkedIn groups, and reading sector-related publications.
Once you have found something, reach out to any friends and contacts that you may have working in the NGO sector. I was lucky to have a close friend in Berlin that I have known for more than 10 years. She provided very honest advice and a lot of moral support.
Additionally, reach out to the organization directly to show initiative, regardless of whether they have a job posting. Bear in mind that they are busy and figure out a way to get to know them without being obtrusive, e.g. meeting them at an event they are hosting or presenting at. It will be worth the effort in the long run!
About Melanie Wilneder
Argentinean-German Melanie Wilneder holds a BA degree in Integrated Social Sciences (Politics, Sociology, Economics and Mass Communication) from Jacobs University. After 3 formative years of living in a residential campus with students from about 100 nations, she moved to a city resembling that type of international life to obtain her MSc in Crime Science at University College London.
Melanie found her first job as a graduate trainee in the Counter Fraud Unit of RSA Insurance Group. She switched to Supply Chain, and after almost five years she decided it was time to explore different industries. She moved to Deloitte as a Supply Chain consultant, and came across CDP by coincidence.
This article was originally published in March 2015.