Header and first two pictures in text: Lucia Obst (WMDE) via Wikimedia Commons
#PaidArticle
Filter bubbles, Fake News and frenzied discussions challenge our trust in information and technology. With the UNLOCK Accelerator, Wikimedia Deutschland is seeking impact-driven ideas and cutting-edge concepts that contribute to an open and informed knowledge society. The non-profit organization, which supports Wikipedia among other projects, launched the accelerator last year in May. This year, the UNLOCK Accelerator is entering its second edition and will be run in a remote setup. It will be the first edition held in the English language and open for applications beyond German-speaking countries. The program is looking for teams of two to five members with a concrete idea and with a start-up mentality. In addition to that participants should have a social spirit and the aspiration to have a lasting impact on our knowledge-based society.. Applications are open from today to May 16. You can find more information and apply with your project here.
The 2021 thematic focus of the UNLOCK Accelerator bears the title (Re)building trust in the digital age.

In light of the overabundance of information that our world is experiencing online and off, both the access to knowledge and the informed use of sources, information and data by users is being increasingly challenged. Wikimedia is calling for technical and non-technical solutions and project ideas that counteract these trends and help strengthen the foundation of trust in information and technology.
To provide you with an impression of the scope of the projects and to give interested parties an insight, we talked to Futures Probes who participated in UNLOCK in 2020. The team of Futures Probes – consisting of Lilith Boettcher, Elena Artiles-Leyes, Katrina Günther and Gina Strecker – developed a platform that encourages a wide variety of people to share their wishes, ideas and concepts for desirable futures. The goal: Giving a stage to people who are rarely in the spotlight to initiate a more inclusive public and political discourse as well as civic participation. How exactly did this come about and what role did the UNLOCK Accelerator play? Read for yourself:
tbd*: What exactly is Futures Probes and how did it originate?
Futures Probes originated in spring 2020, just when the first wave of Covid Lockdowns was hitting Europe. The four of us, Elena, Gina, Katrina and Lilith, had met a few years earlier during our futures studies master program at Freie University Berlin. When the Pandemic started, all of us quickly got annoyed by the wave of post-corona futures and strategy proposals for current and a post-corona life, which almost exclusively came from a certain privileged group of people. We asked ourselves: where are all the hopes, wishes and dreams of a desirable future dreamed by a multitude of people? And more generally, why are there hardly any spaces where diverse desirable futures are visible – or even become the baseline for thinking of and discussing a "better future for all"?
It is our attempt to create a place, where a range of images of the future – specifically desired futures – are collected, made visible and can hopefully provide the basis for a more inclusive and diverse future shaping. With that approach we hope to achieve a real impact in the field of futures literacy and set the stage for an accessible, fair and unprejudiced discourse. Futures Probes means quite literally: probing futures. It's a collection of tiny petri-dish sized glimpses into the many different desirable futures that individuals can dream of. Because only that of which we can dream, we can eventually build.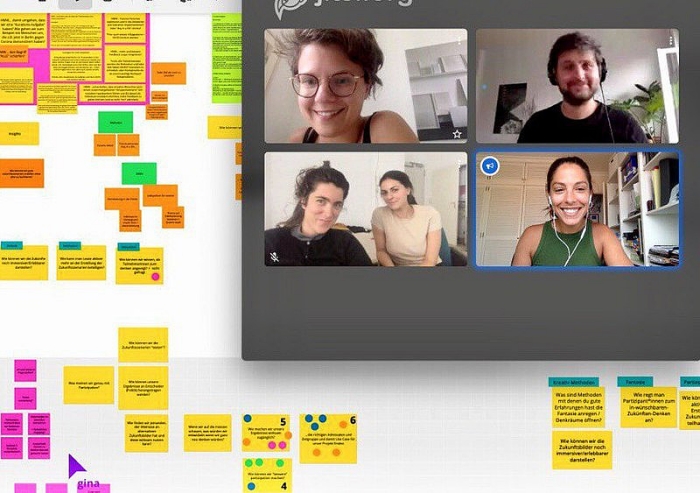 The Futures Probes team during a coaching session as part of the 2020 UNLOCK Accelerator Program.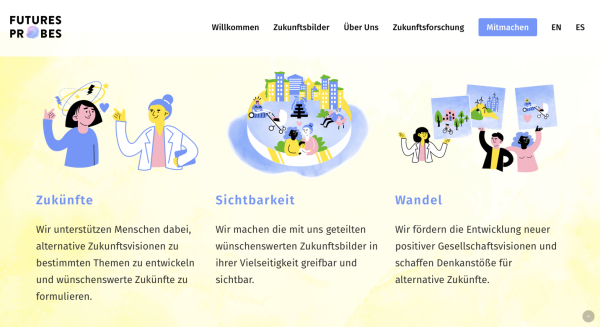 The Futures Probes Website
tbd*: What was the status of your project when you submitted your application to the UNLOCK Accelerator?
When we applied to UNLOCK we had a slightly different idea of Futures Probes. At that time we already had a tested prototype of Futures Probes 1.0. It started as an initial "let's ask people we think whose future desires should be heard more publicly", so we had a specific futures questionnaire and, as a result from this pilot survey, lots of data about desirable post-corona futures of women in their 30ies. Which we eventually put together into two futures scenarios. We got great feedback from the participants about the survey and from people reading our content about the data, so we decided to aim for a bigger project and for a more refined idea. Eventually we applied to UNLOCK – and didn't even know what this "bigger" should or could look like specifically.
What the accelerator offers

The UNLOCK Accelerator offers a structured online program that helps participating teams turn their idea into a functional prototype or product within three months with the help of needs-oriented coaching. The UNLOCK program team accompanies the projects during the implementation phase and not only connects them with each other, but also with experts and supporters from their national and international network. All project results developed during the program will be made publicly available under a free license.
tbd*: How did the accelerator program support you? What did the collaboration look like?
The UNLOCK program was helpful for several reasons: we were offered a welcoming and curious network of like-minded people, we had great coaching support by our individual team coach, Fabian, and – probably most importantly – we were given, for a period of 3 months, an external structure that helped us move forward.
tbd*: What resources offered (coaching, financial support, network, tools) was the most important for Futures Probes? 
The coaching and definitely also the financial support were the key elements for us.
tbd*: Would you recommend other imaginative people to participate?
Do you mean participate in the UNLOCK program or in our Futures Probes project? Actually, it doesn't matter, because our answer to both questions would be: absolutely!
tbd*: What is your vision for the future of Future Probes?
Since we are futurists, we speak of many different futures when speaking about "the future". So of course, Futures Probes has many different futures, too! One desirable future vision we have in mind is the following: Futures Probes is a frequently visited platform where interested people visit to share, view and discuss diverse desirable futures of changing topics. Stakeholders of the different topics engage to share their perspectives and create connections to others. Publicly involved people like politicians, entrepreneurs and journalists are inspired by the future images and take them into account when making decisions. Ultimately, Futures Probes is a place where every person in our society can be represented and is able to actively participate when it comes to imagining our common future.

Picture © By Kati Szilágyi für Wikimedia Deutschland e. V. via Wikimedia Commons

UNLOCK Accelerator 2021 – Key Facts

Wikimedia Deutschland is seeking impact-driven ideas and cutting-edge concepts that contribute to an open and informed knowledge society.
The 2021 thematic focus of the UNLOCK Accelerator bears the title (Re)building trust in the digital age and wanted are projects which help strengthen the foundation of trust in information and technology.
The UNLOCK Accelerator offers a structured online program that helps participating teams turn their idea into a functional prototype or product within three months with the help of needs-oriented coaching.
The program is open for teams of two to five members with a concrete idea that addresses the thematic challenge. Wikimedia is looking for people with a start-up mentality, but a social spirit, who want to make a lasting impact on our knowledge based society.

Applications are open from April 1 to May 16, 2021 at wikimedia.de/unlock