The idea behind Give Something Back to Berlin (GSBTB) is simple, "to give something back to the city we love and the neighbourhoods we are in the process of changing." 
In the interview, Annamaria tells us why women shouldn't be afraid to get angry, the importance of having fun - even when tackling serious issues - and how she decided to be part of the solution in addressing the issue of gentrification in Berlin.
What was your motivation for starting Give Something Back to Berlin?
Living in Berlin since 2008, and Neukölln since 2010, it was impossible not to feel the city's rapid change and the following discussion about gentrification. Working as a journalist, I was covering the development of the creative scene, the (back then) booming start up scene and also the "normal" Berlin politics with all its social problems and challenges of being "poor but sexy". Evenings I was, like most expats, out drinking, dining and dancing with my cosmopolitan friends. In the newspapers, there were daily reports on the post euro-crisis impact on young people's lives all over Europe, often making them seek opportunity elsewhere and taking the chance that the EU offered them with free mobility. A few pages later there were stories on post-crisis money looking for a safe harbour in property, as well as reports on the frightening development of xenophobic and nationalistic ideas spreading across Europe, making people look with suspicion at old and new neighbours.
Somehow all those things seem to be connected on a micro-scale in our own Berlin neighbourhoods. The new influx of people and the gentrification debate seem to make worlds drift apart and there were even posters with "Touristen raus! ", "Spaniards go home!" or "Hipsters not welcome!". For many people, at least on an idea level, "Berlin is a utopia where people can come together to create new ideas, cultures and ways of living." It now seemed to be the opposite. People started working against each other, looking for people to blame rather than solutions for the new situation and the new Europe. On a more individual level, after being in an environment among European and international migrants, it was also obvious that a lot of newcomers could feel a bit lost and alienated in their new "Heimat". Some of them had lived in the city for years and were indeed planning to stay but still didn't have so many natural connections to society and their own neighbourhoods. Other newcomers wanted to get under the skin of their new city and country immediately. But how?
Seeing this group of new Berliners solely as a problem, did not make sense in so many ways. How could young, well-educated, highly-skilled people with experiences from all over the world be seen as a problem? And if, hypothetically, they actually were the problem, shouldn't they then be a part of the solution? With Give Something Back To Berlin we wanted to create a tool for being a part of the "solution". The idea was extremely simple. On a small scale, it was about suggesting us new Berliners to share our skills for a few hours with a local initiative or a social organization. To give something back to the city we love and the neighbourhoods we were in the process of changing.
At the same time, it was a small attempt to make the "old Berliners" know us better. Berlin and its many creative scenes have a unique and strong culture of sharing and collaborating. As a way of urban integration, we wanted to "export" some of that to our neighbourhoods to hopefully contribute to a more "positive" side of gentrification. On a larger scale, it was about connecting different scenes in the city and strengthening the overall social cohesion. Empowering the city and neighborhoods through making different worlds meet and making them work together for social causes.
You started Give Something Back to Berlin a year ago, what has been your biggest accomplishment?
Getting so many people involved! We could never have imagined that the interest would be so big! Every day we get amazing sign-ups from people coming from all over the world and in our first year we've had over 300 official sign-ups for people volunteering for the around 40 tasks/projects that we've offered so far. That makes 7.5 sign-ups per offered spot. Those numbers are also just the official website-sign ups, not counting in the unofficial synergy ones coming through friends of friends! We also got requests from Berlin start ups and players from the creative scene wanting to work with us and create collaborations and projects! That was exactly what we wanted - get people involved and connect different worlds!
Every endeavor has its ups and downs, was there ever a low point?
Yes. After a couple of months online, our team of three had worked crazy hard trying to meet demands without noticing that we grew far too big to be able to catch up. We wanted to channel all the people and the energy that was there but kind of forgot ourselves. As a result, a team member landed in the emergency room due to stress related causes. During that time, we really asked ourselves if it was all really worth it, even though it released so much great energy and engagement. Stress had made us prioritize wrongly, keeping us in a constant loop of doing, doing, doing- instead we should have sat down and really got an overview of the situation in order to make the right decisions. Like looking for proper funding… That, for instance, we didn't look for more people to join the team at that point just doesn't make sense when we look back at it today…
On that note, after your first year, what are three learnings you would pass on to aspiring social entrepreneurs?
- Trust your "Bauchgefühl" and have patience. If you're a real changer you (hopefully) know your theme/what you're talking about and have a feeling in which directions things are (and should) be going. But not everybody has. It can take a lot of time and patience to establish your idea and convince people about your cause if you're dealing with complex issues. As a real changer, you are often a bit "before" the mainstream with your ideas, analysis and solutions for things. It's really crucial to hang in there, wait and create your moment. If you're idea is good, it will for sure come! But you can't convince everyone! If some people don't understand, it doesn't make your idea bad. Don't waste your energy trying to convince too many people who are not even close to your planet, even if they are important. Go for closer planets and gravity might get them close anyways!
- Let people help you! Don't try to be the superhuman needing to know and do EVERYTHING- because you can't and shouldn't! There are people you know, so use your network! Most people want to help and are flattered when they can help out a good cause! Build a small storm trooper community around you that both believes in the cause/product and that can help make it grow!
- Have fun! You're most probably dealing with quite serious issues, but that doesn't have to mean that either you or your target group want to be or are "serious" 24/7. Remember to have fun and then people, helpers ,and in the end money, will come. What you are selling in the end is "positive" ideas for a "negative" social problem - but then the "fun" part needs to be there! Be upset about the problem and serious about solving it, but have fun while creating the solutions (and enjoying life in general)!
Where do you see Give Something Back to Berlin going in the future? What are your plans for the next year?
The first year with GSBTB was really just the start because, until now, we did all this more or less completely without funding! With sustainable funding, we will be able to really kick-off with all the potential that is already there. We can further develop everything to become the broad platform for urban participation and social engagement that we have potential to be. In addition to locking down sustainable funding, our priority for the next year is to broaden our offers so we can meet demands and serve interests - so that the positive potential for the city doesn't get lost. Today we have to turn down a lot of people who sign up because we can't keep up with finding suitable projects for everyone - that feels so weird! We also want to focus on developing our own collaborative volunteering projects to ensure that the unique and creative potential of the newcomers really comes to fruition. Furthermore, we want to get started with some of the many ideas that we have on the table together with companies and players in the creative sector in order to develop projects that really make the different Berlin worlds meet, learn and share together!
You work a lot with the refugee community in Berlin, what has the community's response been to you and your projects?
The interest has been SO big from our people's side! I don't know if it's because we are migrants ourselves as well (even though from a very different sort) or simply because the question is currently so important in the EU and rest of the world. Today we have four of our own weekly refugee projects running; one language project, one cooking project, one computer project and one music collaboration!  A lot of new bonds have developed between different groups and people, we are going to continue developing these in 2014-2015.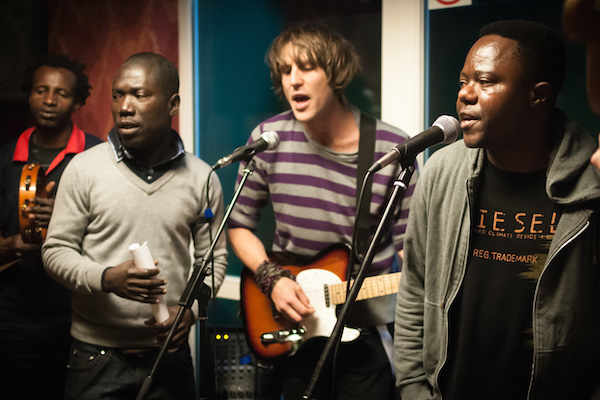 What makes you determined?
I believe in inspiring people with ones actions and giving people courage and tools for doing and not just talking. I think we did that quite well with GSBTB. But I also believe in being angry! Many women are afraid of being angry due to fear of being seen as aggressive. But anger can be good if you are angry at society and not at yourself! It can take you a long way if you get some good tools and channel it the right way! I'm a strong plädoyer of women being more angry, haha.
This interview was originally published in 2014.