For the third edition of the UNLOCK Accelerator organizer Wikimedia Deutschland has teamed up with Wikimedia Serbia and Impact Hub Belgrade to jointly design and host the program in 2022.
And here is why you, too, should join us on our journey! 
1. We help you put things into motion
You have an amazing idea in your head and you want to finally put it into action? UNLOCK is a hands-on and output-oriented program that caters to the specific needs of your project. In a structured online program of four months you will receive professional coaching, peer-to-peer sessions, access to and advice from experts and, if needed, financial support in the form of a scholarship – free of charge! By the end of the program you will have a fully functioning, validated and tested prototype or minimum viable product (MVP).
2. This is your chance to connect with like-minded people
You love learning through exchange and collaboration? At UNLOCK we believe that we are stronger together. This is why the program is designed to gather as many insights from external experts, stakeholders and coaches as possible that can help advance your project. A program highlight are the regular cross-team moments of reflection and exchange. This is your time to learn from your peers and to create synergies you might not have thought of before!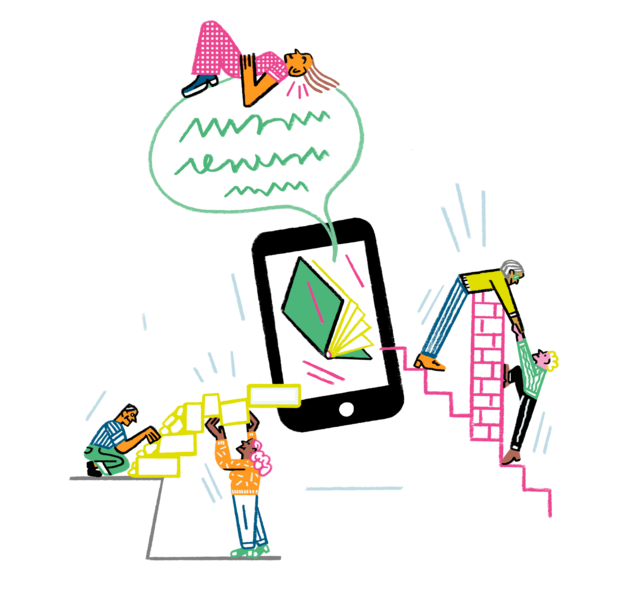 License: Kati Szilágyi for Wikimedia Deutschland e.V., Accessible Knowledge, CC BY-SA 4.0 
3. You can contribute to creating greater access to information and knowledge for everyone
You believe that having access to information and being able to share your own knowledge is vital for a healthy society? We, too, believe that information and data need to be available as a whole and in a convenient and modifiable form to everyone, free of charge. At UNLOCK we are looking for your project idea that breaks down social and technical barriers preventing people from both accessing and contributing to (free) knowledge. Let us fight biases, under-representations and inequities, and create a more inclusive and equitable knowledge society for all! 
4. You will make true impact on our society
You are not driven by quick profits, instead, you want to change things for the better with a view to the common good? UNLOCK is your place to be! We invite movers and shakers with an entrepreneurial mentality, but a social spirit, to join the program. Together, we will figure out alternative, open business models for your project and make a mark on the innovation landscape. Let's make an impact together!
APPLY NOW!
Application is open until May 29th and we cannot wait to hear about your great ideas! 
The program language is English. More details about the program and the conditions of participation can be found on our UNLOCK website: https://www.wikimedia.de/unlock/ 
UNLOCK Accelerator is a program of the non-profit organization Wikimedia Deutschland which was founded by volunteers of the free online encyclopedia Wikipedia in 2004. The organization is committed to strengthening Free Knowledge in our society.